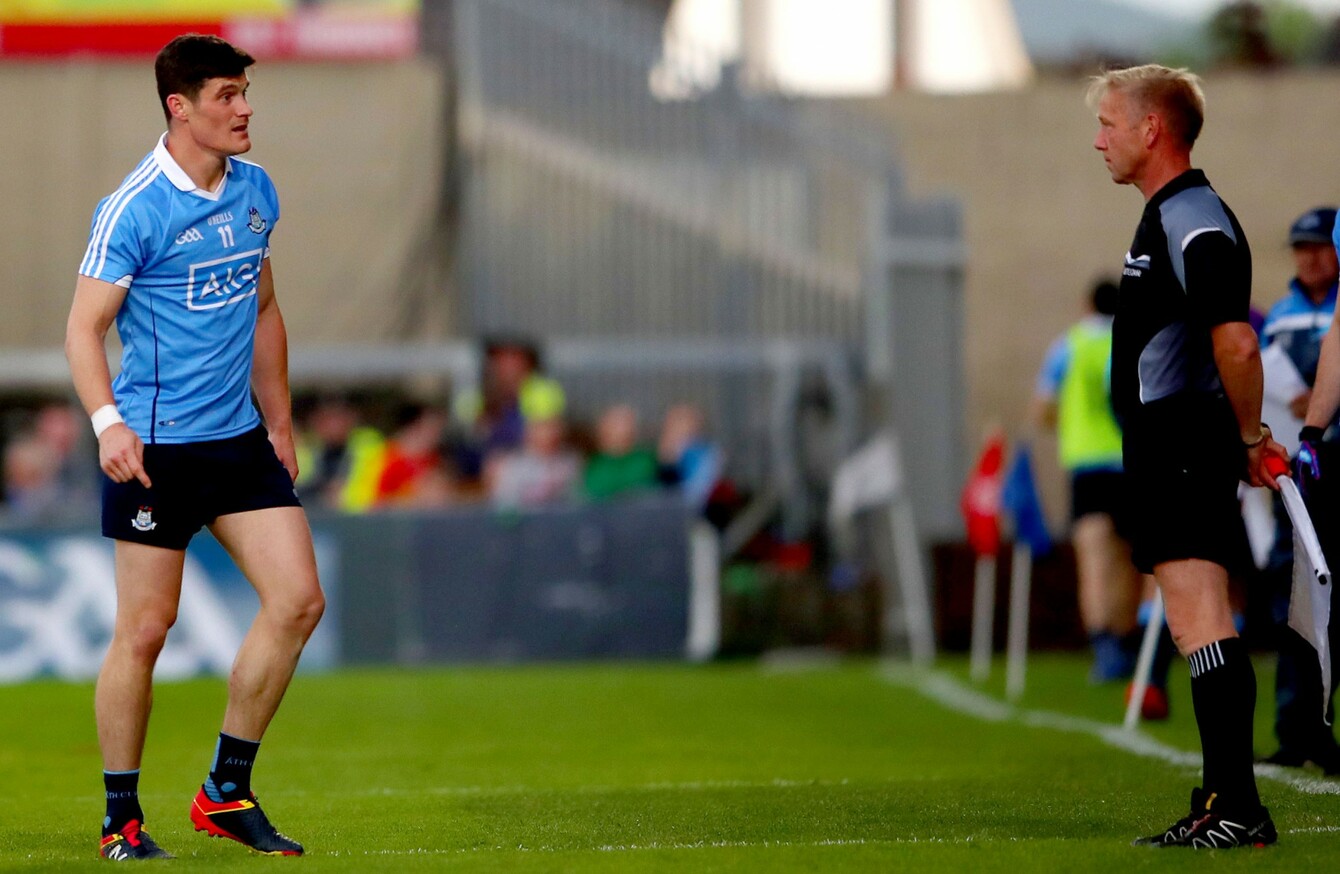 Diarmuid Connolly with linesman Ciaran Branagan in Portlaoise last month.
Image: James Crombie/INPHO
Diarmuid Connolly with linesman Ciaran Branagan in Portlaoise last month.
Image: James Crombie/INPHO
DUBLIN BOSS JIM Gavin has stood by his criticism of TV coverage of the Diarmuid Connolly incident in last month's quarter-final, insisting he has 'no option but to react' in an instance like that he feels one of his players 'has been disrespected'.
In the wake of Dublin hammering Westmeath in the Leinster semi-final, Gavin opted not conduct one-on-one broadcast interviews in Croke Park but confirmed at a press conference this morning that interviews will be conducted as normal after next Sunday's Leinster final.
He critcised RTÉ's The Sunday Game and Sky Sports for their treatment of the incident involving Connolly and linesman Ciaran Branagan in Dublin's match against Carlow.
St Vincent's player Connolly is currently suspended as a result and Gavin hopes that 'lessons have been learnt'.
"All I can say on that is that hopefully the lessons have been learnt, and from my part, if I believe that a player has been disrespected, and that Croke Park don't step in, and protect his good name, I've no option but to react as I did the last day.
"But as I say I hope the lessons have been learnt, and we can move on."
Gavin stated he has no issue with controversial incidents being debated on TV after matches.
"Absolutely there has to be debate. That's why there will be debates and great discussion coming into the game and after the game by supporters, but everybody is entitled to their opinion, and to express that.
"But as I said at the time it's not absolute, and if I feel that a player, his good name is being disrespected.
"Inter-county players have to go out on Monday morning and seek out a living, and if their name has been damaged by that, I just feel that is above and beyond what Gaelic Games are about.
"I'm accountable to Dublin GAA and the Dublin players, and that's where my focus will remain."
The All-Ireland winning manager revealed there has not been any contact with him and RTÉ since the press conference after the Westmeath game.
"I don't think it was necessary. It is what it is. I stated the facts as I saw them and hopefully the lessons will be learned.
"We facilitated everyone on the day, and again we move on, and hope those lessons have been learnt by them."
Gavin also outlined the level of involvement that Connolly currently has with the Dublin squad.
"He's preparing as best he can. We've given him an individual programme, and he's doing a bit of skills with the backroom staff, so he's working away in the background as best he can.
"He attends with me, and we'll have a chat about various things, but he's on his own programme, working away."
– First published 09.28, 12 July
The42 is on Instagram! Tap the button below on your phone to follow us!