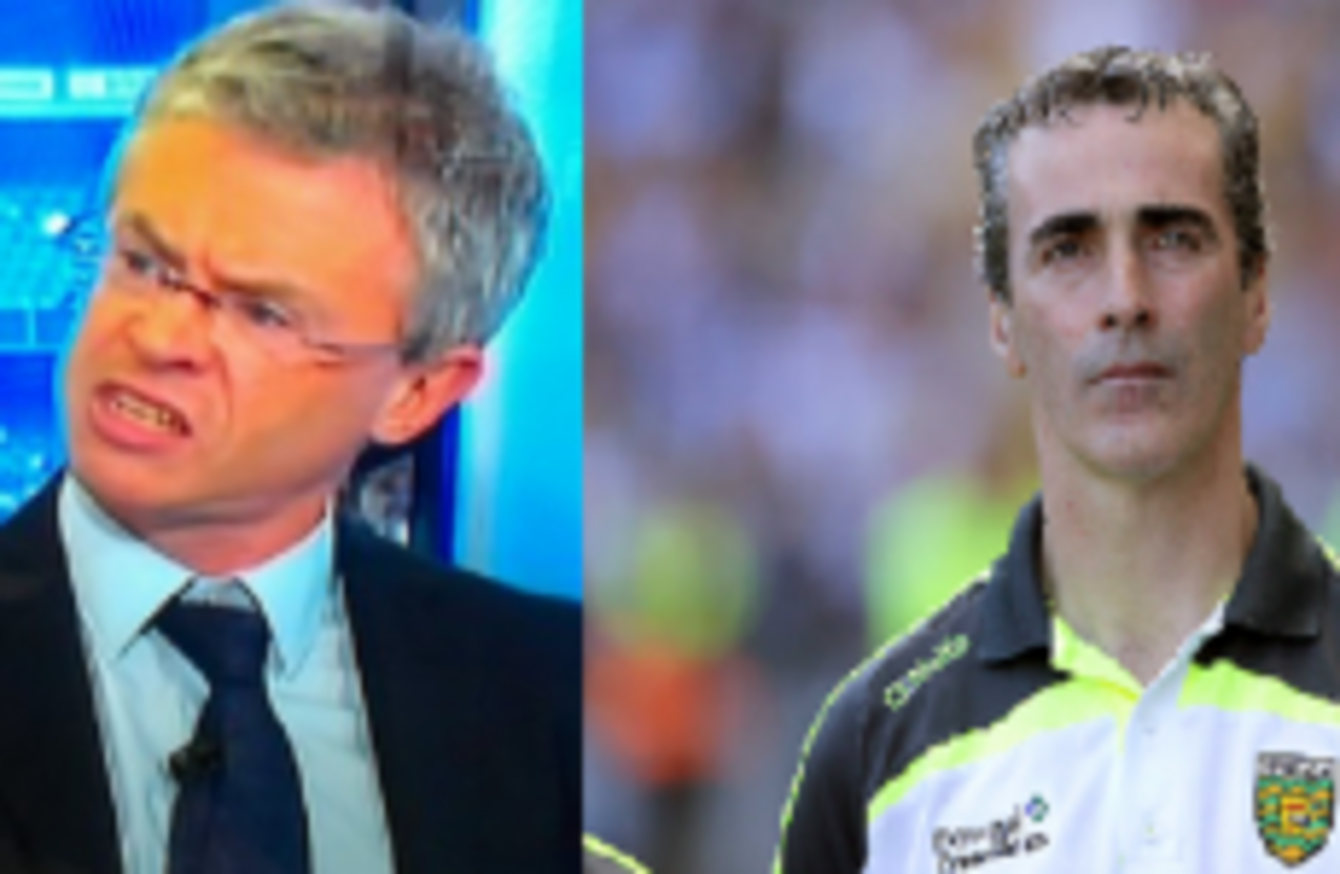 Joe Brolly and Jim McGuinness.
Joe Brolly and Jim McGuinness.
JIM MCGUINNESS DIDN'T hold back in criticising Joe Brolly and The Sunday Game this week.
The RTÉ pundit, of course, caused yet more controversy last weekend when he compared what he saw as Cavan's 'ugly' style of play to his Montrose colleague Marty Morrissey.
Brolly was compelled to apologise on air and says he did so personally with Morrissey afterwards.
Group Head of Sport Ryle Nugent warned Brolly about his future behaviour after 20 official complaints were made to Donnybrook. 
McGuinness however used his new Irish Times column to say that "for me, there is a culture of sensationalism informing some of the criticism".
Brolly however insists in his Sunday Independent column that mistakes like last weekend unfortunately happen when pundits are allowed to speak frankly.
"The beauty of RTE is that, unlike other broadcasters, its ethos, up until now at least, permits us to be fearless. The deal is simple. Speak your mind. Let the dice fall where they may," he writes.
He continues: "We are right. We are wrong. Sometimes we fall out with each other, sometimes with the viewers from some county or another. The night I lost my temper with Tyrone and Seán Cavanagh is something I could never see happening on Sky. They'd have said, 'Well, Big Seán did what he had to do' or 'he showed all his experience out there, what a player he is'. When Sky tell us to 'Believe in Better', what exactly do they really mean?"