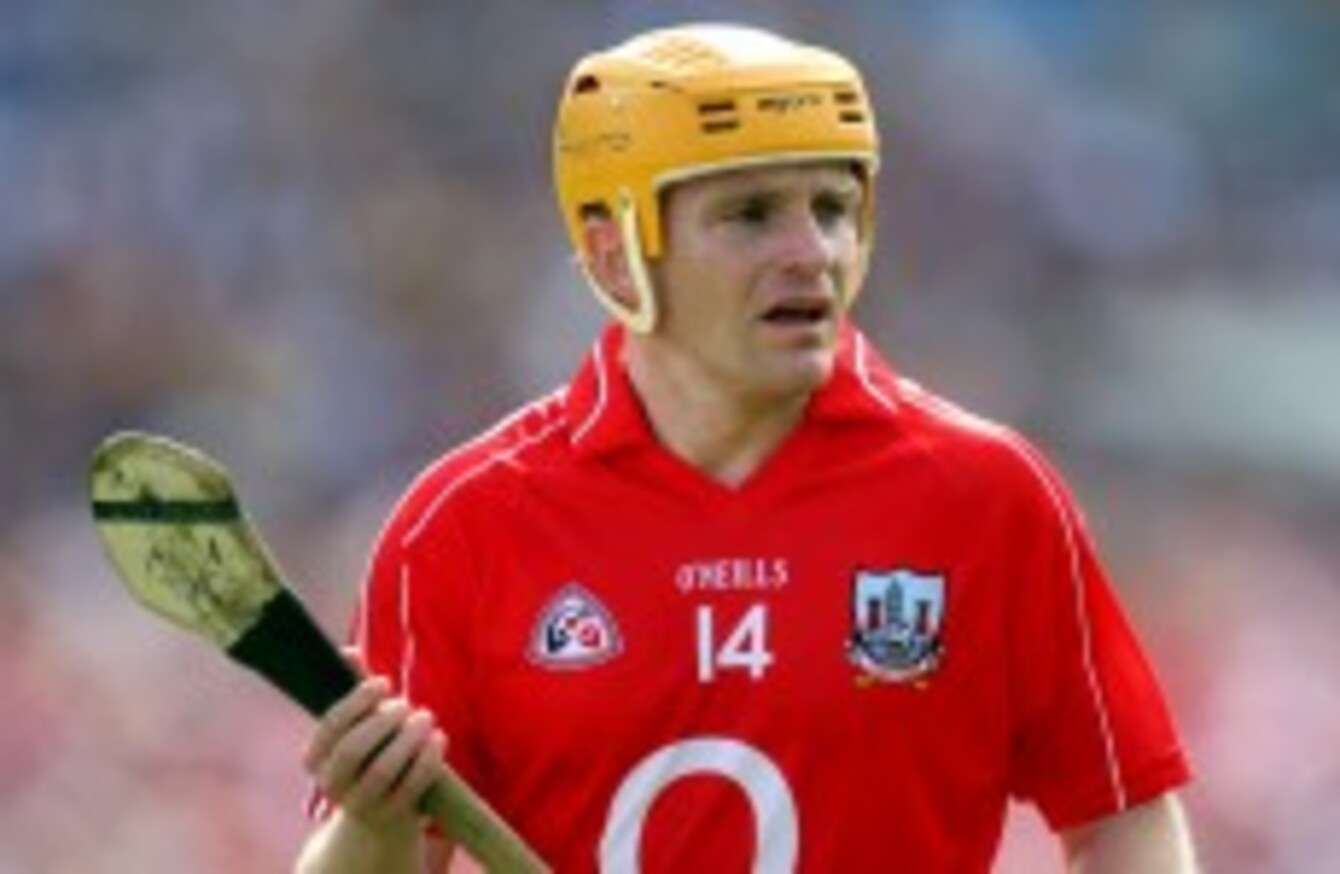 Joe Deane won three All-Ireland senior hurling medals with Cork during his career.
Image: Lorraine O'Sullivan/INPHO
Joe Deane won three All-Ireland senior hurling medals with Cork during his career.
Image: Lorraine O'Sullivan/INPHO
Updated 12.00pm.
SEVERAL GAA STARS will feature in Monday's charity Gaelic football game at O'Moore Park in Portlaoise in aid of the cancer units at St Luke's and St James' hospitals.
Kilkenny's Brian Cody will take charge of the St Luke's team against the St James's team that will be managed by the legendary Mick O'Dwyer.
The match is the brainchild of Portlaoise native Richard Poole, who will captain the St Luke's side. Wicklow footballer John McGrath from Baltinglass will lead out the St James's side.
Tickets for the match are gone on sale and they are €5 for adults while U12′s will be admitted free. Tickets can be bought from www.charitygaamatch.com or from O'Moore Park directly.
Cork All-Ireland winner Joe Deane and Fermanagh Allstar Marty McGrath are some of those who have battled cancer. Here's a collection of personal stories from those who will be playing in the game.
Cian Smith
26 year-old Cian won part of the triumphant Roscommon minor squad that won the All-title in 2006. He came on as a substitute in the drawn final against Kerry in Croke Park.
"I was diagnosed with throat cancer in October 2007. I underwent surgery in St Vincent's Hospital. I had a hemilaryngectomy.
"I also had 8 weeks radiotherapy in St Lukes Hospital, finishing in February 2008. I was part of the Boyle intermediate championship winning team in 2013.
"Although I have made a full recovery, I still struggle with my breathing so from this season I am playing as a goalkeeper."
Daragh McEvoy
Originally from Stradbally in Laois, Daragh played football with his local club from underage to senior level and also played for Laois at minor, U21 and senior level. In 2008, he transferred to the St. Patrick's club in Wicklow as he was working as a Garda in the area.
"While playing for the club in 2008, I started experiencing breathing difficulties during games. This problem persisted in 2009 when I also started experiencing bad night sweats and loss of appetite.
"In May 2009, I was diagnosed with a Carcinoid tumour of the lung and in July 2009 I had the upper lobe of my left lung removed. Thankfully I made a full recovery and was was able to resume playing football, helping my club win the Wicklow senior championship in 2012."
Derek Shevlin
A 34 year-old father of two, Derek – whose cousin Aidan also plays in this match – currently plays GAA with his local team in Louth, Dreadnots. Derek lined out for the Louth county senior team from 2000 to 2006. 
"In July 2008 I was diagnosed with testicular cancer. Once I came to terms with it I knew I had to fight. I got huge support from family, friends, club mates and members of the community.
"First up was my operation which was a success. Six weeks after and only one week I lined out for my club in the Louth intermediate final in which we won.
"Another big achievement for me that year was the birth of my first child. With the type of cancer I had, my wife and I thought this day would never come. I was so grateful it did.
"In November 2011, I got the devastating news that the cancer had returned. Again I was in total shock. I was playing away and felt great at the time.
"It had spread to the back of my tummy. Things were different this time, it was more serious. What lay ahead was months of chemotherapy treatment. The next 6 months was the biggest fight of my life, but one I can happily say I won.
"In May 2012, I got the good news that I was cancer free and only four weeks after that I celebrated the birth of my second child. I started back training 3 months after my treatment had finished, I remember doing half a lap and having to stop and go home. It was all I was able for but it was a start.
"Later that year I togged out as a sub in our clubs' very first senior championship final. It was a great feeling to be able to run out on the field with the lads that day. Unfortunately we didn't win and it was all too much too soon for me, I didn't get a run out.
That winter I worked hard at my fitness and thankfully last season I played some of the best senior football I have played in years. Football has played a huge part in my recovery and I'm so thankful of that today."
Joe Deane
36 year-old Joe is from Killeagh in Cork and he is married with three children. A three-time Allstar winner Joe has won All-Ireland hurling medals with Cork at senior (3), U21 (2) and minor (1).
"In August 2006, I started to notice that my testicle had become harder. You pick up a lot of bruises in hurling so I didn't think much of it initially. I went to the team doctor who referred me for tests in the Bon Secours Hospital. I had testicular cancer.
"On Monday I was told that the operation to have the testicle removed would be on the Wednesday. I was very lucky and I didn't have to have chemotherapy or any other further treatment after the operation as they managed to remove the cancer with surgery. I was preparing myself for the worst and I went through a lot mentally so it was a great relief when I found out that I wouldn't need to go through chemotherapy.
"It's so important to catch it early. The main thing is that men need to face up to health issues. All men need to be aware of the symptoms and they should be regularly checking themselves.
"I was sore for about two weeks after the operation and I was completely back to normal within a month and this was because it was caught so early. I didn't think I'd be able to hurl for a good while but I played my first match in January at the start of the hurling season and I now lead a perfectly normal life."
John McGrath
John is a 27 year-old senior footballer from Baltinglass in Wicklow.
"I was diagnosed in February 2011 with Leukaemia. I was 24 and had played the first few games in the league with Wicklow under the management of Mick O'Dwyer. It was during the third game that I had to signal to go off as I had no energy.
"Two days later I found myself in St James having been diagnosed with Leukaemia. The next few months were really tough but thanks to the support of my girlfriend Carol Keane, my family, friends and the wider GAA community I pulled through.
"I was discharged from treatment on the 24th of May. A month after that I was back doing some running and I eventually got back by the summer playing a bit of championship football with Baltinglass.
"The club couldn't have been more supportive and I was thrilled to be honoured with the senior captaincy for 2012. In October that year I got called back into the Wicklow squad.
"Setting goals and targets helped me through. Staying positive is so important and that is why I wanted to take part in this event to help spread the positive message that you can get your fitness and life back after cancer."
Marty McGrath
A 32 year-old from Ederney in Fermanagh, Marty is married with a 19 month old son. He retired from inter-county football last year. A former county captain, Marty is a former Allstar and an Irish International Rules player.
"I first was aware I had testicular cancer in early 2008 during our run to the Ulster championship final. I was informed that I needed surgery the Thursday before our semi-final with Derry.
"I was lucky enough to detect the cancer early and I was able to finish out the championship with Fermanagh. Early detection saved cancer from spreading around my body and I was able to return in time to represent Ireland in Australia in international Rules.
"Life goes on after cancer and no one should be afraid or embarrassed to talk about and obtain support for all cancer types."
The two teams will be competing for the Professor Hollywood Memorial Cup. Professor Donal Hollwood was one of the country's leading oncologists and he lost his own short battle with cancer at the age of 53. His clinical practice was in St Luke's and St James's hospitals in Dublin.
The full list of players involved are:
Aidan Shevlin (Louth)
Aiden Watters (Cavan)
Alan Clancy (Laois)
Alan Duggan (Mayo)
Cian Smith (Roscommon)
Conor Dignam (Dublin)
Daragh McEvoy (Laois)
Eoin Kearns (Laois)
Gerry Sheanon (Cavan)
Greg McGovern (Fermanagh)
Jamie Conlon (Meath)
Jason Slattery (Mayo)
Joe Deane (Cork)
John McGrath (Westmeath)
Jonathan Myers (Kerry)
Kyle McLoughlin (Roscommon)
Luke Hyland (Laois)
Martin Sherry (Down)
Marty McGrath (Fermanagh)
Micheal Earley (Leitrim)
Mickey Harkin (Longford)
Peter Scully (Mayo)
Richard Poole (Laois)
Ricky Whelan (Laois)
Ronan Hamill (Antrim)
Ronan Rocks (Derry)
Stephen Mulligan (Tyrone)
Tony McCormack (Offaly)
Warren Lynam (Dublin)
- Originally published 09.00am.