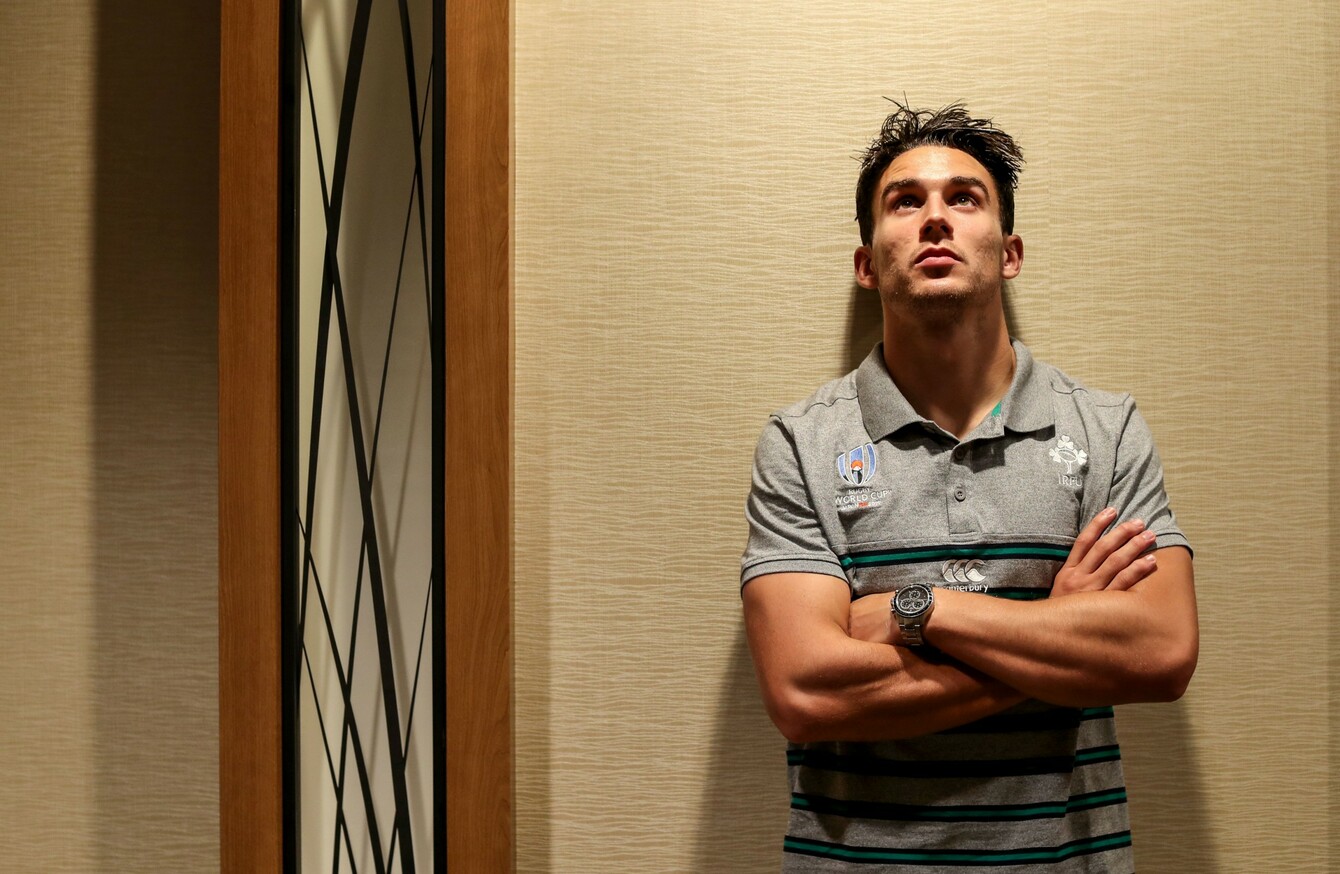 Carbery has had an injury-disrupted 12 months.
Image: Dan Sheridan/INPHO
Carbery has had an injury-disrupted 12 months.
Image: Dan Sheridan/INPHO
AFTER A DIFFICULT 12 months, Joey Carbery is beginning to see the light at the end of the tunnel.
There is still no set date on his return from the wrist ligament injury that has kept him sidelined since January — and ruled him out of this year's Guinness Six Nations — but for a man who has been dogged by injuries over the last year, Carbery cuts a positive figure.
"It's going good," he says, minutes after appearing on The Line-Out, Virgin Media's new rugby and entertainment show.
"It's still very much, we don't really know [in terms of a return date]. Hopefully it's not too long and I get a bit of rugby this season. We'll just have to wait and find out.
"I'm just rehabbing away, and I suppose trying to get as strong as I can before I come back, then trying to keep the rugby side of it ticking over as well, which keeps me sane really."
That is the one key difference with this latest setback.
When Carbery was struck down with an ankle injury in the build-up to last year's World Cup, his recovery was largely confined to the solitude of the physio room.
Likewise when he was rehabbing the leg issue that saw him miss Munster's Champions Cup semi-final exit to Saracens last April.
This time, he can at least take some comfort in the fact he's been able to get out on the pitch and take a reduced role in training with Munster.
"It's a bit different. You're a bit more mobile, so it's not as inhibiting as say, an ankle injury might be," he continues.
"You kind of get used to it. I've had a few injuries now, and I suppose all you want to do when you get back is be a better athlete for it. You've got to kind of have little wins, and you've got to have focus points. Otherwise you just get drawn down a bit from it."
There is no good time to get injured, but for any player this time of year is particularly difficult to watch from a distance, with Ireland making a positive start to their Guinness Six Nations campaign under new head coach Andy Farrell.
Having been involved with the Ireland squad since that memorable debut against the All Blacks in 2016, Carbery has spent plenty of time on the training pitch with Farrell, and he feels it is no surprise Ireland are beginning to look like their old selves again under the guidance of Joe Schmidt's former assistant coach.
"I'd love to be out there, but it is a lot easier to watch [the games] when the lads are doing well. It's great to watch, they're playing well at the moment," Carbery says.
"I think they've performed really well, and they've implemented their own game and not let the other teams play, which is great to see. Hopefully the next couple of weeks goes their way and they can do it.
Andy is such a great guy, and the lads absolutely love him. I'd say he's fitted in perfectly, and by the look of it the lads are loving it."
Ireland entered this Guinness Six Nations under a cloud following a disappointing Rugby World Cup campaign.
For all the highs achieved under Schmidt in Japan, Ireland once again found themselves unable to break past the quarter-final barrier.
The tone of some of the criticism directed the team's way in the immediate aftermath of that exit was a new experience for many of this Ireland squad, but the fact that they have appeared to shake that disappointment off so quickly is testament to the mindset of Farrell's players.
Carbery explains that while results in Japan didn't fall their way, no one in the squad would have sat around feeling sorry themselves over the winter months.
"You've just got to take it week by week, and then look to get better each week.
"I think [you would] try to avoid any negativity coming towards us, try to move on with what we need to do. That seems to be what the lads have done and they look pretty focused on what they need to do."
While Carbery hasn't been in camp over the past few weeks, he's managed to enjoy his time with Munster and has been trying to make the most of his situation.
Despite failing to reach the Champions Cup pool stages this season, the addition of coaches Stephen Larkham and Graham Rowntree to Johann van Graan's coaching team has added a renewed sense of optimism around the province's future.
It was clear across the first half of the season that Munster are trying to move their gameplan in a new direction, and with World Cup-winning Springbok pair Damian de Allende and RG Snyman signed up for next season, the hope is that this is the start of a bright new era for the province.
"Yeah, it's an exciting place to be and the potential is definitely there [to achieve something]. It's going to be an exciting couple of years. It might take a year or two for it to be fully implemented, but it's definitely a positive."
It will come as no surprise that Carbery has been particularly impressed with former Wallaby out-half Larkham.
"It's great to have someone like Steve there who you can chat to. He's been there and done everything. He's a great guy and a great addition.
"I try and chat to him as much as I can. Like I said, keeping the rugby side of it [going] is pretty important, and trying to learn a bit. You might as well. It's a good time to do a lot of study and stuff, and Steve is a great guy to talk to. His knowledge is incredible. He's a great guy to have a sit down with."
"He just sees the game in a great way," Carbery continues.
"I think the way he can communicate with players, being a [former] player, is hugely important as well. He's a great guy and I think he reads the game really well. He knows what it's like to be on both sides of the coin. So he knows how to be player, and then also what is best in how to get through to players."
Yet for all the hard work and study Carbery is currently undertaking behind the scenes, there is only one place he wants to be.
"It's that light at the end of the tunnel, the thing that you look forward to is getting back on the pitch and being back out with the boys.
"I can't wait to get back out."
The Line-Out airs at 10pm on Virgin Media One every Thursday throughout the Guinness Six Nations. This week, the guests will include ex-England international James Haskell and former Love Island contestant Anton Danyluk. If you miss out, you can catch up on the Virgin Media Player. Every Guinness Six Nations game will also be shown live on Virgin Media Television. Please drink responsibly. To learn more, visit drinkaware.ie.