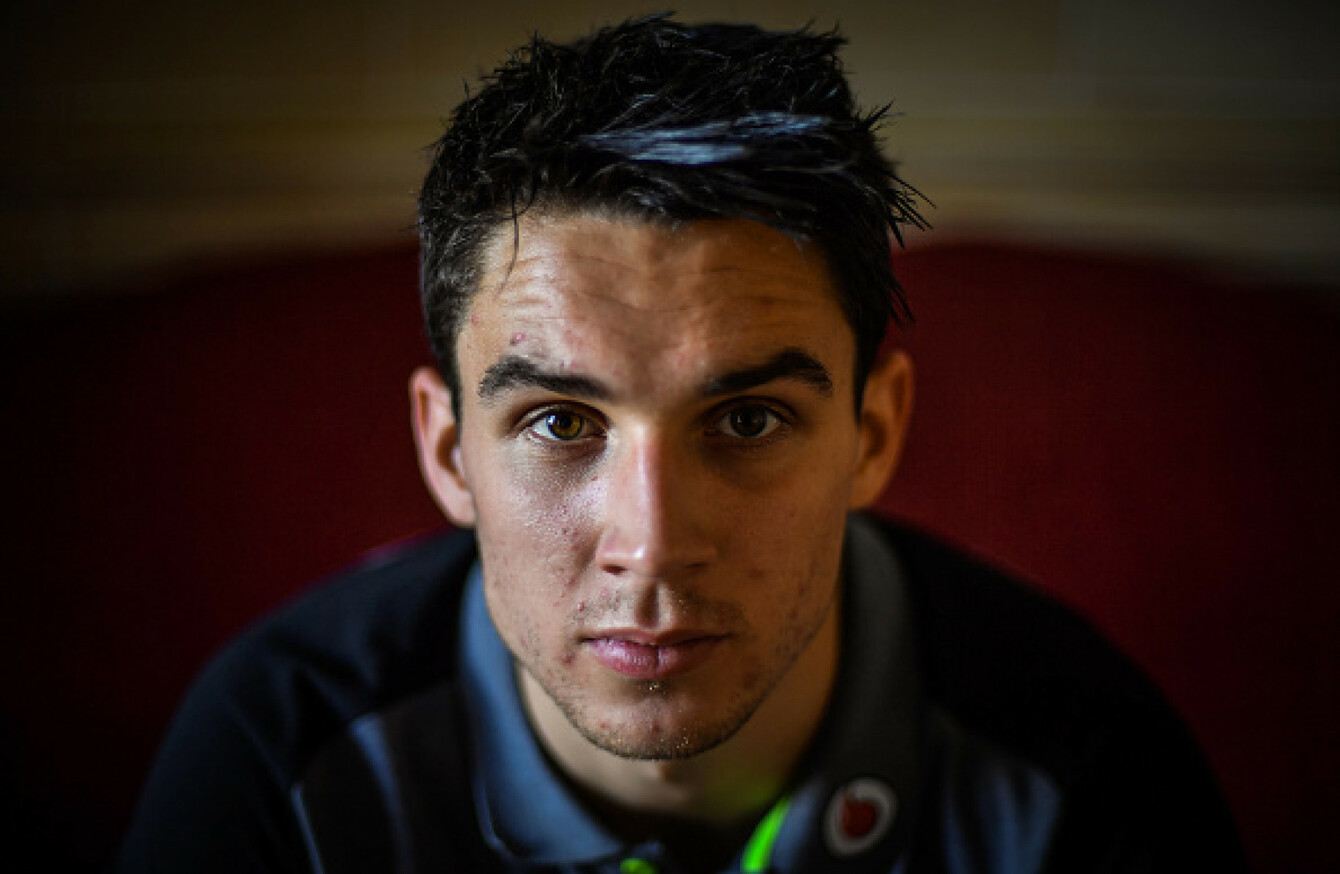 Carbery came off the bench in Ireland's wins over Italy and Wales.
Image: Brendan Moran
Carbery came off the bench in Ireland's wins over Italy and Wales.
Image: Brendan Moran
JOEY CARBERY MAY play for Leinster against the Scarlets this weekend, and then again he may not. The province's trip to Wales would appear to be tailor-made for the 22-year-old's needs — although so did the reverse fixture a fortnight ago at the RDS and we didn't see him in blue that day.
Minutes, we're told, are key and Carbery himself acknowledges he hasn't got enough of them in any position this season, not least in the number 10 jersey, where his ideal future lies. But Joe Schmidt doesn't throw one of his commodities around for the sake of it.
The Ireland head coach didn't take much notice of the clamour for Carbery to get game time for his province pre-Wales, and will only release him this weekend if he sees fit.
But he needs to play rugby.
Since fracturing his wrist against Fiji in November, Carbery has played barely over an hour of rugby, and has not played a full 80 minutes — in any position, in any team — since Leinster's win over Glasgow Warriors in the Champions Cup on 21 October last year.
That has to be a concern. Or at least a frustration for the player himself.
"Yeah it's been a long time," he admits.
Carbery was meeting with Leo Cullen yesterday afternoon to find out if he'd be involved with Leinster for Saturday's Pro14 clash at Parc y Scarlets and certainly the sensible option is to give the Auckland native time on the park ahead of the visit of Scotland given his half an hour against Italy was in-between six minutes combined against France and Wales.
"To be honest, I'd love to get a game, I'd love to get a full 80 minutes under my belt and keep that ticking over," he continues. "I'd love to get some game time, just have to wait and see what the coaches say really.
"I'm doing a good few reps in training and training is pretty intense and as close to a game as it possibly could so I'm getting a good bit out of it being in camp and doing that.
"But then again nothing is the same as a game so I suppose I just have to trust the coaches as they obviously know best. If Joe is happy with me then I'm doing something right anyway."
Fair point.
Training in the Carton bubble is intense — it always has been — and in that regard Schmidt is often happy with the work his players are getting through so that they don't need to go off and run the risk of injury searching for match sharpness in Pro14 action.
Carbery realises that and at this stage of his development completely trusts both Schmidt and Cullen and the decisions they make in terms of minutes, game time, workloads and positions.
"You've got to trust the coaches and if they've got confidence in you it kind of gives you confidence," he says.
Get exclusive
rugby analysis
Access members-only podcasts, analysis and insider reports from The42's Murray Kinsella
Become a Member
"From all the reps in training and knowing my detail early in the week, I can kind of build up towards it so I feel like if I was starting I'd be confident enough to perform [even without minutes].
"It's trying to think positively all the time and not putting ­negative thoughts in your head, really, is the key."
There may, however, come a stage when Carbery isn't full of beans. When the time on the sideline waiting in the wings behind Johnny Sexton erodes his confidence. When he doesn't feel ready to slot in at any stage. When his patience wears off.
"I suppose if it came to the stage where I wasn't feeling confident in myself and if I wasn't feeling good, I'd have to have that conversation but at the moment I'm feeling pretty good and I'm happy where I am. It's a great environment to be in. The teams winning as well and I'm feeling good in myself.
"The coaches are always there, there have been loads of conversations about certain stuff and it is a two-way street and if I felt the need to say something, I'm sure they would be more than willing to listen.
"I do need the game time but I suppose if Joe doesn't want to release me, then he won't release me. I'm not too sure what my story is for the weekend yet so I could be playing. At this stage, I'm just kind of going off what the coaches are saying."
Schmidt earlier in the week suggested Carbery could be a solution for Ireland's ever-deepening midfield crisis by deputising at 12 at some stage over the next two championship games. It would only add to the debate — 10, 12 or 15?
Either way, the number on his back doesn't mater a whole lot to Carbery. He just wants to play rugby and while he is aware of the outside noise, is able to block it out and listen to the voices that really matter.
"Everyone is entitled to their opinion and they obviously think I should be doing other stuff but at the moment I'm just happy," he adds. "I look up to the coaches a lot, really value their opinions and if they're quite happy with me, I'm only really listening to what they have to say.
"It wouldn't piss me off [outside opinions] no, I've just got to keep looking at the right things.
"I wouldn't set targets but want to be involved as much as I possibly can. I suppose when I get the opportunity I want to be able to take it. Keep fit and take my opportunities when they come."
Ireland, Leinster and former Clontarf rugby star, Joey Carbery features in official Ireland kit supplier, Canterbury's Rising Strength video series. The three-part series looked at the role that clubs and the youth game in Ireland play in achieving success at the pinnacle of the sport. The Ireland Rugby jersey is available to purchase from Canterbury.com and sports retailers nationwide.
The42 is on Instagram! Tap the button below on your phone to follow us!