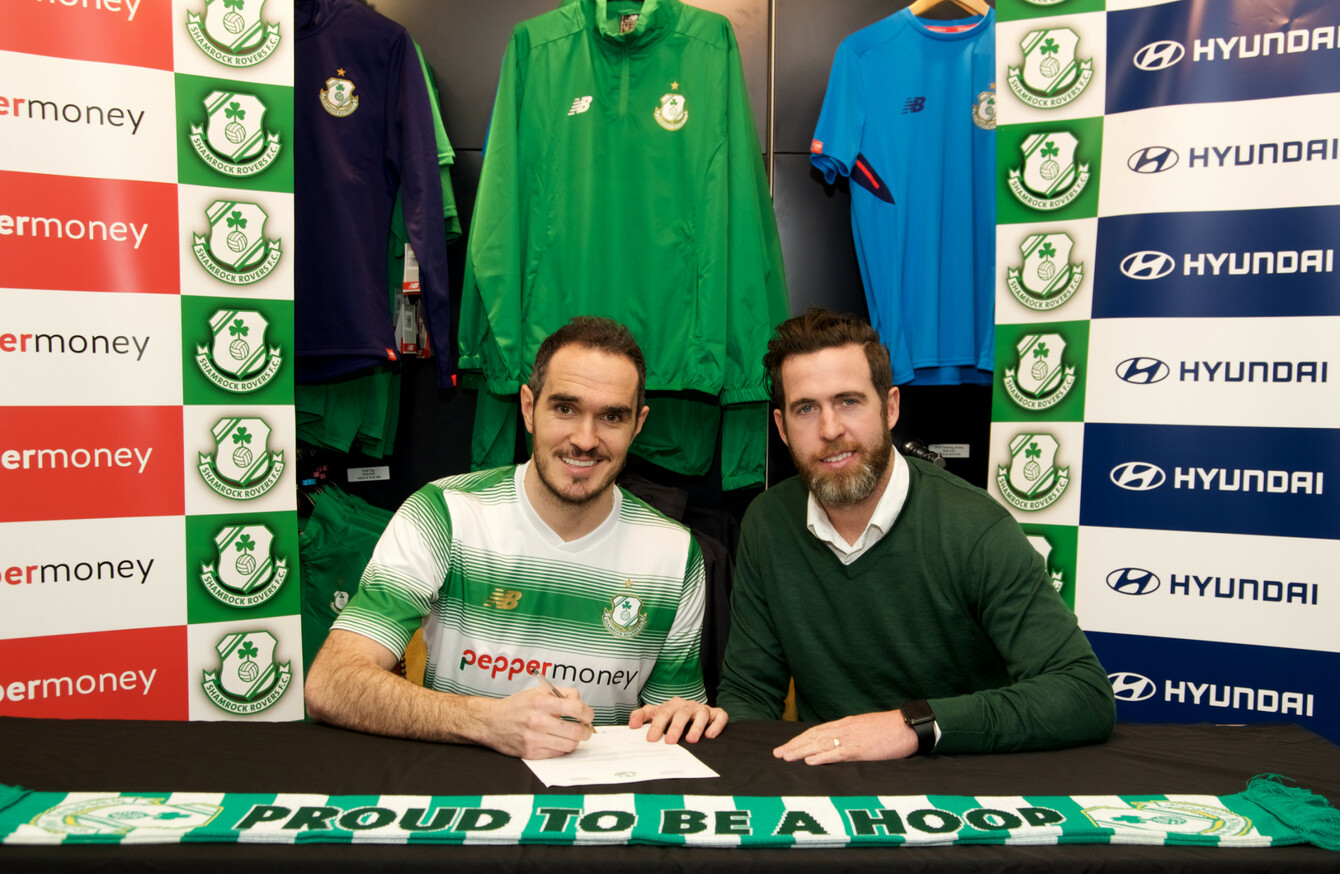 Image: George Kelly
Image: George Kelly
FORMER IRELAND INTERNATIONAL Joey O'Brien has put pen to paper with boyhood club Shamrock Rovers having spent 18 months without a club.
Still just 31, O'Brien was released by West Ham in the summer of 2016 after spending five seasons in east London. He made 105 appearances for the club – 67 of them in the Premier League.
The Dubliner spent time back at his first employers, Bolton Wanderers, last summer, to train with Trotters fitness coach Nick Allamby in order to keep fit, but didn't line out in a competitive fixture for the Championship side.
Having decided to move back to his hometown with his family, O'Brien touched base with Rovers, and was today unveiled as Stephen Bradley's latest signing for the Hoops.
"I'm buzzing to be here and get going. It happened over a short period of time, I made contact with the club and luckily it got over the line," O'Brien said.
I was moving back home with my family so it was a logical thing – I support Shamrock Rovers. I've been to Rovers-Bohs games over the years as a supporter in the Rovers end, so it'll be nice to be out there playing.
"I wanted to get playing and come back here. This is the place to be. Last season I was at Rovers games and I've watched them a few times.
"I'll speak to the manager and get to know the players. It's about becoming part of the squad: I definitely bring the age up!
"Hopefully the way I go about training and off the pitch as well, some of the younger lads can learn from working with me.
It was fantastic at West Ham, apart from the last year where it didn't work out for me. But that's what happens.
"Then I was up at Bolton – I still have contacts there from when I started. It was just a nice fit at the time to try and get fit. I played a couple of games but competitively is what it's all about; it's been a while since I played in matches. I've put in a lot of hours into getting to this situation.
"Hopefully now I'll go to Portugal [for the Atlantic Cup] and get a good bit of training in before the season starts.
Coming back to play in Ireland was always on the radar: even going back five or six years, if I could have played
for Rovers that was always the thing. It's worked out that way now.
Manager Bradley confirmed that he and O'Brien had originally spoken about a prospective move some time back, and that he was enthused by the gravitas O'Brien would bring to the club – at all levels – both on and off the field of play.
He also explained that he's more than cognisant of O'Brien's history with injuries – which have limited the five-time capped Ireland international to just less than 200 senior career appearances – but remains confident that the 31-year-old's ailments can be managed.
"I believe Joey and his family have been Rovers fans all their lives, so it was an easy sell when he got in contact a few months back," said Bradley.
"We sat down and had a chat and he trained with us for a while before he had to go back to England to do a few things. When he made the phone call to say he wanted to get it done it was great for both of us.
"He's been getting to know us and vice versa. I think he brings a great experience to the squad. He's played at such a high level throughout his career. With the group we have, he's just the right character and right quality.
You see at Roadstone the whole club is based there. So the under-8s will see the first team and I think it's great when they come in and see the likes of Joey walking around and they can meet him and get to know him.
"We're all well aware of Joey's history with injuries and Joey was very open and honest about it as well. We went into this with our eyes open.
"If we can get Joey on the pitch and look after him in training he'll be a massive asset to the club – what he brings to the dressing room and the training pitch. It's the whole package.
"He's been through the mill in terms of games and injuries. We know that, but we just have to manage him."