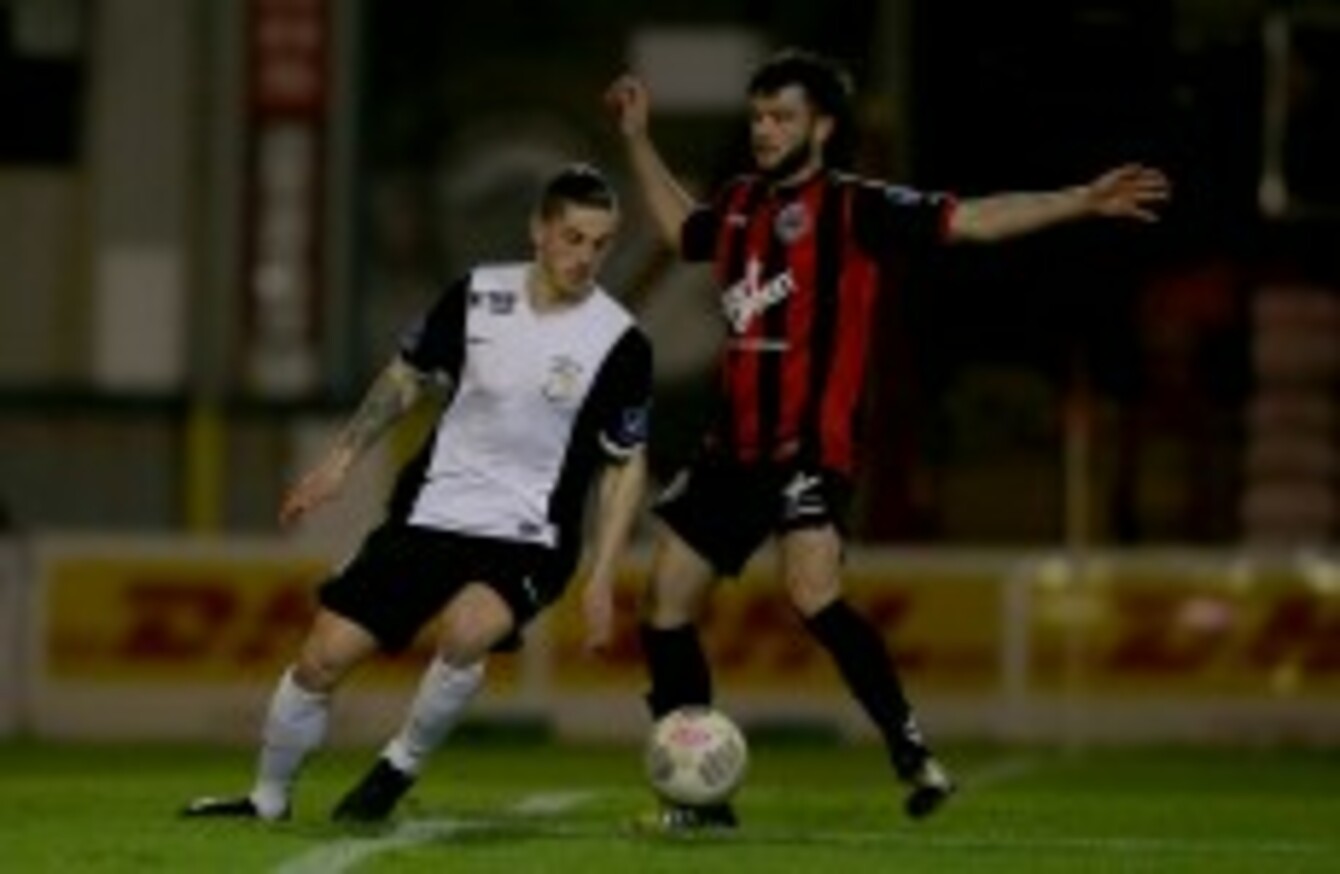 Marco Chindea of Athlone with Adam Wixted during their EA Sports Cup tie this week.
Image: Donall Farmer/INPHO
Marco Chindea of Athlone with Adam Wixted during their EA Sports Cup tie this week.
Image: Donall Farmer/INPHO
I LOVE THE League of Ireland but it's tough to be a cheerleader.
A few days after an entertaining opening weekend, the first distress flare has been lit. Athlone Town released a statement on Tuesday announcing a public meeting on "issues with regard to continuing with League of Ireland participation not only this season but into the future".
The statement implies that in bringing together "perhaps the best squad assembled in many years" the club is now questioning how they pay for it and is not sure they'll last until October.
We could do without the distraction. It raises questions on club finances a week into the season. Many will rightly ask how a club awarded a licence on 23 February can, 15 days later, cast doubt on their ability to finish the season.
Having spoken to some involved with the club this week, I've been told that Athlone's licence was awarded following the late provision of a tax clearance cert which in turn required a cash payment to the revenue. This left an immediate, though foreseeable, hole in the budget.
So where is the FAI in this? In mid January each club's board and manager review the season's budget with the FAI. By January the expenditure is largely known and fixed in contracts or quoted costs.
The projected income is estimated and varies with results. The FAI question, clubs answer most and dodge some. So much of the yearly budget is uncertain, both parties accept that.
Following this budget meeting, Premier Division clubs submit monthly management accounts — First Division clubs submit their accounts quarterly. Athlone's first quarterly return, since the League's financial year starts in November, would be due in Abbotstown around now.
This allows the FAI a little leeway in terms of the immediate issue, but not in terms of the need to address the ongoing underlying issues, because Athlone aren't struggling alone.
Limerick FC's Pat O'Sullivan, one of the league's more progressive chairmen, announced in February his need to reduce the level of personal sponsorship to the club. This has seen Martin Russell left with a young squad likely to struggle at the lower end of the table. The temptation, should Limerick face a real relegation threat, will be for Pat to stretch himself and pump money he can't afford into the club.
The struggle exists among well supported clubs. In an interview with Owen Cowzer in the Irish Sun this week, Cork City CEO Timmy Murphy revealed the club lost approximately €160,000 over their first two seasons back in the Premier Division.
While the club bounced back off the field as well as on in 2014 it was proceeds from the sales of Graham Cummins, Alan Browne and Brian Lenihan that kept the club solvent; money that had been ring-fenced for infrastructure projects.
Through 2014, board members of Dundalk, despite their success, shared stories of cash flow worries with me. I'm an optimist and I believe we have a great product but we need a coherent plan to which everyone signs up to deliver real change. Too often we struggle and ignore the lessons of the past.
We lack a clear strategy or vision for the league. We fight fires, we worry and we can't get our heads up enough to look a few years down the line.
The recently-announced consultation process is vital but even in that announcement we show our collective inability to plan. We will be one tenth of the way into the 2015-2020 period covered by the strategic plan before the report is produced. We will be even further down the line before any recommendations can be implemented.
When I worked for Athlone Town in 2012, there were some at the club who wanted to withdraw from the league. There was a sense of hopelessness among them, as they battled to keep the club going after so long in the First Division. With 125 years of history to protect, there were conversations on dropping to the Leinster Senior league.
Thankfully, those voices were a minority and the club worked hard to guarantee a number of very positive years, right up to their relegation last November.
As I stated in my column on Cabinteely last week, we must ensure that the league is one which allows clubs to grow and prosper. For all the progress claimed in recent years, we have a long way to go.
Declan Conroy's consultation process needs everyone to engage openly and honestly because without that we will continue to see distress flares.
Follow John on Twitter @johngosullivan