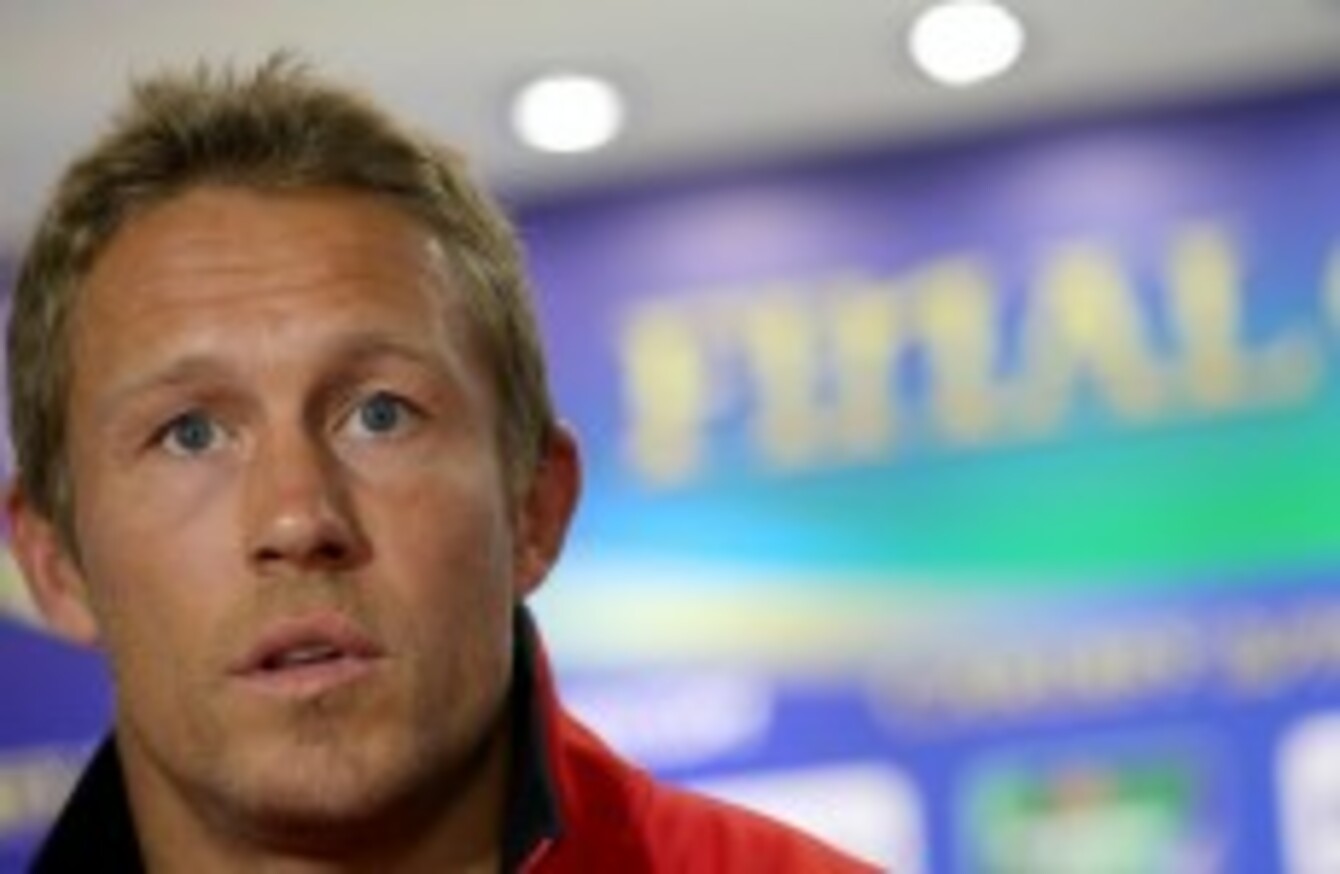 Wilkinson is hoping to help Toulon to a second consecutive Heineken Cup title.
Image: Dan Sheridan/INPHO
Wilkinson is hoping to help Toulon to a second consecutive Heineken Cup title.
Image: Dan Sheridan/INPHO
TOULON COACH BERNARD Laporte has hailed Jonny Wilkinson as a "once in a generation player," while the out-half himself insisted his only concern was helping the French club to retain the Heineken Cup.
Wilkinson will captain Toulon in tomorrow's final against Saracens at Cardiff's Millennium Stadium, with next week's Top 14 final against Castres set to crown his illustrious career.
When coach of France, Laporte often had cause to rue the skill of England's 2003 World Cup final drop-goal hero and the Toulon boss was keen to pay tribute to Wilkinson during a pre-match press conference in Cardiff this afternoon.
"He is an exceptional player… you could talk about him forever," said Laporte. "Players like him only come around once in a generation," added Laporte, who compared Wilkinson to Zinedine Zidane.
Once, after we (France) lost against England at Twickenham, I said we have Zidane, and they have Wilkinson. I was right. It is a pleasure to have him. He is a perfectionist, but he is always asking questions as if he is starting out in the game."
Wilkinson, 35 on Sunday, said he had no doubts about his impending retirement.
"I felt the time had come to say that's that… I feel relieved that I have announced it.
- 'Next week doesn't exist' -
"This game (against Saracens) is the biggest one as far as I am concerned at the moment. Next week doesn't really exist. It simply comes down to the here, and now and for the here and now to be a Heineken Cup final is incredible.
"But the thought of leaving the final without a happy ending to this journey is a painful one, so we've got to do everything we can to try to make sure it doesn't end like that.
"I think everyone plays the game with the aim of trying to leave it in a better place than when you arrived," Wilkinson insisted. "I have been trying to keep up, more than anything, throughout my career, and no more so than at the moment.
"I couldn't care less about what happens to me if things go well for the team," he added.
Wilkinson, who kicked all of Toulon's points in their 24-12 semi-final win over Saracens last season, paid tribute to opposing out-half and current England number 10 Owen Farrell, as well as Sarries captain Steve Borthwick, who is also retiring at the end of the season.
"Saracens are very strong, hugely consistent and able to go out there, no matter what the conditions, the day, the situation and come through," he said. "You then realise that comes from the individuals and especially from the guys making the decisions.
Owen Farrell is a younger guy and his ability to do that at this stage in his career is amazing, to be fair," Wilkinson said of the 22-year-old. "He embodies what is great about this Saracens team."
Turning to second row Borthwick, a former England captain, Wilkinson added: "I have known Steve for a long time. He's been inspirational. He has never compromised his values, his desires, his drive.
"There has never been a moment where he hasn't given everything."