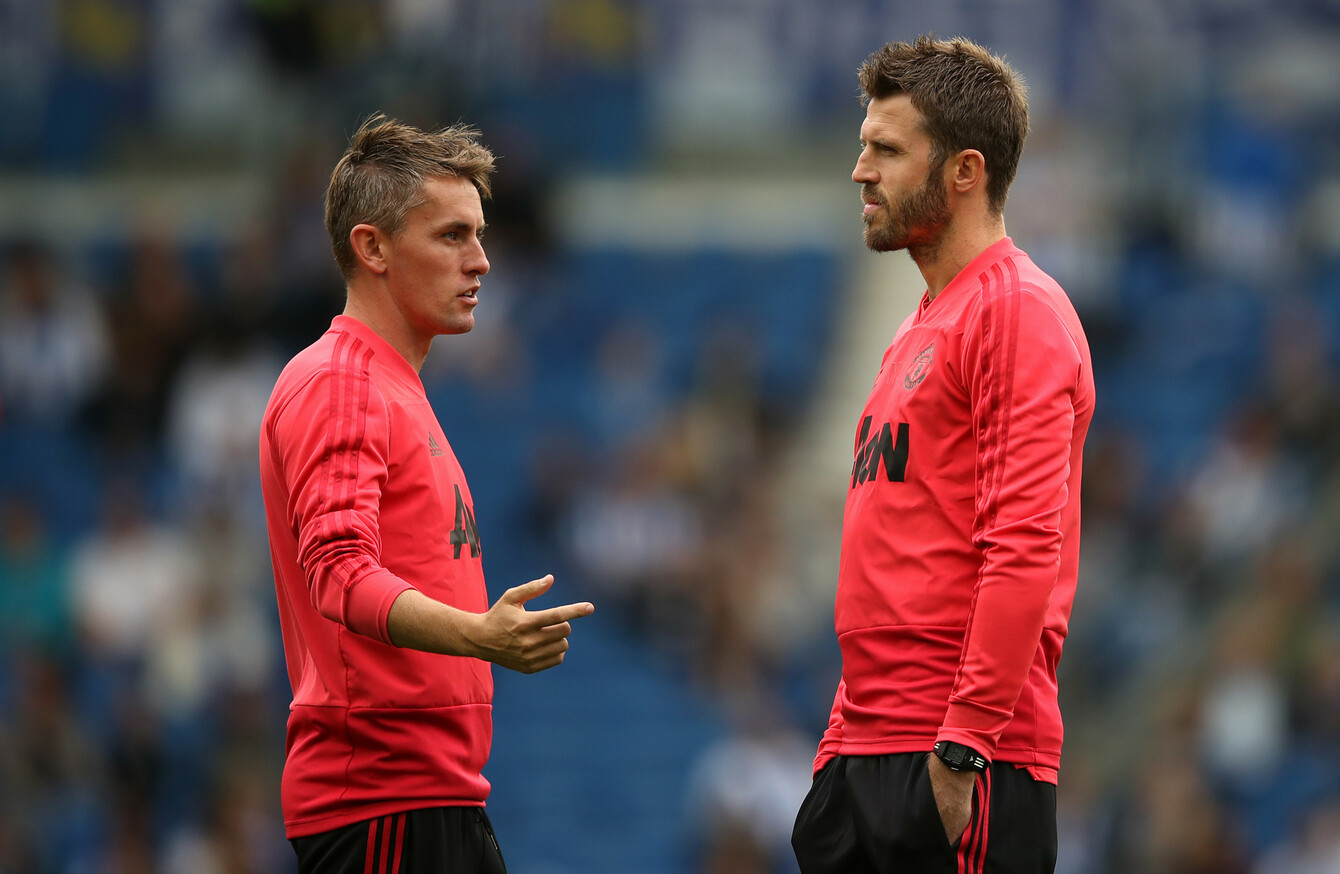 Image: John Walton
Image: John Walton
IT'S KIERAN MCKENNA's style to slink into the shadows.
So when Jose Mourinho promoted him to the role of assistant coach at the tail-end of last season, it helped that Michael Carrick was also part of the reshuffle that followed Rui Faria's departure.
It meant that the inexplicable story of the 32-year-old from Fermanagh – only at Manchester United for 18 months at that stage – was undersold. Carrick was the high-profile figure and quickly touted as a possible United manager in the future. In contrast, McKenna was seen as mysterious and an unknown quantity.
But he likes it that way and he's continued to enjoy relative anonymity. Inside Old Trafford though, things are a little different and he's developing quite a reputation.
McKenna already had a considerable one at underage level.
When he left Tottenham in September 2016, United weren't the only club batting their eyelids. But he'd been a lifelong supporter and the opportunity to take the reins of the Under-18 team was too good to refuse.    
"To go to Manchester United, there is no bigger move you can make," he said at the time.
"It's a dream come true really. I was a massive United fan. My dad brought me over to my first game in the 1994 season to see them lift the Premier League trophy."
As a youngster, McKenna played with his local side Enniskillen Town United before coming to the attention of Ray Sanderson, deputy editor of the Fermanagh Herald, who was also moonlighting as a development coach with the IFA.
"Kieran would've come to me probably at the age of 11 or 12 – just before his teens," he says.
"We developed county squads which then went on to become elite squads. He was asked to play for Ballinamallard United and their youth team began to play in the Mid-Ulster League. He was a good player. He was very enthusiastic player, very hard-working, very intelligent and I would've classed him as a box-to-box man – up and down quite regularly, even at that age.
He was spotted by a man called Gerry McKee, who was the Spurs scout in Northern Ireland at that stage. He was an organiser of the Mid-Ulster League too and had his eyes on him. He got him across for a number of trials but Kieran had been making waves anyway because Northern Ireland Schoolboys were looking at him for their squad and he eventually got called up."
At Tottenham, McKenna began with the Under-17 side in 2002 before quickly becoming a crucial part of the reserves.
By mid-2004, he was on the fringes of the senior team and called into pre-season squads by then-manager Jacques Santini. Even when Santini was replaced by Martin Jol later that year, McKenna still seemed on the verge of a breakthrough. There was another pre-season tour to France in 2005 and that same summer he captained Northern Ireland as they hosted the Under-19 European Championships.
By 2007, he had captained the Spurs reserves and Northern Ireland's Under-21s. But a first-team opportunity at White Hart Lane continued to elude him. That year, he began to complain of a hip injury and struggled to properly shake it off. As Jamie O'Hara, another Tottenham reserve who had been tipped for big things, started to pick up some minutes under new senior boss Juande Ramos, McKenna was treading water and still trying to deal with his fitness issues.
In January 2008, a loan move to Barnet fell through at the last minute. He hoped an operation would rectify things but the lay-off ensured he dropped further down the pecking order. When he got back playing, he was still a long way from full fitness. But, running out of options, he decided to try a second hip operation.
In early 2009, doctors sat him down and broke the bad news. Enforced retirement at just 22.
"He had a very good reputation during his time at Tottenham and they thought quite highly of him," Sanderson says.
He played through all of the underage levels, captained the reserves. And I think Tottenham thought that much of Kieran that they couldn't lose him. His manner, the way he went about things, he was a real gentleman – even at a young age. I think they encouraged him to go, or maybe even sent him, to Loughborough University. But, he was always incredibly bright and during his time in the academy, he was studying as well. He went on to get his GCSEs and his A-Levels. He wouldn't have got into Loughborough without those grades."
McKenna studied Sports Science at Loughborough while simultaneously helping out with underage coaching at Tottenham, Leicester and Nottingham Forest. At the end of his first academic year, he spent two months with the Vancouver Whitecaps as a guest coach of their Residency squad.
In a rare interview with the team's website, he briefly touched on being forced to retire.
"It was obviously devastating when I had to stop playing at a young age, but with the support of my family, I stayed positive and looked to the future."
He continued with his studies and Tottenham kept a keen eye on his development, stirred by his resilience and general attitude.
When he graduated from Loughborough, he was hired as Head of Academy Performance Analysis and worked under academy boss John McDermott. Inevitably, he impressed. Soon, he was appointed coach of the Under-18 side and in 2015 oversaw their run to the semi-finals of the FA Youth Cup. They really should have made it to the decider but after a 2-0 first-leg win over Chelsea – who boasted the likes of Dominic Solanke and Tammy Abraham – they lost the return game 5-2 and bowed out 5-4 on aggregate.
Still, McKenna had made quite a few people sit up and take notice.
"At that that level, a lot of clubs look at coaches' stats and I think he was top of the pile," Sanderson says.  
Tottenham obviously saw the potential – the holistic potential – that he had. As a man, as a player, as a leader and as a coach. In 2016, United obviously made the approach. He's a Man United lover and when one of the biggest clubs in the world asks you to come onboard, you can't turn it down."
In the Fifth Round of the Youth Cup, Tottenham had beaten Manchester United 3-1 at White Hart Lane. The visitors had Marcus Rashford up front, Timothy Fosu-Mensah in midfield and Cameron Borthwick-Jackson and Axel Tuanzebe in defence. All four would graduate to the senior side under Louis van Gaal later that same year.
The Youth Cup was a calling card for McKenna but it wasn't the only reason United began to show an interest.
The club had been planning on making changes to their youth programme before long-time Under-18s coach Paul McGuinness resigned in February 2016. Nicky Butt – the newly appointed head of the academy – had admired McKenna and his work for quite a while and earmarked him as the perfect replacement.
"We had a relationship where our team would go down to Tottenham one summer for a week and then they'd come up to Manchester later in the year," Butt told the Manchester Evening News.
"I was watching Kieran work and I thought he was young to be so confident in what he was doing and very good at it. Everyone you spoke to about him spoke very highly of him. He is very dedicated, very committed and very, very organised. He is on the ball with everything."
"More importantly he had the right philosophy that would fit in well at Man United. Both clubs are pretty similar in my opinion. They both produce young players and give them the chance."
McKenna was appointed in September 2016 and United were crowned Premier League North winners in just his second season before they suffered defeat to Chelsea in the national final. He played a key role in the development of highly-rated youngsters like Angel Gomes (who has already made senior appearances under Jose Mourinho), Tahith Chong and Mason Greenwood and his obsessiveness and attention to detail continued to mark him out as something special.  
Colin Little is part of the coaching staff at United's academy and served as McKenna's assistant. 
"Kieran has come in with all that he learned from Mauricio Pochettino and John McDermott at Spurs," he told Planet Football last month. 
"You become obsessed with it. That's a trait of the best coaches I've worked with – they're obsessive. Jose is obsessive about the way he does it, Dario (Gradi) was, Paul McGuinness, McKenna – it's 24/7."
Indy Boonen, the Belgian winger who spent three years with United's underage teams, was glowing in his praise too.
"When Kieran became the new under-18s manager, he changed everything," he said after McKenna's senior role was confirmed.
"He is one of the best coaches I ever had. It's the way he wants to play football and the way we trained and improved. The way we trained was how the opponent played on the Saturday. If you played against West Brom, you trained (in terms of) how they are and focused on their weaknesses. He has everything to have a big, big career as a manager in the future."
It's not clear when Mourinho decided to promote McKenna but he's already wielded quite an influence in his first season with the senior side.
When Paul Pogba was made United skipper for the first time back in August, he revealed it was McKenna and Carrick who offered some pre-game counsel and discussed the importance of the captaincy with him.
And when Chris Smalling scored United's second goal away to Watford in mid-September – which came from a set-piece routine painstakingly worked on at Carrington by the coaching staff – Mourinho instantly turned to McKenna and embraced him. It may not have seemed like much but it was another reminder of how far he'd come in such a short space of time.
"They've got new ideas and the fact that they were already with the club – Michael as a player – they're great guys to have about," Smalling later told reporters, when asked about McKenna and Carrick and another new coaching addition, Stefano Rapetti.
"It's brilliant that we've got coaches we all respect and like."
For Sanderson, somebody who watched McKenna as a player for so long, it makes sense to see him as a coach, particularly when he was a captain for both club and country and because of his overall personality and demeanour.
"At junior and youth level you'd have an awful lot of players who just run, run, run – just because they're so energetic," he says.
"But the way Kieran thought about the game, the way he thought about certain situations…he'd do it for certain reasons. He knew where to be. He knew where to play ball. And, to be fair, he worked awfully hard at his game. As a 12-year-old, he would've been a good player but he wouldn't have been an exceptional player. But he did develop. He always wanted to learn and be better."
As a captain it was a quiet leadership with him. It was a positive attitude about everything. It was about bringing people on. Not the shouting and the rabble-rousing type of stuff. He would be a quiet individual but inside there would be a lot going on – thinking and planning and that sort of thing. On that point, I remember that Kieran would never leave the golf course during the summer. He was up in the morning and out – even by himself. His family lived just adjacent to the Enniskillen Golf Club at that stage and he'd come back for his lunch and then head back out again. He was that kind of individual and would just immerse himself in sport."
McKenna's success has been a treat for the local football community in Fermanagh and those that have been invested in his career for the last two decades. It's been all the sweeter considering the injury problems, the retirement and the trauma. There's pride and admiration at just how resolute and determined he's been and how the path he took – so uncertain at times – finally led him to Manchester United after all.
"Yes, you watch Man United for the football but I'm always looking to see when the camera pans to Mourinho," Sanderson says, excitedly.
"And there, by his side, is Kieran. And you see him and it's like, 'Oh, there's Kieran' – like it's your cousin or your son. Because you know him and you've known his family for so long.
It's just great to see him at that level."
Subscribe to our new podcast, Heineken Rugby Weekly on The42, here: