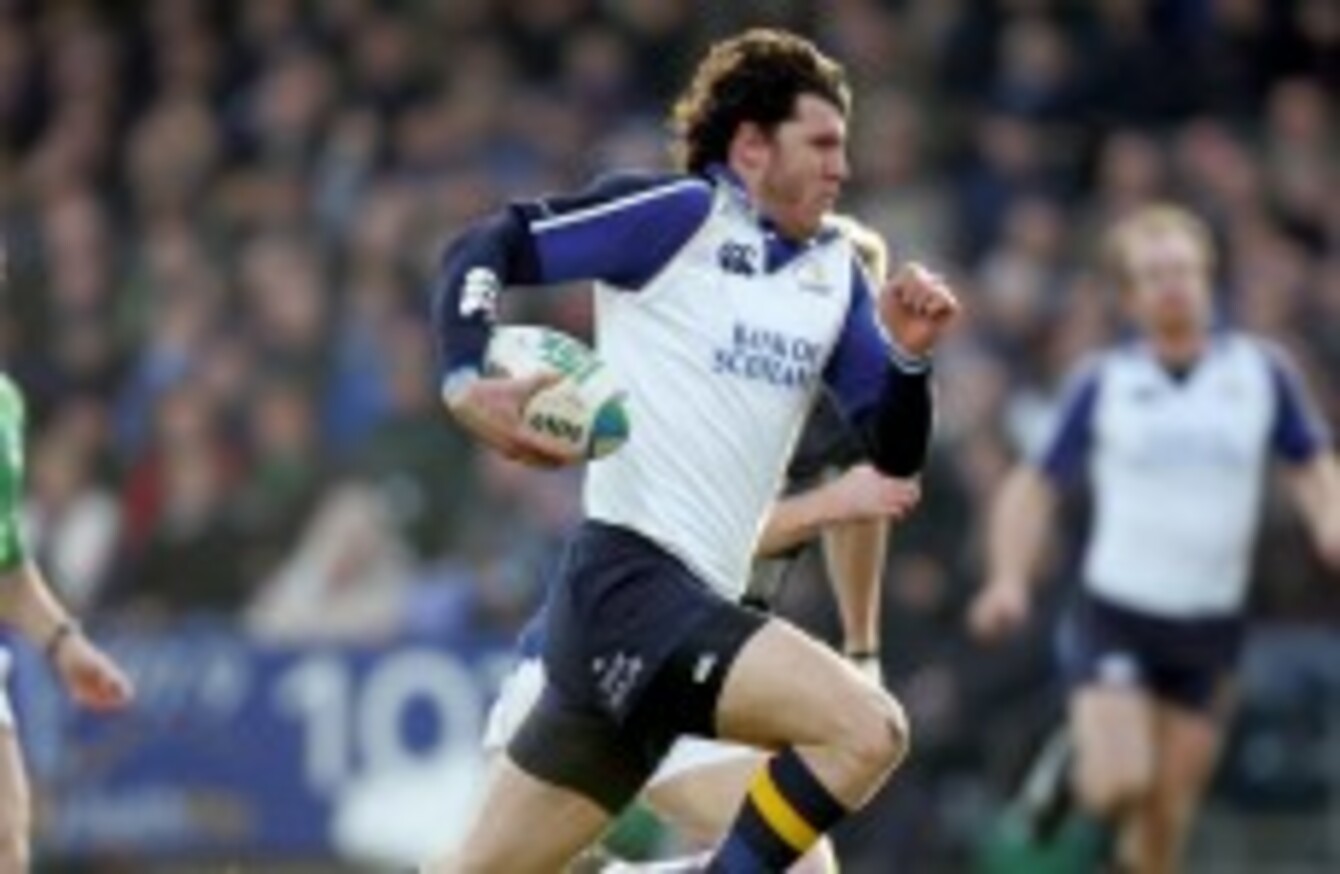 Shane Horgan finished off a spectacular try early on for Leinster.
Image: ©INPHO
Shane Horgan finished off a spectacular try early on for Leinster.
Image: ©INPHO
IN A MUST-win game, Leinster win an early turnover penalty in their own 22. After a good opening defensive stand at the Recreation Ground, Felipe Contepomi can find touch… or not.
Dr Phil's head snaps to his left immediately.
It's on.
Leinster had lost their opening Heineken Cup pool game in the 2005/2006 season to Bath and a 3-0 win at the Rec would have been enough to see them into the quarter-final.
That Leinster team didn't do 3-0 wins.
Contepomi's audacity was rewarded by his wings, Denis Hickie and Shane Horgan, who combined to open the visitor's account with this scintillating score.
Source: RoryBellows/YouTube
Hickie doesn't recall every particular from Leinster's memorable 35-23 win – 'I can barely remember what happened last week,' he laughs – but Contepomi's passion for breaking from deep sticks out.
"Felipe was very good at reading the game as it happened," Hickie told The42.
"He would have seen we had a full backline out wide and then gone. That was Felipe's style. We were very experienced playing with each other in an off-the-cuff style."
The Argentine doubled down on his cheekiness minutes later, poaching a Bath pass in midfield and racing home to extend Leinster's advantage. The quarter-final win over Toulouse later that season gets far more attention, but the performance Leinster put in to reach the knockout stage was arguably even better.
Many are expecting Leinster's Champions Cup quarter-final against Bath this Saturday to be an entertaining and high-scoring affair. If it follows the same template as the game in 2006, fans will love every second of it.
05/06 was Michael Cheika's first season in charge and the work he had done since arriving with backs coach David Knox first started to pay off that day at the Rec.
"Cheika's great strength – I know he brought a hard mental edge – was in analysis," Hickie said.
"He was a big practitioner of analysis and I'm sure he would have looked at Bath and saw areas we could attack. We would have been given a mandate to attack as we saw fit."
Cheika did a lot for Leinster but his number two brought his own unique perspective to the table. David Knox had been an excellent play-making out-half for the Brumbies in Super Rugby and even in clips of him in action (first receiver below), you can seen various elements that were adopted by his players at Leinster.
Hickie remembers that Knox was very much an advocate of trying things from deep and enjoyed the fresh outlook he brought to the team.
"He was quite a character and had a very unconventional outlook on life," Hickie laughs.
"We hadn't had a dedicated attacking coach in a long time so he was a breath of fresh air. That tap and go that Felipe did – he was constantly preaching stuff like that. Cheika wanted to apply a bit more structure but if it was up to him, we would have been doing stuff like that all the time."
Three more tries followed after Leinster's opening onslaught – one for Will Green, Shane Horgan and Brian O'Driscoll. Each score was expertly worked and featured a combination of clever running lines and slick hands.
Leinster's third try sticks out nine seasons later as one of the province's best. It is no surprise that O'Driscoll and Gordon D'Arcy feature prominently but tighthead prop Green does remarkably well to match the centres stride for stride and take the decisive pass (it's reminiscent of Vincent Debaty's finish against England recently).
And while Hickie confessed that his memory of the game is a bit hazy nine years later, the mention of Green's support line takes him back.
"I remember we took the ball of the top of the lineout and Brian went through a hole and had Gordon on his right," Hickie says.
"Will Green was a pretty mobile tighthead and had run a fantastic support line. Keith Gleeson had done really well to get out of the way to allow Brian through too. It was just a great team try."
Under Joe Schmidt, Leinster won plenty of games with the sort of swashbuckling rugby that is evident in those clips but to go away to a top English side on the final day of pool action and do THAT, is peak Leinster.
If fans see even a fraction of that rugby this Saturday, it is sure to be a cracker and with so much talent behind the scrum, it isn't out of the question.
Oh and in case you were wondering, here were Leinster's final two tries.
Not bad efforts either…
Source: RoryBellows/YouTube
Ranking those tries will be the hardest decision you make until you decide whether to get married.