GPS ANALYSIS AND player self-assessment are just two of the areas Leinster target to stay at the cutting edge of rugby technology.
The three-time European champions try to find an advantage over their rivals through smart innovation, team manager Guy Easterby said at the 2014 Web Summit in Dublin today.
Easterby admits that the use of technology and sporting data in rugby is still in its infancy compared to more advanced sports like Formula 1.
While harvesting GPS data has become the norm at provincial and international level, Leinster are trying to beat their rivals when it comes to making sense of the numbers.
"Every single player in training and in a match every single time they go out will wear a GPS unit which will tell us how far they're running, how fast they're running, how big the hits are that they're taking," he said.
"It's an area which in the past couple of years has really grown.
What we have a problem with is that not too many people really understand the data that we're getting out. We're trying to use people in our partnership with UCD who can analyse data and get real facts out of that.
"Yes it can tell us how far someone can run but can it tell us how injuries occur, or when someone's at top speed how in danger are they, those sort of things that we haven't got to the bottom of yet because we're still very young in terms of the amount of time spent with [the technology]."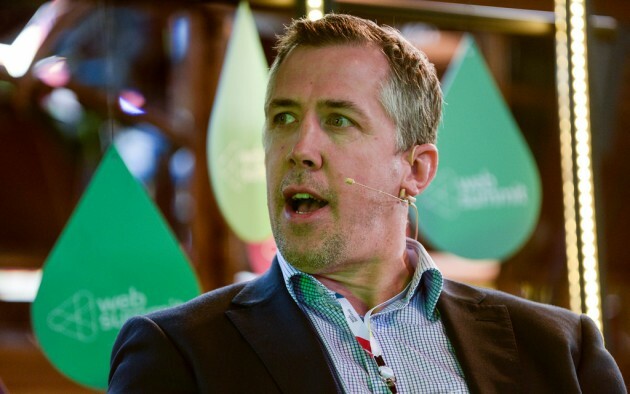 Web Summit Guy Easterby was in conversation on the Sports Summit stage of the Web Summit today. Web Summit
Alongside this quantitative data Leinster add a more holistic approach to evaluating player fitness and injury management, Easterby explained.
"[We have] players every morning, filling out forms in terms of how they're feeling.
"Are they stressed? Do they have stresses outside of rugby? How did they sleep? What's their mood like?
We have markers in terms of their hamstring stretch, their groin squeeze, all these things that try to give us data in terms of how a person is feeling and therefore how susceptible they might be to injury on any given day. I guess that's a way in which we're trying to stay ahead of the pack.
"Technology-wise we're not ahead of the game but can we be innovative within the game of rugby union to make sure that we get the most out of the technology that we use? Yes we can."
While technology has brought many benefits, it also has its pitfalls — particularly when it comes to players' use of social media.
Someone taking a picture of their leg strapped up on the table or with ice on their ankle and it's the week of a game — what does that give to the opposition?
"Does that give an insight that you're not playing? Does that give an insight that your ankle is sore and if there's a chance, they might just stand on it in a ruck?
"The one-percenters are the difference and I think it's about them understanding what is and what isn't acceptable.
"It's not about trying to curb their use of it. It's just how they use it."
Exclusive Six
Nations Analysis
Get Murray Kinsella's exclusive analysis of Ireland's Six Nations campaign this spring
Become a Member
Easterby also revealed that Leinster trialled a player mic during pre-season, similar to those used in Australia's National Rugby League, but have concerns about the disciplinary implications of such audio feeds down the line.
One of our number nines, our playmaker who would do the most talking, he was mic'd up for the whole of a half and everything that he said during a game was caught on there on audio and then it was given back to us.
"The International Rugby Board haven't passed it yet.
"One of the issues we have with that is again, who gets access to that?
NZAUTV Rugby League / YouTube
Warriors halfback Shaun Johnson was mic'd up by the NRL this year
"Someone says something in the heat of the game, the person they say it to isn't offended by it because they understand that it's a professional game and it's a fairly fraught situation. Can that information then be used against a player, which we had a real issue with?
"If that is passed on to a citing commissioner or someone who is in charge of watching the game, what should they be allowed to use against a player who says something or does something in the heat of battle that hasn't caused offence to the player on the other team but may cause offence to some of the rulemakers?
"Maybe we just need to be a little bit better at allowing ourselves to take on the access and enjoy the revolution."