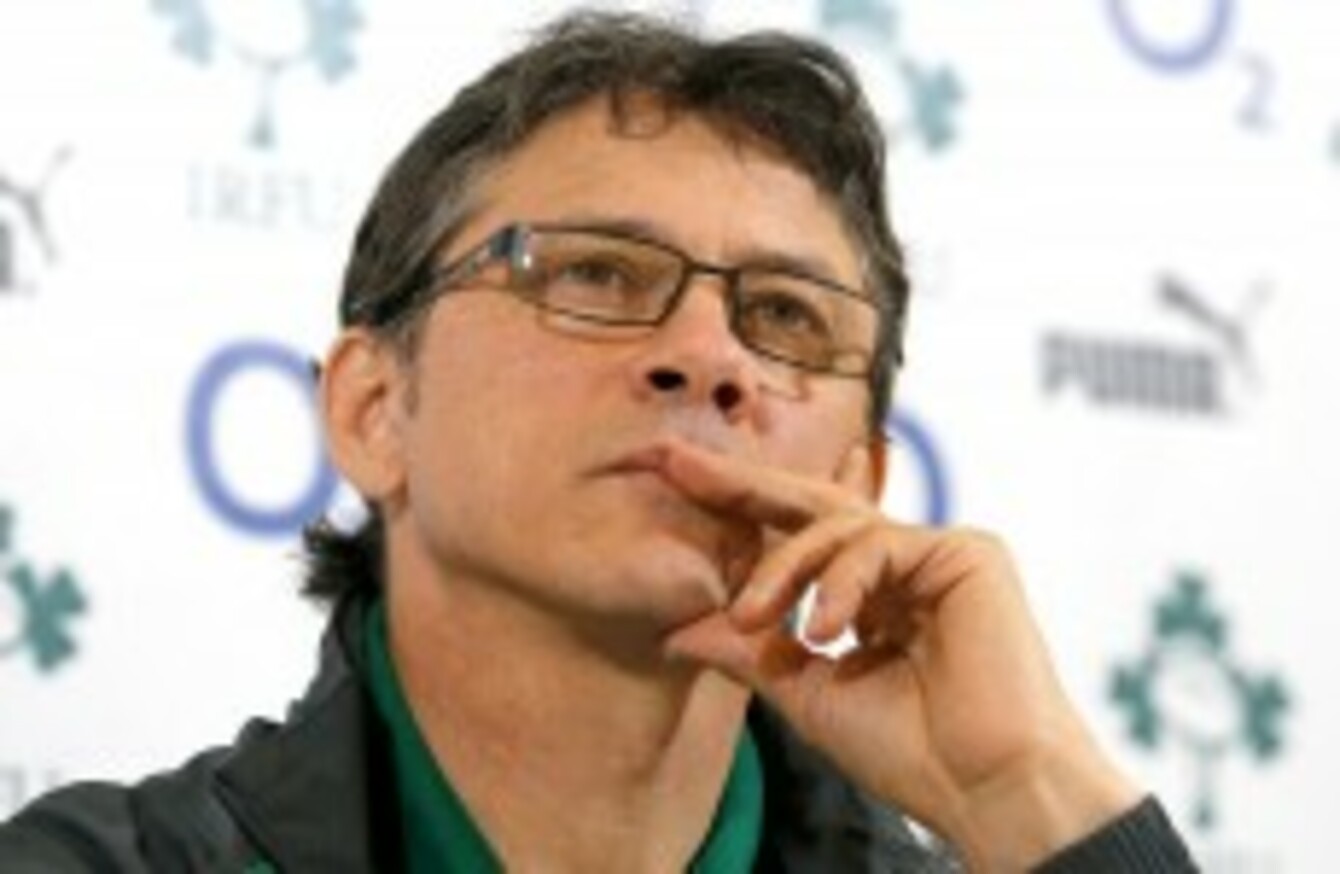 Les Kiss.
Image: INPHO/Billy Stickland
Les Kiss.
Image: INPHO/Billy Stickland
We caught up with Ireland's assistant coach earlier in the week ahead of tomorrow's final Test match in Hamilton.
How have preparations gone in Queenstown?
"The way Declan planned it, and he is superb in that area, he felt that this would be the week that was the most important in terms of maintaining some form of vibrancy and freshness. The lads have trained well, they look good. It's not like they are worn out but it is a nice freshener up. It is an inspiring place so it has definitely served its purpose."
Are the team capable of another big effort on Saturday?
"A lot of people will be thinking it but they do have it in them, without a doubt. The players are at a place they've never been before, at international level, where you are playing week-in, week-out with the All Blacks. They've been superb in their preparation and brilliant, they have looked after themselves well and have nourished the spirit and body here. That should serve us well I hope."
Did Ireland catch the All Blacks on a bad day last week?
"I think a few of them would have been quieter than they probably would have liked but they didn't play badly. It was a fair dinkum, true Test match. On the pressure side of things, we were more persistent and precise with our in terms of putting the pressure on where we thought we could and it came through. It was the wrong result. The boys deserved the win, I thought. I was gutted for them.
"We are in the coaches' box and you can't hear it all the time but when you opened the door and heard the noise, the fans were chanting 'All Blacks, All Blacks', I haven't heard that for a long time. It was an intimate stadium and they certainly felt it was a ridgy-didge, or a fair dinkum, Test match and they were totally engaged in it."
Conrad Smith was a lot quieter than usual. Was that down to the performance of Gordan D'Arcy?
"The type of pressure we applied in the game kept certain players quieter than they would have liked but that is what Test rugby is all about. They played well but they couldn't break us. It was fantastic, what the boys did, but unfortunately you want to win and that is the taste that is left in your mouth.
Conrad Smith tumbles past Fergus McFadden. Credit: INPHO/Photosport/Andrew Cornaga
"I wouldn't say it was anything to do with personnel and that is not taking anything away from Gordon. I think he has been brilliant for us. In the Six Nations, people said he had a poor Six Nations, but I thought he did really well for us. He played well the other night when he was on there.
Be part
of the team
Access exclusive podcasts, interviews and analysis with a monthly or annual membership.
Become a Member
"With Conrad Smith in the first Test, we didn't apply the pressure where we aimed to quell the type of flow they get. Once we got that right, it took away the time and space that Conrad Smith, the (Julian) Saveas, the (Israel) Daggs like. That has a domino effect.
If you are in front of the game in certain areas of pressure, that has a flow-out effect. It retards the flow that (New Zealand) would like to have. He was a recipient of pressure from the inside out. I don't think he played poorly but he wasn't able to influence the game like he can with good space.
"The truth is that the All Blacks are a fantastic team and the way that they open up space for their backs and their loosies (back-row) is a hallmark of their game. They just couldn't get that purchase in the game the way they would have liked. The likes of Aaron Smith, Conrad and Sonny Bill Williams, they couldn't quite get the game they would have liked but they just kept coming, that's for sure."
Was the second Test a career-defining game for Conor Murray?
"Conor, in the previous game, was on the back end of a quality of ball that was just not good enough. Our breakdown work wasn't poor but it wasn't consistently effective. Our ball carrying and the service we gave, not just to Conor, wasn't as good as we would have liked. We got a bit better at the weekend. There are a lot of variables to consider, not just the breakdown but your line of entry when you hit the line, and when you hit the line and when you carry and take the options are available to you. Conor and Eoin both commented that the type of ball they got was better.
"Conor is always learning. He is a fantastic sponge who always wants to improve his game. What we saw at the weekend was just another layer. Was it a defining game for him? No. Every game is a defining moment but I think he found another part to his game and that will serve him going forward. I think the big challenge is to make this next game, this next opportunity (whether he starts or comes off the bench), something that builds on that.
"He had some nice moments and I think that in terms of dictating things around the base, he was coming to the fore. Those are the little things you want your No. 9 to take control of. As a young man, some of the greatest lessons he has ever got have come in the last two Tests. He can take from that and have the poise to control our attack. To open space up and dive over, that was brilliant. One of the things we've been working on is to try open up space and it was great to see the players putting that into place on the footie field.
"The other thing that has helped Conor has been Eoin Reddan. His immense experience, knowledge and tactical nous has been flowing. What he has given to this team, and he hasn't had the chance to start to date, has been superb. What he has given has helped Conor a lot."
Did you agree with New Zealand getting the scrum after Carter's missed drop goal?
"That shouldn't have been their advantage. They went through it and missed it as we were good enough to stop it. It is like a tackle. If we tackled him there, trying to attempt a field goal, but we tackled him before it we would get the ball back. But that doesn't happen. That's probably a law they could look at. I think that if you go for a drop goal and you miss it, you shouldn't get possession back.
"I'd have it as some form or way that the defending team in that moment gets the ball back. I don't know how you do that but the law should say that. If you go for a drop goal and miss then why should you get the ball back from a missed kick? I don't get it but they are the little semantics around the game that they can improve in the future."