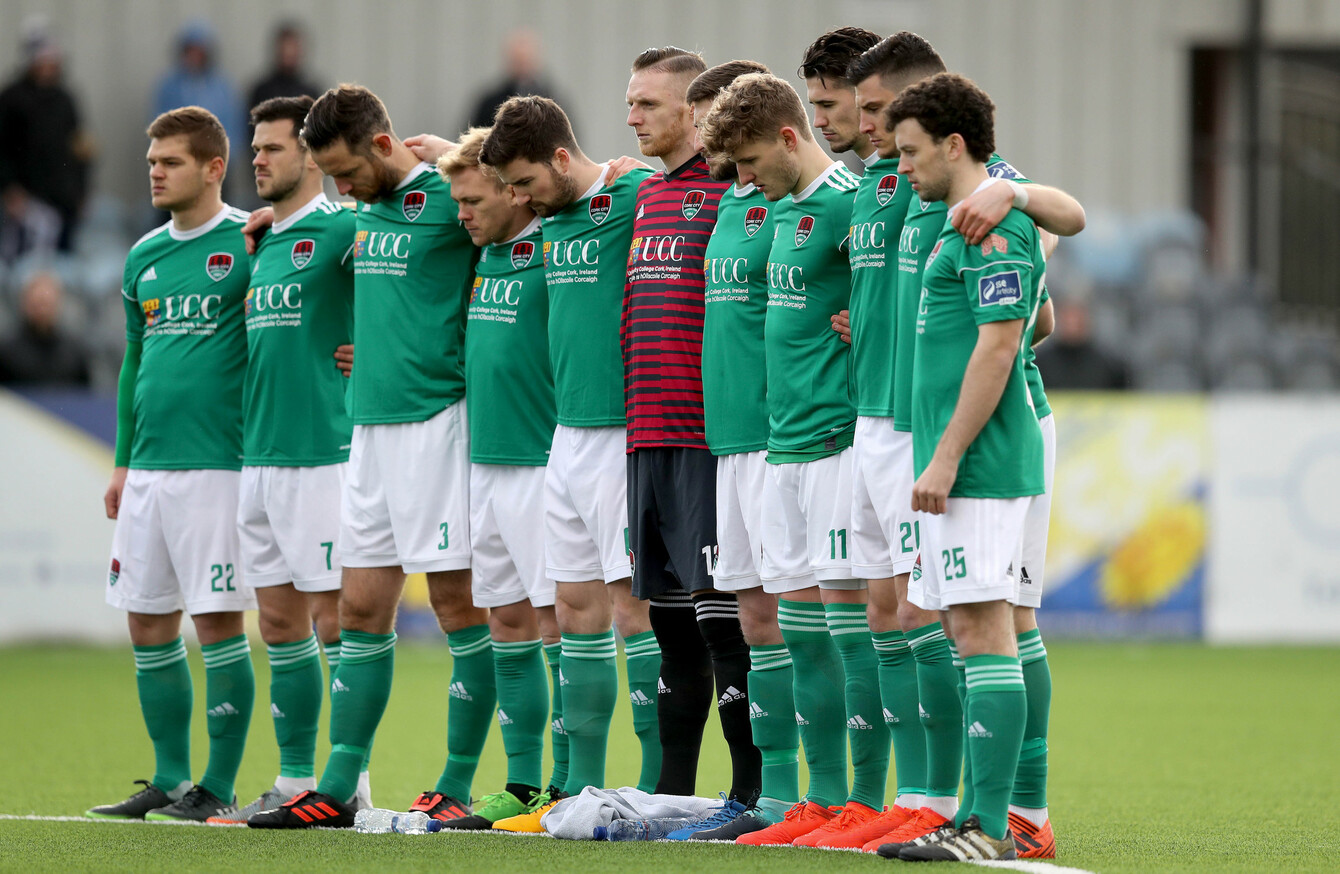 The Cork City players stand for a minute's silence in memory of Miller yesterday.
Image: Ryan Byrne/INPHO
The Cork City players stand for a minute's silence in memory of Miller yesterday.
Image: Ryan Byrne/INPHO
Updated Feb 12th 2018, 8:34 AM
CORK CITY manager John Caulfield has spoken about the lasting impression Liam Miller made on him and the impact his untimely death has had on the club.
The former Ireland midfielder, who would have turned 37 this week, passed away on Friday after losing his battle with pancreatic cancer.
An illustrious career saw Miller spend time at Celtic, Manchester United, Sunderland and Leeds United as well as enjoying spells in Australia and, most recently, the US.
The Cork native also played under Caulfield for his hometown club during the 2015 campaign.
Yesterday, City lined out against rivals Dundalk in the President's Cup at Oriel Park, and claimed a 4-2 win thanks to a fine second-half comeback.
It has been a difficult week for all those associated with the club, the people of Cork and the Irish football community, and Caulfield was in a sombre mood after the win.
"To be fair, a lot of players who came in are new to the team and wouldn't have known Liam that well," he said. "I got to know him because I was the manager three years ago and would have known him from the outside.
He was a lovely person — humble and he never gloated. In spite of the heights he got to with Manchester United and Ireland, he would never speak about it unless you asked him and even then he was very shy.
"At the end of the day, Liam Miller was a professional footballer all his life. He went to Celtic at 16 and lived for that dream. If he was watching there [the President's Cup] he would have been very disappointed with our first-half performance and he would have expected our improvements in the second half."
Miller's funeral will be held at the Church of St John the Baptist in Ovens today (11.30am) and the City boss has called on the people of Cork to come out and pay their respects.
"The most important thing is the funeral and we must give Liam a proper send off," he added. "It's only three years ago that he joined us from Australia. The press conference was the biggest we ever had because of the standing Liam had and who he was.
"The memories within the team would be fond ones because he was a very popular guy. He was shy but within the group, he was quite witty.
"We get wound up at times about football but the reality is your health is everything. You know it's an extremely tragic situation and obviously some of the people around our club were very close to him, particularly Mark McNulty. It's very difficult, whatever about today, tomorrow is more important to give Liam the tribute that he deserves.
Nothing will ease it for his family, but it's just important that the club and people of Cork come out in force to show their respects for him."
Cork goalkeeper McNulty was one of Miller's best friends and, understandably, didn't travel to Oriel Park for the President's Cup.
"It hasn't been easy because we've known Liam was sick for a long time, but particularly in the last ten days," Caulfield said. "It's been difficult for some of the guys, obviously Mark would be one of the closest guys to him and he would have stayed up with him some of the nights while he was in Marymount.
"It was never a question whether Mark would be coming, we didn't even discuss it to be honest. Some of the other lads, John Cotter, Colin Healy and the Ballincollig lads would have played with Liam, along with Dan Murray and Alan Bennett.
"You can't really put it into words, he was so young — 37 on Tuesday. It's his family — his wife, kids, parents, brothers and sisters. But his own kids, how do you justify it? His oldest lad is Kory, [then there is] Leo, and a young daughter [Belle]. They are 13, 11 and 10. From our point of view, it's just important that people come out in force."
McNulty spent Miller's final hours by his side along with family at Cork's Marymount University Hospital and Hospice and he has spoken openly about the last moments they had together.
"We knew the doctors had said to him he only had a couple of weeks left," he told the Daily Record. "But when you looked at him, you were thinking, 'No way, this can't be happening,' he was on such good form. Next thing, he was in hospital.
"Myself and two of Liam's good friends were up with him the last night.
"He was obviously in a coma but they still say the person hears what's going on around you so we were just chatting like normal – funny stories through our ­childhood and stuff like that.
"His family gave us 20 ­minutes on our own with him. We were all there when he stopped breathing. I take comfort we were with him to the end."
He added: "I would like to think I'm a strong character but last night and today have been the two ­toughest days of my life.
"Last night wasn't something that I'd want to see again. It's obviously a very tough time for the family. [His wife] Clare's gone through a lot in the last five months, same as Liam's mother. His children are so young.
I think he kept fighting right to the end because of his family.
"He was a family man but when he was with the lads, he was just one of the boys.
"No doubt as his kids get older and they look back at the career their dad has had, they will be very proud children to see all the ­photos and videos of their dad playing for such big clubs."
Having grown up together, McNulty recalls Miller laying out his dreams of playing for Celtic and Manchester United. Little did he know they would one day come true.
As youngsters, they would also write to each other when Miller made the move to Glasgow.
"I ­remember speaking to him only the other day about when he was first over at Celtic when he was 16 and he was writing letters home to us," McNulty said.
"We were talking about how things had changed over the years, how now we just get on Skype or WhatsApp, but he said he still had a few of those letters at home, the same as myself.
"And when I feel like I'm up to it, I will obviously look back and read those letters."
"As a kid, he was telling everyone he wanted to be a ­professional footballer and there were teachers ­saying, 'Ah, Liam, what do you really want to be?'
"But he was adamant and said, 'I want to play for Celtic and Man United'.
"It was every kid's dream to go and do that but because of the type of person he was, he achieved what he set out to do.
"It's unbelievable to think he achieved everything. It just ended too soon."
The 42 is on Instagram! Tap the button below on your phone to follow us!