COROFIN'S LIAM SILKE knew he needed a break from inter-county football this year and had already committed to his plans before speaking to manager Kevin Walsh.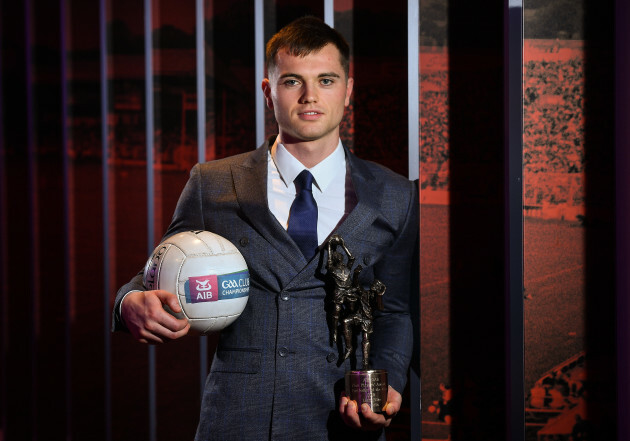 Eóin Noonan / SPORTSFILE AIB GAA Club Footballer of the Year Liam Silke. Eóin Noonan / SPORTSFILE / SPORTSFILE
Galway's impressive form of late couldn't persuade him to stay either.
The expectation was that the Tribesmen would be battling against relegation in Division 1, but after a campaign which included six wins and one draw, they qualified for the final where they were defeated by Dublin.
Their progress has impressed Silke, and helping Galway capitalise on that momentum in the upcoming championship was always going to be a temptation for the nephew of 1998 All-Ireland winning captain Ray Silke.
But while he intends to return to the Galway fold for the 2019 season, he knew that this was the right time for him to focus on himself and take a break from the rigours of inter-county football.
The UCD student is in the middle of a postgraduate degree in medicine and has an intense schedule of six exams in five days coming up next month.
The perception in many GAA circles would suggest that players should avoid careers in this area in order to honour their sporting commitments, but aside from the commute, Silke makes it work.
"It's just about getting the times right and knowing when to focus on football and when to focus on study," said Silke who was recently crowned the inaugural AIB GAA Club Footballer of the year.
"I haven't found it too difficult so far so I'm happy enough. I've no complaints. If it's what you want to do, you're going to put the work into it and put in the effort.
"That's just how I view it and I think I'm well able to balance both of them. There's lots that have done it already like Jack McCaffrey and Michael Fitzsimons so there's nobody saying you can't do it it's just about being willing to."
After he has completed his exams, Silke plans to head over to Boston along with his girlfriend and some other friends for the summer. Having helped his club achieve All-Ireland success for a third time in their history with a comprehensive win over Nemo Rangers, it's a good time for him to go and travel.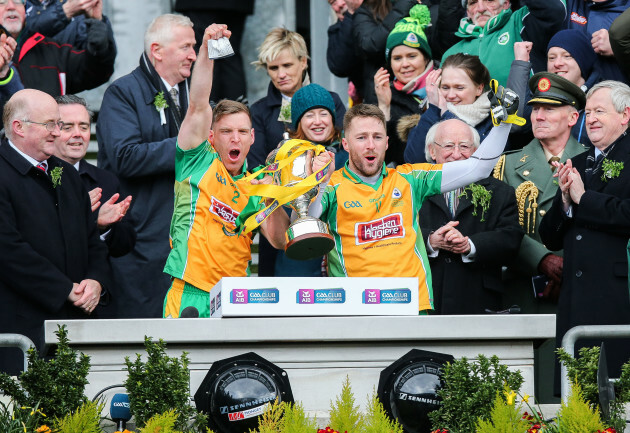 Gary Carr / INPHO Ciaran McGrath and Micheal Lundy lift the cup. Gary Carr / INPHO / INPHO
He hopes to link up with a football team during his trip stateside, and ultimately, he wants to make the most of the down time.
"With the course I'm doing, it's the only year that I have the full summer off so I kind of just want to take the opportunity to travel while I can because I won't get to do it again.
"I'd like a bit of a break because I've been on the go for the last five years with Corofin and Galway. It's nice to be able to take the break but again I don't like missing out on the championship and that. You just have to weigh up what you want to do and make a decision.
"The last few years I'd have liked to have gotten away but it just didn't work out. It's kind of worked out well this year, winning with Corofin and not having been involved with Galway up to that point kind of made it easier to decide to step away for the summer."
He added: "It kind of does make the decision a bit harder when they're [Galway] going so well but I had the decision made and this is my last opportunity to do it. It's either this year or never really.
"It's great to see them doing well, I'm very happy for them. What they've built on will be there to see in the next few years and they'll reap the rewards."
Earlier this year, both Silke and his Corofin teammate Kieran Molloy were affected by a fixture clash which raised more concerns about player burnout and welfare.
Their All-Ireland club semi-final fixture against Moorefield in February was scheduled to take place on the same day as the Sigerson Cup final between NUIG and UCD, which placed the players in an unfortunate position.
Molloy decided to play both matches, and lined out in Corofin's three-point victory before receiving a Garda escort to Santry where he represented NUIG in the Sigerson Cup decider.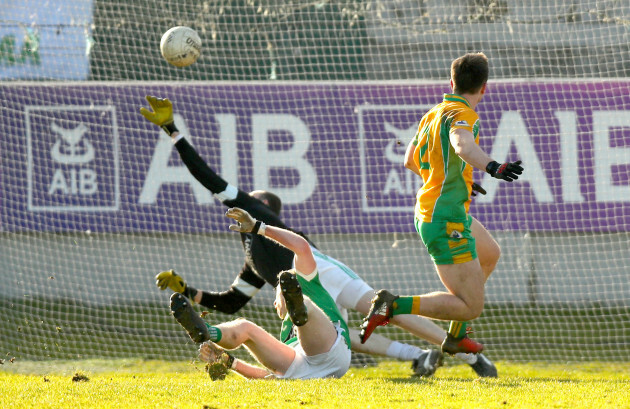 James Crombie / INPHO Silke watches on as his shot hits the net in the All-Ireland semi-final against Moorefield. James Crombie / INPHO / INPHO
Silke scored the decisive goal from corner-back in that All-Ireland club semi-final, but suffered an injury during the game and was therefore unable to follow Molloy's example.
That wasn't really a factor however, as he had already ruled himself out of the prospect of playing the second match.
"From a player welfare point of view I don't think it's sensible at all to be playing two games in the one day. Fair play to Kieran Molloy, he made the decision to go but he was burnt out after that game lying on the ground.
"It's not fair to put the player in that position to have to make that decision. I made my own decision that I wasn't going up but it's just it shouldn't have been the case where there was two really important games on the one day.
I knew a month in advance. I informed managers, but there was nothing they could do about it. Even just to change one of the games to the day after just to make it possible for players to tog out for both games but the problem was ignored rather than trying to deal with it.
"They were kind of hoping that it wouldn't arise rather than planning in advance for it."
Silke believes more can be done to address player welfare in the GAA and would support the idea of moving the All-Ireland club final from St Patrick's Day to shortly before Christmas in order to try and alleviate some of the issues regarding fixture chaos.
"After a few years, you'd nearly forget that it was on St Patrick's Day, you'd nearly be looking forward to December to the All-Ireland final," he says.
Although he doesn't feel that he is suffering from physical burnout, he does believe that he is mentally fatigued after five years of consistent club and county action.
"The last five years, I've been on the go non-stop going from club to county.
Let's say this year, I started picking up hamstring injuries in September. I got about three of them in one month. I'm not sure if that's a factor or not but you would definitely feel like you need a break because you've just been on the go for so long.
"If I went back with Galway, I would have been in about a week or two weeks just going back doing hard running and it's hard to get into the mindset of that especially after so many years in-a-row of it."
Galway will be turning their attention to the Connacht championship next month where they will face old rivals Mayo in a quarter-final clash at MacHale Park.
Silke expects his county to edge out that tie, although he knows it will be a stiff contest. Looking to the future, he is excited about the direction that Galway football is taking and will hopefully add to that when he returns from his travels.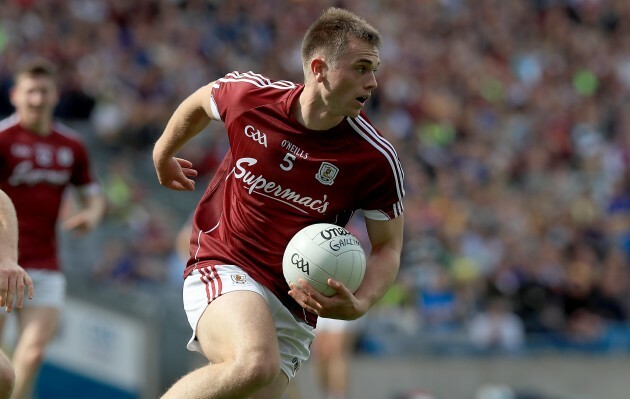 Donall Farmer / INPHO Liam Silke in action for Galway. Donall Farmer / INPHO / INPHO
"There's serious strength and depth in the Galway panel. You can see it in the league games where subs are coming on and playing just as well as the players on the pitch.
"And there's players on the bench who were starting the last few years so it shows the amount of competition that's in there at the moment.
"There is great players in Galway, there always has been. Now they're really starting to show it."
AIB present Corofin's Liam Silke with the 2017/2018 AIB GAA Club Footballer of the Year award. AIB and The GAA honoured 30 players on Saturday evening 22 April at the inaugural AIB GAA Club Player Football and Hurling Teams of the Year.
For more, follow @AIB_GAA on Twitter.
The42 is on Instagram! Tap the button below on your phone to follow us!