Liveblog
There may be three games left in the regular season of the Pro12, but for Leinster the knockout phase starts here.
As always, we'd love to hear your thoughts on the game. E-mail Sean@the42.ie, tweet @the42_ie, post a message to our Facebook wall, or leave a comment below.
To disable push notifications on this liveblog, please click the toggle button above.
Good evening folks. Welcome to our big Friday Night Liveblog.
We're in Belfast for the only show in town, the tantalising Pro12 meeting between third-placed Ulster and fifth-placed Leinster.
The visitors need a win to keep a slim chance of playoff qualification alive, the hosts are desperate to keep on course for a home semi-final.
Kick off is not until 19.35, so you've got plenty of time to grab a cuppa, a big glass or something to eat before we get underway.
Here's the teams that were announced yesterday afternoon (which Ulster followed up with a big budget-looking video to accompany the first XV).
Ulster
15. Louis Ludik
14. Tommy Bowe
13. Jared Payne
12. Darren Cave
11. Craig Gilroy
10. Paddy Jackson
9. Ruan Pienaar
1. Callum Black
2. Rory Best (c)
3. Wiehahn Herbst
4. Dan Tuohy
5. Franco van der Merwe
6. Iain Henderson
7. Chris Henry
8. Roger Wilson
Replacements:
16. Rob Herring
17. Andrew Warwick
18. Bronson Ross
19. Robbie Diack
20. Clive Ross
21. Paul Marshall
22. Ian Humphreys
23. Stuart McCloskey
Source: Ulster Rugby/YouTube
Leinster
15.Rob Kearney
14. Zane Kirchner
13. Ben Te'o
12. Gordon D'Arcy
11. Luke Fitzgerald
10. Jimmy Gopperth
9. Isaac Boss
1. Cian Healy
2. Richardt Strauss
3. Mike Ross
4. Devin Toner
5. Mike McCarthy
6. Dominic Ryan
7. Sean O'Brien
8. Jamie Heaslip (c)
Replacements:
16. Sean Cronin
17. Jack McGrath
18. Tadhg Furlong
19. Ben Marshall
20. Jordi Murphy
21. Eoin Reddan
22. Ian Madigan
23. Darragh Fanning
The warm-ups are well under way, but at this point of proceedings Leinster's pack are still stored safely in the overhead compartment.
Ulster have 17 players on the park doing a variety of passing and kicking drills while only Leinster's kickers (including some from the academy who travelled) are out on the field.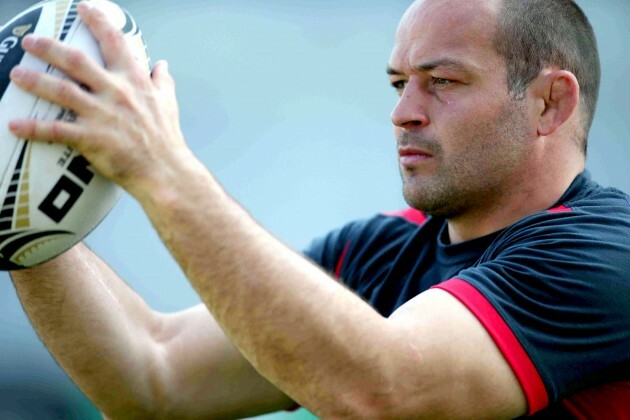 Source: Presseye/Darren Kidd/INPHO
We haven't been sitting here since the start of the warm-ups (hey, man's gotta eat), so don't read too much into it, but an interesting little variance between the sides 40 minutes out from kick-off.
Love this picture of Cian Healy, fresh off the team bus. Looks like whoever he was sitting with has annoyed the head of him for two and a half hours on the road up.
He means business.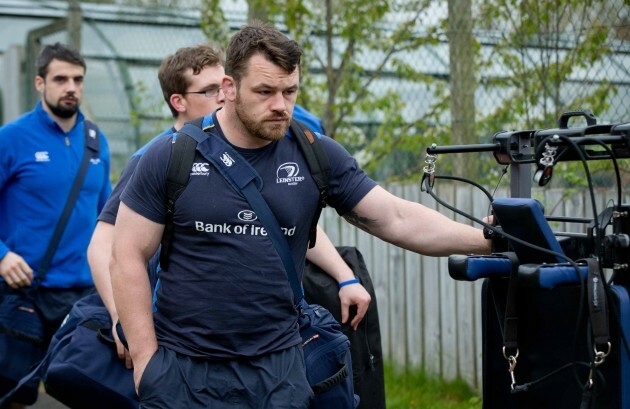 Source: Morgan Treacy/INPHO
Leinster's big boys are now out on the pitch to start some dynamic stretching and loosening routines.
It's not easy getting those bodies right after five short days between away trips.
Ulster win the toss. We're almost there folks, the real battles are just under 30 minutes away.
As Leinster up the heart-rate in their warm-up, Ulster are bringing theirs to an end. The home side break away and form two huddles, one for forwards, one for backs.
Leinster's backs are running moves involving short skip and reverse passes.
Everybody's favourite branded competition, the Kukri Zorbing Competition is off and er, rolling through the middle of the field in Ravenhill. It's a walkover for that Zorber on the left. All about momentum, really…
One last check of the teams from the tannoy and the flagbearers are ready to welcome the players on to the field.
Now that the music is dying down we just might have ourselves an atmosphere.
KICK-OFF: Jimmy Gopperth has started proceeding and and after Ulster cleared their lines, he found a gap to take Leinster up to the 22.
Excellent start from the 10.
OOMPH! Mike Ross takes the ball in to contact and is driven all the way back onto his rear by Wilson and Henderson.
Leinster are awarded a penalty though and they will go for a line-out.
This start is exactly what Leinster needed. Concerted pressure and now they should take the lead with a second penalty in the game.
PENALTY! Ulster 0 Leinster 3 (Gopperth)
Ulster not quite at the races yet. Pienaar attempts a grubber through the blue line on the 10 metre line but Leinster have four in the backfield and they happily take it up and send Ulster back to their own half.
TRY! Ulster 0 Leinster 8 (Te'o)
Disaster for Ulster as the line-out malfunctions and once the Leinster attack is set, Gopperth sets Te'o away through on a lovely line past Roger Wilson and he makes it all the way to the five metre line before being tackled.
It's too late to tackle Te'o at that point.
Gopperth adds the conversion.
Ulster 0 Leinster 10
Leinster pinged for not releasing just inside their own half. Pienaar takes aim, but the penalty is well short.
Sensational from Jackson. Spots a gap in the Leinster midfield and carries the ball through with pace. He bounces Jimmy Gopperth's tackle off.
Ulster go left for two phases and Pienaar puts big Iain Henderson through a gap from 15 metres.
TRY! Ulster 7 Leinster 10 (Henderson)
Now it's Ulster's turn to steal a line-out in opposition territory and the crowd goes wild. Leinster would do well to kill the game for the next few minutes, the hosts have a dander up.
PENALTY! Ulster 10 Leinster 10 (Pienaar)
We're all square folks. And, luckily for us, there's still 62 minutes of this still to come.
SIN-BIN: Sean O'Brien is in the pin for what Lacey has adjudged to be a tip tackle.
For our money, he was a little reckless but not above horizontal.
Ulster attempt to move the ball quick against 14, but they're scuppered by the conditions. A knock on becomes a scrum which becomes a penalty and Leinster have a handy escape route from their 22.
Brilliant effort from Van der Merwe to force a turnover and penalty on halfway just as Leinster were starting to look comfortable running the clock down with a series of one-out pick and drives.
Line-out on the 22 for the hosts.
Ulster were beginning to build momentum, patiently probing in the 22 with a variance of short passes, but again, the wet ball slips away from them and it's Leinster's scrum in front of their own posts.
It's absolutely sheeting it down in Belfast. Gopperth manages to clear his lines off a poor pass from Boss and Gilroy elects to take a set line-out rather than go quickly.
Ulster, you feel, would be well-served mauling at this moment. But they're persisting with a more expansive pattern.
The penalty comes from Lacey with Heaslip pinged at the breakdown. It's 45 metres, but well within Pienaar's range…
… but the Springbok's radar is way off.
Exemplary stuff from the hosts in this weather. Bowe claims a big up and under against Kearney and Pienaar dinks the ball in to the right corner. Gopperth can only clear it 15 metres from the try-line.
Sean O'Brien is back in the game.
Leinster's rearguard action comes up with another solid stop and Bowe's attempted kick to space puts his side on the back foot as it's right down Rob Kearney's throat.
Kearney is again superbly placed, but a team-mate is pinged for crossing to create a gap for him on halfway. Pienaar takes it quick and chips in to the right corner of the 22 again. This time Gopperth cannot gather, it slips through his fingers but Fitzgerald mops up and Boss clears his lines.
Leinster caught offside again and from dead in front of the posts, Pienaar should surely nudge his side into the lead from 30 metres.
PENALTY! Ulster 13 Leinster 10 (Pienaar)
HALF-TIME: Ulster 13 Leinster 10
Here we go then, the SECOND HALF is away.
Gopperth has been spritely tonight, finding a couple of important line-breaks. Perhaps the absence of Madigan distracts the defence to wider areas.
Ulster, I must add, continue to do a good job of scrambling to shut it him down behind the gainline. The turnover comes back on halfway and the kick seeks out the Leinster 22 again.
Two Ulster players down with injury as Leinster attack. One returns to the line as Leinster go wide, but Cave is penalised for holding on. Probably a decent call from the centre.
Gopperth passes up the kick at goal, Leinster are chasing a try!
A STEAL! Strauss' throw is intercepted by Van Der Merwe and Pienaar bashes the ball anywhere in the region of upfield.
Another skirmish win for Ulster. Wilson hits the carrier man and ball forcing a knock-on first and then Lacey awards the penalty as Leinster don't roll away.
Now it's Ulster's turn to set a line-out deep in opposition territory.
Darren Cave looked out on his feet there for a few phases of Ulster pressure, but he was allowed join the play after the 14 men had stretched Leinster from right to left. He carried to within five and now looks very uneasy as he gets up.
Stuart McCloskey has replaced him. And Jordi Murphy is in the game in place of Dominic Ryan.
Hard to phrase either replacement as weakening the side.
The game has just gone a bit flat since that set, neither side able to build pressure.
Leinster clear their way out of their half after Bowe takes a man out in the air, but there's no drama this time. Just a penalty.
Has Gilroy got in? The TMO will probably say no.
Ulster had Leinster stretched on the 22 and Jackson dinked a fine grubber in behind the advancing blue jerseys, but the bounce just evaded Gilroy and Kearney was able to bundle him over the line before he could touch down.
PENALTY! Ulster 16 Leinster 10 (Pienaar)
Talk about a lucky break for Ulster, two handling errors tempted Leinster's defence up but Ludik got his hands on the ball, stepped on the gas and raced a full 30 metres from halfway to inside the 22.
After the play ended with a cross-field kick, Rob Kearney is giving orders to sit out 10 minutes.
SIN-BIN: Rob Kearney
PENALTY! Ulster 19 Leinster 10 (Pienaar)
A monster from the South African from just inside the Leinster half. Ulster playing against 14 and with a healthy lead.
TRY! Ulster 24 Leinster 10 (Gilroy)
A sublime score from the hosts. After building pressure on the left flank they switched and even with Leinster showing decent numbers Paddy Jackson found the key to the lock. His superb reverse pass found Gilroy cutting in on the angle and he scampered all the way to the line.
Pienaar adds the conversion.
Ulster 26 Leinster 10
SIN-BIN: Andrew Warwick's game is over and Ulster will defend their 16-point lead with 14 men.
FULL-TIME: Ulster 26 Leinster 10
Well that's that then.
We'll have all the reaction and opinion from a wet and (in one dressing room) weary Ravenhill coming up for you tonight and in the morning.
Thanks for stopping in.
Safe home
Contribute to this story: