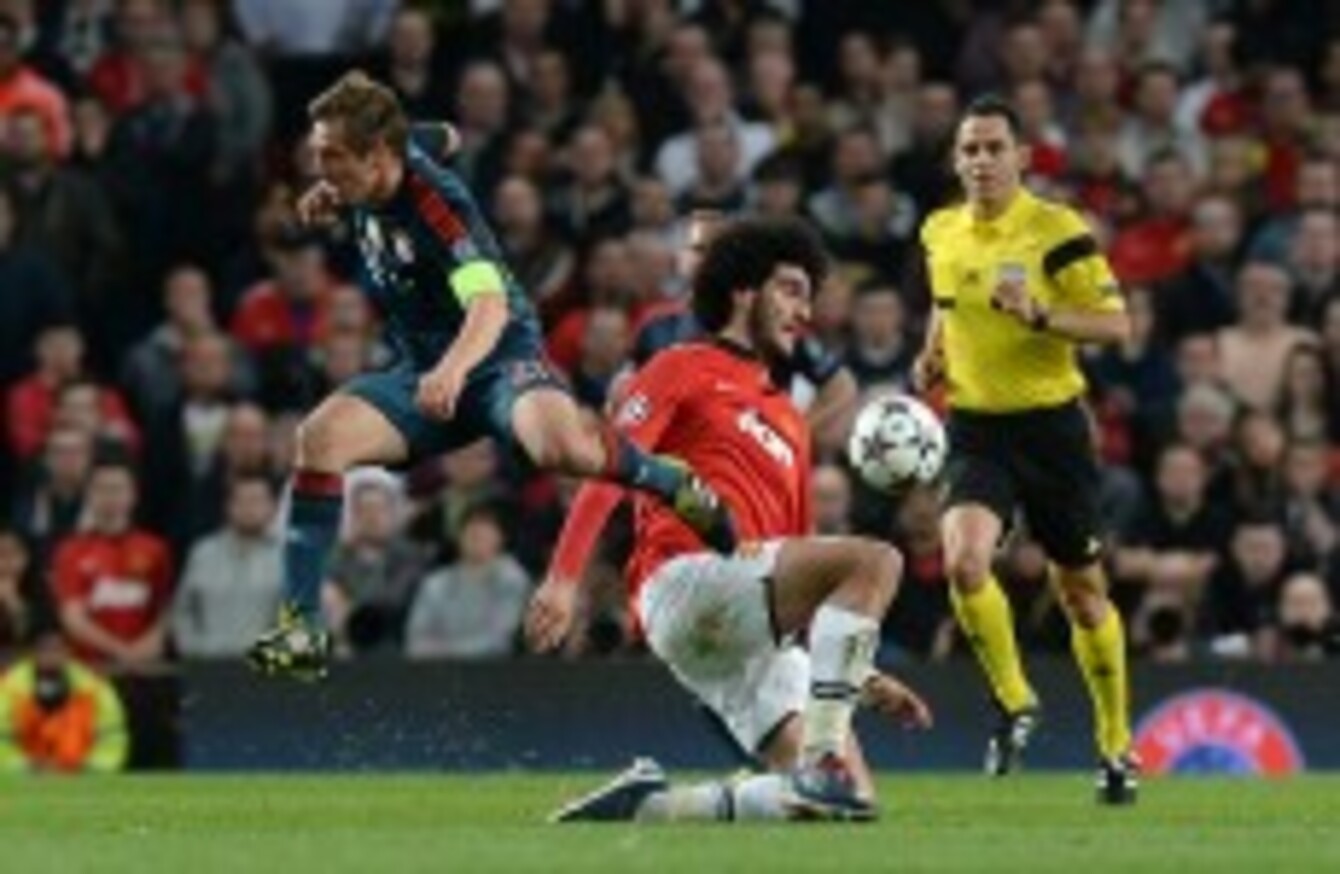 Marouane Fellaini slides in to beat Philip Lahm to the ball.
Image: PA Wire/Press Association Images
Marouane Fellaini slides in to beat Philip Lahm to the ball.
Image: PA Wire/Press Association Images
MANCHESTER UNITED MAY have had just 26% possession at Old Trafford during their 1-1 draw with Bayern Munich but the performance still ranks as one of their best of an extremely troubled season.
United, as they famously did against Barcelona in the 2008 Champions League semi-finals, gave up the wings in favour of a tightly-packed defensive unit. They restricted Bayern to long-range efforts, for the most part, but were infiltrated on four occasions by Arjen Robben, David Alaba and Franck Ribery. If Pep Guardiola had opted to start with a dedicated striker, rather than the roving Thomas Mueller, David Moyes' men may not have found themselves level at half-time.
Buoyed by their staunch defence and a Danny Welbeck one-on-one miss that stirred belief, if not the scoreboard, United grew in confidence as the game went on. Shinji Kagawa, who came on at the break for Ryan Giggs, earned United a corner that Nemanja Vidic scored from after a superb, glanced header. Guardiola's will snapped. On came Mario Mandzukic and Bastian Schweinsteiger soon clipped in a deserved equaliser.
Bayern's leveller featured a jogging, spectating cameo from Marouane Fellaini that summed up his 94-minute appearance at Old Trafford. The Belgian made up 20 yards on Schweinstieger as he tracked back from the halfway line. He then stopped and watched as Mandzukic cushioned a header back for the midfielder to dispatch.
Fellaini's part in the goal summed up his overall performance. He was a seriously off the pace all evening, squandered possession on numerous occasions, needlessly fouled Bayern Munich players and rarely harried an opponent. In a game in which his teammates ran themselves into the ground, Fellaini seemed to glide around the pitch, inevitably arriving a second or three too late in attack and defence.
While he was not the only United player to give away cheap possession — Alex Buttner and Phil Jones pumped a lot of long balls straight to the grateful Bayern defence — Fellaini's aberrations often came from his failure to find a teammate 10 yards away. Bayern knew he would rush his passes if they pressed him.
Two moments — both in the second-half — stood out as United supporters went from irritation and weary frustration to ironic cheers if a tackle was won or a pass found its intended recipient. Antonio Valencia won possession deep in the United half and a diagonal ball was lofted to the halfway line. With Kagawa making a run, and expecting a flick on, Fellaini was out-jumped by Alaba — a player who is six inches smaller than the former Everton man.
The second was just after the hour mark, as United defended their 1-0 lead. A Bayern attack broke down at the edge of the United boss and Fellaini tore off up-field. He ran diagonally and both his second and third touches were heavy. He ended go throwing himself into a sliding tackle to concede a throw-in.
Fellaini's best moments came in the final 15 minutes of the match as the pace slowed. He won some important challenges in midfield and initiated a couple of attacking forays up the right wing. His overall contribution, in comparison to players such as Valencia or Wayne Rooney, was scant. Jones may be another United player that appears heavy-handed at times but his commitment was clear to see and he made some important interventions to break down Bayern attacks.
There was speculation that Fellaini was selected ahead of Kagawa to provide greater protection to the United back four. There may have been a certain logic to Moyes' call but reality proved to be a eons away from whatever plans the Scot may have sketched on on his whiteboard.
Kagawa, with his close control, ability to pick a pass and attacking intent, demonstrated in his 45 minutes on the pitch that he is better suited for United's mountainous task of knocking Bayern over at the Allianz Arena next week. If Moyes can find room for Darren Fletcher, too, United may yet have a glimmer of hope against a German side that will be without Javi Martinez and Schweinsteiger.