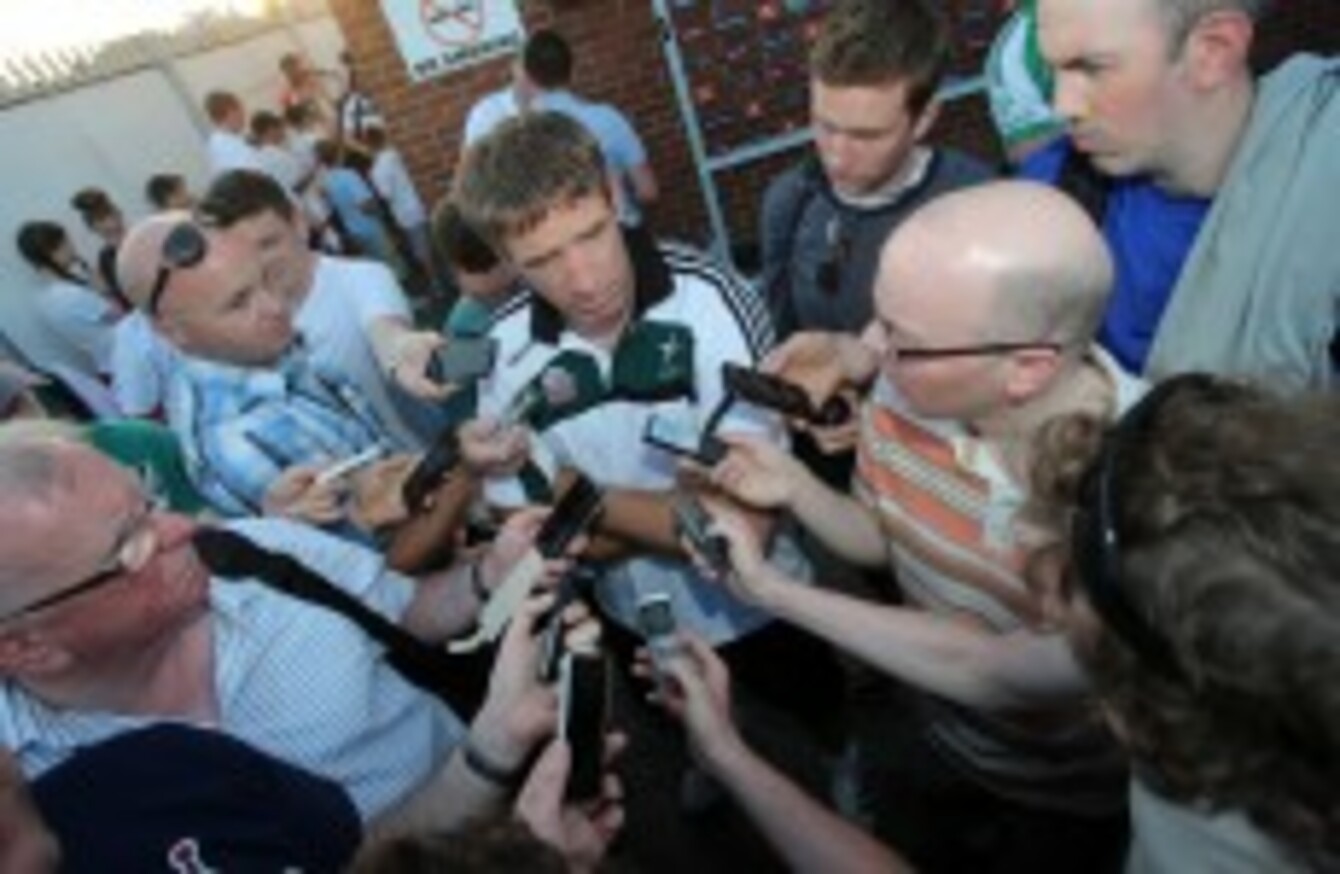 Kieran McGeeney was not giving too much away to this media huddle after Tyrone beat Kildare in July.
Image: INPHO/Donall Farmer
Kieran McGeeney was not giving too much away to this media huddle after Tyrone beat Kildare in July.
Image: INPHO/Donall Farmer
KIERAN MCGEENEY WAS surrounded by 10 GAA reporters less than half an hour after his Kildare side had been eliminated from the All-Ireland Senior Football Championship.
With the taste of a two point loss to Tyrone still fresh in the mind, the former Lilywhites boss reflected on his side's inaccuracies when presented with scoring chances and suggested the red card shown to Peter Kelly had been unwarranted. When pressed on his future with a county he had managed for six years, McGeeney was non-committal. He gave nothing away.
Less than two minutes after the last of the 10 dictaphones [and smartphones] were retracted, McGeeney spoke to a reporter from Kildare radio station KFM. Conversing with a reporter he was familiar with, Ger McNally, the Armagh native launched broadsides at players turned pundits and referees.
"Listen," he said, "you better not talk about referees, their assessments. [It is] something that seems to be beyond everybody's comprehension so you just let them at it." Addressing the knocks his side had taken in recent years, he added:
There are people out there that will tear you apart. The thing about it is — and you tell them that — I played with a few of those boys and them fellas were cowards when they were playing. They're cowards now when they tear these fellas apart."
On 3 September, McGeeney lost his job as Kildare manager after a ballot, taken by county delegates, went 29 — 28 against him. Unsurprisingly, KFM proved the battleground as players and delegates had their say across the local airwaves. McGeeney, who appears on the Second Captains TV show this evening, has kept his counsel.
The AFL lure
The publicity surrounding the McGeeney affair pushed KFM into national spotlight. Killian Whelan, the station's sports editor, insists that the future of the manager has been a topic of much debate ever since the heavy defeat to Dublin in the Leinster semi-final.
"McGeeney would have been a big believer in the relationship between the local media and his role as county manager," Whelan told TheScore.ie. "That always you to tap into a side of him that not all of the national media would see."
"He probably gave us a nugget that he didn't give to everybody else. That's where the relationship comes about… There are times when you're that little bit closer, you get things that others may not."
Dublin's Cian O'Sullivan loses out on a high ball to Sean Hurley of Kildare. INPHO/Donall Farmer
With the senior football panel issuing a statement, through KFM as it happened, calling on the Kildare county board to reinstate McGeeney, Whelan is concerned about what a fissure in the camp could mean long-term. "The worry," he said, "is if Sean Hurley or Daniel Flynn head off to Australia. In two years time, as happened with Paul Cribbin, he came back a better player in terms of his physicality, ability to break tackles and use his pace.
Be part
of the team
Access exclusive podcasts, interviews and analysis with a monthly or annual membership.
Become a Member
"They may come back better players if they go but they may punch a hole in the senior set-up. They're heading away, they're going in November. They are only going out for some trials but they've been so well endorsed by Tadhg Kennelly at this point that I can see some Australian club taking punts on them for at least the two years."
McGeeney held the same believe as feted Donegal manager Jim McGuinness — ensuring players had work or college courses to make them feel settled and focused on their football. "If they're turning up in training and they don't know where their next pay-cheque is coming from, maybe they won't be as concentrated on their football as they could be," said Whelan. "McGeeney doesn't get the credit for the behind-the-scenes work he puts in with the lads."
I taught him everything he knows…
Whelan has been involved with the station since it launched in 2004 and worked for CKR FM before that. He jokes that he has gone from 'audio cassettes and carts of tapes to recording on a phone'. Whelan recalls phoning in a match report in the late 1990s 'on a mobile phone that was the size of a car battery'.
He combines his role as a full-time secondary school teacher with overseeing the station's sporting content. Past students of Whelan's include senior intercounty footballers Daryl Flynn and Alan Smith, whom he has also coached.
A recent star pupil that Whelan has taught, in Newbridge, is Leinster's promising back Adam Byrne. "Rugby has grown an awful lot in the county in recent years and many young players have went though the clubs, academies and are making it now with Leinster," said Whelan. "I was looking at the Leinster team that played Ulster [pre-season] and there were six Kildare guys involved."
One famous rugby-playing son from Kildare is Jamie Heaslip, who has captained Leinster and Ireland and was part of the series-winning Lions Tour to Australia this summer.
Whelan said, "I remember when Jamie got his first Lions cap, in 2009, and there was no problem talking to him. I rang Jamie two days before his first Test [in South Africa] and he took the call, sitting beside the pool, and did an interview with me."
A keen boxing fan and a supporter of Katie Taylor from her early days, Whelan's stand-out interview was with former heavyweight world champion Evander Holyfield and was set up by 'The Memory Man'.
"It was all down to Jimmy Magee," he recalled. "He was interviewing Evander and he then shepherded him towards me. He spoke to me for about 10 minutes and had such a knowledge of the sport. He was like a boxing encyclopedia. The one thing I'll remember, though, is the size of the man's hands."