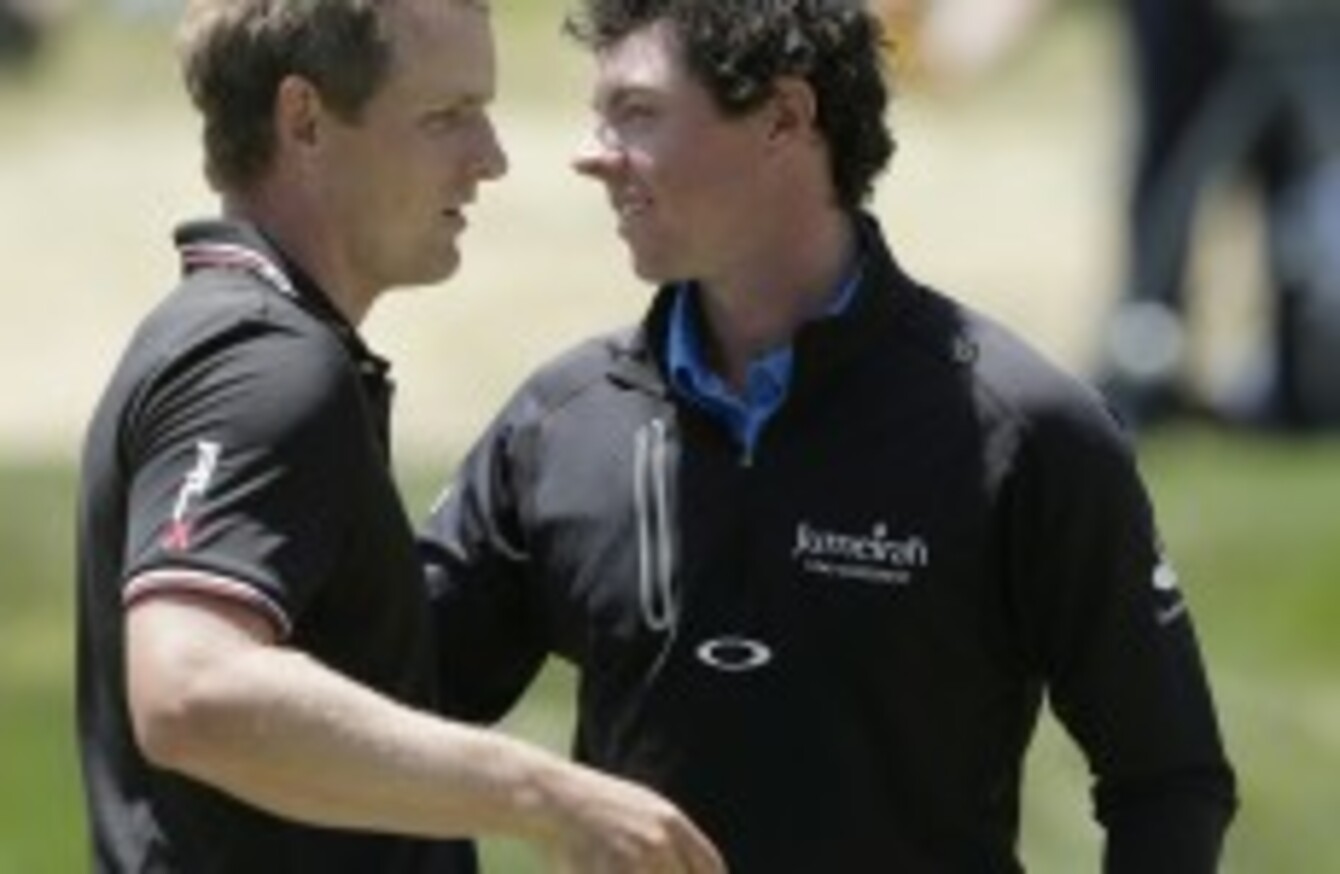 Luke Donald and defending champion Rory McIlroy embrace after their second round efforts.
Image: Charlie Riedel/AP/Press Association Images
Luke Donald and defending champion Rory McIlroy embrace after their second round efforts.
Image: Charlie Riedel/AP/Press Association Images
SOME OF THE biggest names in world golf were saying a not so fond farewell to San Francisco's Olympic Club Lake Course yesterday after failing to make the cut at the US Open.
Among them were the two top-ranked golfers in the world, the reigning Masters Champion and an assortment of top draws. They all came to San Francisco with hopes high and left with heads low as they were bruised and battered by the par-70, 7,170-yards long layout known as "The Graveyard of Legends" for its canny ability to bring the best to their knees.
Englishman Donald, who was nine over when the day began, shot a 72 and immediately said he needed three weeks away from the tour to recover, before defending his Scottish Open title.
Asked to detail what was hardest thing about playing the Lake Course, Donald said just about everything.
"Any time you have firm greens, that's the hardest part," he said. "If you ever want to make a course tougher you get the greens firm. We don't play that many courses that of are this firm, not even close.
"That coupled with the slope of the greens make it's tough. And other than that, there's probably the rough around the greens is gnarly and then the rough off the tee."
Defending champion McIlroy ended the day and the tournament at 10 over after a 73 and that compared miserably to the 13-under position he had at the same stage at Congressional last year en route to winning his first major. The 23-year-old Irishman agreed with Donald that playing on a course like this took the world's best golfers out of their comfort zone.
"This course is so tough with the reverse cambers and you hit it in the middle of the fairway sometimes it doesn't hold and you're in the rough and when you hit it in the rough it makes it difficult," he said.
"It's just such a demanding golf course and just punishes the shot that's slightly off line."
Donald and McIlroy can take comfort from the fact that, looking down the years, plenty of others have struggled to survive on the deeply undulating hillside course that was carved out of the eastern side of a massive sand-dune and opened in 1927. Four times previously the US Open has been held here and only four men have ever finished the tournament under par.
US Golf Association officials were determined, especially after last year's low-scoring assault from McIlroy, that the course would remain firmly in charge.
They instigated some key changes to counter the march of technology and player conditioning, including the longest hole in US Open history at 670 yards, turning a par-five into a par-four without changing the distance, and toughening up the rough around the greens.
The dry weather and daily sunshine then firmed up the greens and fairways and as a consequence scores spiralled. It was all too much to chew on for newly-crowned Masters champion Bubba Watson.
He was deeply suspicious of the layout even before the tournament started, and events of the past two days have only confirmed his fears. He staggered to an eight-over 78 on Thursday and despite fighting back with a 71 on Friday he failed to make it into the weekend.
"It's a lot better than I am. That golf course is too tough for me," was his candid assessment.
England's Ian Poulter did make it through to the weekend, but he too had some harsh words to say on his Twitter account about the Lake Course.
"Don't get me mistaken at all. I'm not moaning, in a very sick way it's a very interesting challenge. It's like pulling your teeth out 1 by 1," he wrote.