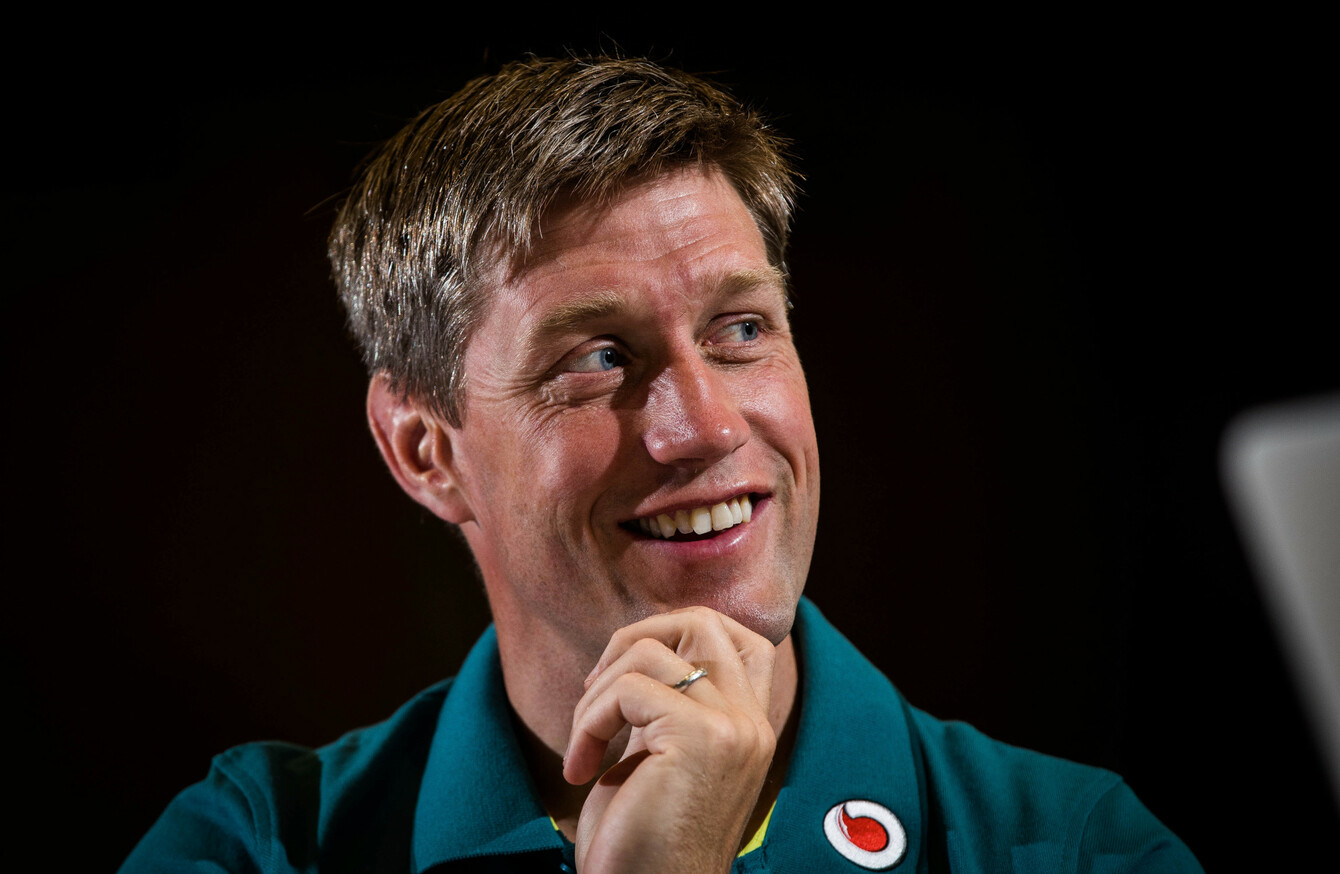 Mental toughness: Ronan O'Gara.
Image: Ryan Byrne/INPHO
Mental toughness: Ronan O'Gara.
Image: Ryan Byrne/INPHO
RECENTLY I TOOK part in a panel discussion at the Mental Health and Wellbeing Summit of Ireland, at the Aviva Stadium.
It was a fantastic gathering of professional experts giving advice and workshops on mental health, with topics such as resilience and coping skills, managing anxiety, mindfulness meditation and the successful 'tackling your feelings' campaign.
MC for the day was my friend and co-author Brent Pope. Our panel, hosted by Dr Olivia Hurley consisted of David Gillick,  Hannah Tyrell and myself.
Our topic was 'Mental and Emotional Fitness: Applying sporting methodology to everyday lives' and the timing for me couldn't have been better after spending much of this year writing extensively on this subject.
For our book, 'Win: Proven Strategies for Success in Sports, Life and Mental Health' – Brent and I had the chance to interview over 40 top level athletes and coaches, covering 13 different sporting disciplines. Some great rugby names like Ronan O'Gara and Dan Carter, and some Irish greats like Sonia O Sullivan, Dean Rock and AP Mcoy.
As part of the panel I named some of the top skills these elite performers shared with us. The ones they regularly call on to manage pressure, focus, performance consistency, execution excellence and handling loss. As the panel was about applying these to every day life, it was important to frame these skills up in how to actually use them by bring these successful routines to a wider audience.
Over Stimulated
The reality of life today is that much of our time is being impinged and demanded upon in ways that were not the case a few decades ago. The amount of technology that has infiltrated our daily existence is massive, much of it amazing technology. Phones, ipads, watches, apps for nearly any occasion; measuring nearly anything we wish to measure. Sleep, breathing, running, walking, heart rate, blood pressure ….and on and on. This is fantastic and very helpful stuff, but it is also very distracting and over stimulating to our minds and bodies.
Our daily lives are becoming governed by technology – from the first thing in the morning to the last thing at night. Touch screens dominate much of our interactions. It is not uncommon for a business person to check their phone or computer for messages on average anything from 43 – 150 times a day. Research into what is termed 'the internet of things' is highlighting the major shift from what is known as H to H (Human to Human) interactions to H to M (Human to Machine) interactions, and this is having a major impact on the structures of our brains.
Psychotherapist and addiction expert Nicholas Kardaras highlights the effect of excessive screen time, showing the effects as being similar to cocaine addition on our frontal cortex.
What are we losing and what can we start to regain?
Without doubt the advance in technology over the last few decades has increased many aspects of our quality of life. In subtle ways it has also chipped away at other areas. Physical movement, direct interpersonal contact and social avoidance are a few of the areas that are being affected.
The results are seen globally with every increasing mental health issues, very high levels of obesity and the physical issues and illness relating to these. A major increase in people feeling isolated and suffering the effects of loneliness is being reported and in many of the more advanced societies in the world suicide rates are steadily advancing.
Elite sports is an area where technological advances have majorly impacted the way in which sport is trained and played. GPS tracking devices strapped on or sown into players jerseys, multiple camera recordings and microphone access all now play a major part in what players are exposed to. Social media is a huge part of all games and is another level of access that players and teams need to contend with and stay on top of.
So how do top level athletes manage through this?
What we found in our research was that a key element to top athletes not only playing consistency well but staying consistently well over a long career, was their basic clear and regularly practiced mental skills routines. One of the key messages in our book is that mental skills work. Not only is this proven time and again within sporting achievements but it is proven also away from the sporting spotlight. In their business dealings, in their transition to life after sport, in their parenting and in their close relationships.
Influencing our time and energy
Leadership expert Stephen Covey has a very simple model that he puts forward in his book 'The Seven habits of Highly Effective People'. His circle of influence / circle of concern model helps a person more easily understand where their energy might be going at any given time, and to then chose to influence it.
When we are worrying about something we are growing our circle of concern, which in turn shrinks our circle of influence. We are wasting time and precocious energy on things that we not able to influence in the here and now.
When we focus on what we can influence in the here and now, and cease worrying about what we can't – we grow our circle on influence and shrink our circle of concern. Focusing energy on what is actually within our control and influence, letting go of worry about what is not.
In sports this is called a 'process goal'. Implementing a process that helps lead to a desirable outcome. Take for example something as straight-forward as breathing. This we can always influence. It is more within our control than say the noise of the crowd.
Worrying about things that are immediately out of our control and that we cannot directly or immediately influence, is not a desirable outcome. Like worrying about the final scoreboard in the middle of a game. This distracts from what could be focused on right now that will make a difference in helping a team be successful.
The key to a process goal is to have strategies to call upon to help influence our energy, in any moment. All of the top performers we interviewed had these skills. They developed and relied upon not only performance goals, but also process goals as their careers developed. The performance goals were usually set by themselves and their coaches, focused on actual measurable and gradual improvements in their performance or their teams performance.
The process goals they chose were key in helping them deliver consistent performance. Importantly these same mental skills transferred easily to life away from the track and field. Because process goals are 100% within a person's control. It is our own self that we are influencing and this is why they are so powerful in helping create, influence and drive our own wellbeing.
During our panel discussion David and Hannah talked about the strategies that worked for them in their career and I spoke to the top strategies from our books research, building on what they named. Here are some of the top ones we spoke about.
Daily goals
Each morning when we wake we are faced with the energy we can bring to each day. This energy we can chose to utilise, focus, direct and drive towards achieving things that day, or not. What helps psychologically is having a framework to channel this energy, like creating a set of daily performance goals.
Performance goals are specific things we need to achieve and are in line with a larger goal that we are trying to satisfy. These could do with a set of work tasks towards a greater outcome as in a project, or they could be life tasks like chores towards a standard of living.
What helps and what top athletes use in training is setting out a simple task list. Being realistic in what can be achieved in that day or that week and then proceeding to knock these tasks off one by one. These are very clear performance goals they are either achieved or not each day, and are very satisfying when ticked off. New day, new task list.
We can also set process goals each morning, especially around setting our energy right for the day ahead. Not focusing on the quantity but on the quality of energy we bring to these tasks.
One straight forward mental skills process which is widely used in sports is self talk. This is where an athlete will actively tell themselves, out loud or in their mind, how they want to be and how they want to perform in training, in a game, as part of a team. Anyone can do this by clearly deciding on how they want to be that day; talking to ourselves or writing this out to help with our flow of energy.
Self Talk
It is best to start with full clear sentences that the mind will grasp and understand easily. Gradually through practice this can evolve to single words. For example:
'Today my energy will be clear, clean and free flowing'. Single word could be 'clear' or 'flow'
'Today I will be open, curious and interested in learning'. Single word 'open' or 'curious'
'Today I will make it a good day by how well I connect with others'. Single phrase 'connect well'
Visualise
Another mental skill that top athletes use is imagery/ visualisation. A daily process goal anyone can practice is to take sometime each morning to sit and imagine how we want our energy to be that day. Imagine being energised by the tasks ahead. Getting pleasure out of getting stuff done.
Seeing and sensing the energy and generating it in our mind first. For example, thinking about doing a task really well, smiling while doing it or looking very confident in the execution of it. Even singing while doing it – especially if it is a pretty mundane task. Visualising our body language and posture. Head up, eyes bright, energy flowing, focus forward, enjoying it.
Or asking the question – 'how do I want to greet the first person I see? How do I want to interact with my colleagues today?' Picturing doing just that, and then going and doing it.
Reframing
A final technique that is widely used in sports is what is termed 'reframing'. Reframing is putting a new thought or new frame around something that has happened, is happening or might happen. Almost literally framing it in a new light.
This is especially useful when thinking about something coming up that day that is worrying or unpleasant.
Putting a different light on it helps with asking questions like, "what am I learning about myself in this situation? What new opportunities could this situation present? What can I take away from it that will be useful to me in the future? How can I grow and improve through this experience?"
Positive Psychology
There are obvious benefits in starting off each day with a process goal. Another daily process we have created based on Positive Psychologist expert Martin Seligman's end of day process WWW.
Using the reframing technique to create a morning process, we call WWWOT– 'what will work-out today?'
Begin each day by directing our energy and focusing our mind on what we want to go well each day. Focusing on what we can influence, as opposed to what we can't. Putting psychological emphases into the quality of how we want to be that day, no matter what happens.
'Today I will chose what I give my energy to and how I give that energy'. A quality of energy in getting stuff done, in responding to others, in managing myself in each situation. WWWOT in how I manage my thoughts, feelings and behaviours throughout the day.
Martin Seligman's end-of-day process goal can be found in his book Flourish. This process he calls WWW. A simple reflection we can all complete at the end of each day, by asking the question 'what went well today?'. Coming up with three things that went well and using self talk to exploring why they went well. A great ending and a great start to each day.
Any of the above exercises can be taken into our own daily lives and daily practices, to enhance our overall wellbeing each day. The key is to pick at least one and begin to practice it each day. Just like with sporting success, the power and reward is in the discipline and routine of practice.
Jason Brennan is an international mental skills coach who has worked with the Hurricanes, the Wellington Lions, the NZ White Ferns and many other professional and amateur sports teams, as well as a wide range of businesses and non-sporting clients.
If you want to know to share a comment with Jason, you can email him at jason@thinkwell.se 
Check out more of Jason's columns here.
The42 has just published its first book, Behind The Lines, a collection of some of the year's best sports stories. Pick up your copy in Eason's, or order it here today (€10):