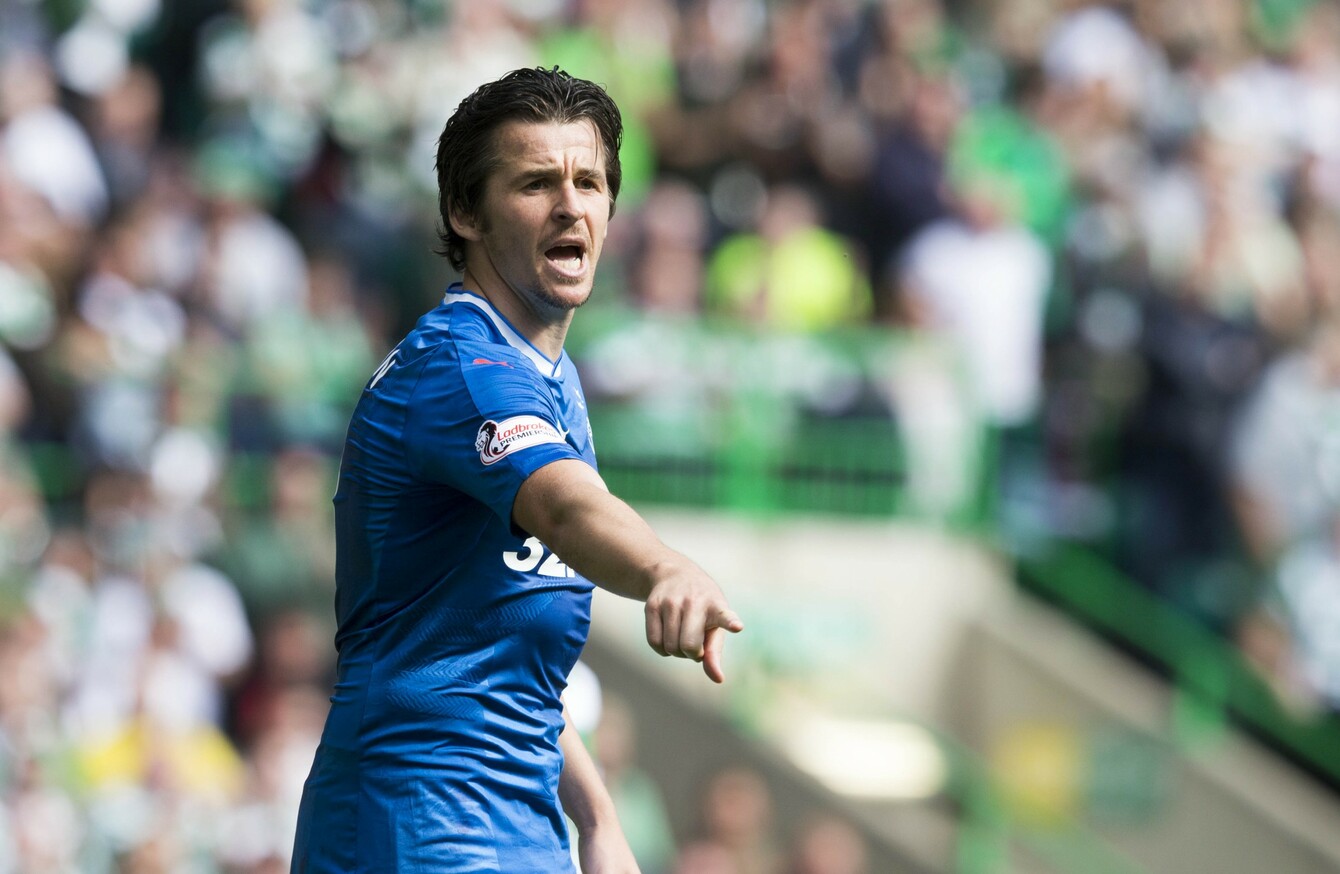 Joey Barton earlier this year released a brutally honest autobiography.
Image: Jeff Holmes
Joey Barton earlier this year released a brutally honest autobiography.
Image: Jeff Holmes
IT HAS BEEN an eventful year in the life of controversial footballer Joey Barton.
Last season, the 34-year-old starred as the Burnley team he was part of gained promotion to the Premier League, with Barton earning a place in the Championship Team of the Season in the process.
The ex-Man City and Newcastle player then moved to Scottish club Rangers during the summer, though his subsequent performances on the field left many observers underwhelmed, and Barton's contract with the club was terminated last month, after he was originally suspended following a heated row with teammates at training.
Currently, Barton is in talks over a return to Burnley, though that move was thrown into doubt after it emerged that the player was being charged by the Football Association in relation to placing 1,260 bets over a 10-year period (news of which emerged after this interview took place).
Amid this busy 12 months, Barton has also released a fascinating autobiography ghostwritten by Michael Calvin, the author of other acclaimed football books including Nowhere Men, Living on the Volcano and Family: Life, Death and Football.
Barton's memoir has been generally well received and was longlisted for the prestigious William Hill sports book prize earlier this year.
It tells the story of one of football's most complex characters, exploring how his difficult upbringing helped shape the person he became, how he recovered from being rejected by Everton as a youngster to become a Premier League star and England international.
The book is brutally honest at times, refusing to shy away from the darker elements of Barton's personality and the numerous controversies in his life, from how he dealt with his brother's involvement in the murder of Anthony Walker to his imprisonment for assault in 2008 and the more trivial but not insignificant spats he became embroiled in over the course of a career that was rarely incident-free or boring.
Barton's story is also one of redemption — how a kid routinely dismissed by coaches and schoolteachers continually managed to prove naysayers wrong, how an individual with limited formal education ended up as a panellist on BBC's Question Time and how a divisive figure branded a 'thug' by some became a loving father and much-discussed social media personality.
Recently, The42 caught up with Calvin to discuss the book and the dynamic of his relationship with Barton while putting it together.
How did the book the come about? Did Joey approach you to write it? Tell us about its background.
He came to me via the usual sort of channels. He had essentially read my other stuff. I think he recognised that (my books) were authentic.
What I try to do in my own books is not to present a Walt Disney picture of football. You show good and bad, and I think people in the game, who tend to read them, recognise themselves in (the books).
So I think that was a good starting point. He also read the other co-write that I'd done with Gareth Thomas, the former British Lions rugby captain who came out in 2009. That was important, because the manner in which I wanted to do the book was critical.
It was absolutely non-negotiable in terms of if I'm going to do a co-write with someone, and this is what I explained to Joe, I have to get behind his eyes. So I have to see what he sees, feel what he feels and you can only do that when every barrier is down. So there has to be complete commitment.
I wasn't sure, to be honest, when he came in. I suggested we meet and have dinner up in Liverpool.
Basically, before then, you go back to your journo instincts and do your research. I spoke to people in the game who played with him, who'd coached him and managed him to try to get a read on him. Probably the best (response) came from (Burnley manager) Sean Dyche. Joey hugely respected him and I think still does. And I think respect is key to anything that Joe does.
What Sean said was 'treat him like a man'. He was in the same situation to a degree that I was in. You do, to a degree, put your reputation on the line when you're working with him.
Sean picked him up and he was in that Championship Team of the Year and won their Player of the Year when they went up to the Premier League. He got it right, because he did treat him like a man, but he also said 'look, with Joe, if you give him everything, he'll give you everything. If you try and cut the corner or turn him over, he'll kill you'. That's something that I had in the forefront of my mind, but it suited the way I wanted to do it anyway.
When we met, it was a bit of a weird one. I just thought 'right, let's get everything on the table as soon as possible'. Essentially, I said 'if I judged you by social media, Joe, I'd think you're a bit of a twat,' because that's the way he came across. 'And also, before you get on to Google, this is what I wrote about you in a column in 2008, obnoxious, and this is what I wrote about you in 2011.'
He started laughing and said 'that's exactly why I want to do it'.
There were pre-requisites on my part. I insisted that we go to prison together, because I wanted to confront him with who he was, where he'd been. Because I was going to write about the prison experience, I had to get a flavour of it.
It helped me understand the intimacy of one of his key relationships, which is with a guy called Andy Taylor or 'Tagger,' who was serving seven and a half years for manslaughter. It had a perverse appropriateness, where Tagger had gone out in Liverpool City Centre, (got into a) random drunken fight at four in the morning and tragically, an off-duty policeman was killed. It was one of these freak punches that killed him.
We were driving to prison to see 'Tagger,' and Joe said: 'If you'd asked a thousand people who would be in this situation now for a situation like that, a drunken fight at three or four in the morning, me or Tagger, a thousand people out of a thousand would say me.'
By his own admission, there was a spell in his life where he was out of control.
If you're looking for one word to summarise Joe, it's 'honesty'. It's a very raw and a sometimes disconcerting honesty, but that's what I liked about him. Everyone's asked me: 'What's he like?' And I do like the guy, I think he's got a lot about him.
But as Sean (Dyche) says, you've got to understand that he's got a little button which he presses now and again. And you've basically got to hope that he doesn't press that button when he's on your watch. So that went obviously to the heart of the Rangers thing.
When he contacted me, he said 'look, I've been approached by Rangers,' and I just burst out laughing. It was the most Barton-esque thing that he could do — to go into that febrile, quite vicious environment, was frankly bonkers. But I could see the thought pattern. Had that worked, he would have been that sort of rally-round-the-flag-hero-type figure that that type of atmosphere probably would respond to. But I'm afraid it's ifs, buts and maybes on that one.
But overall, I think he's a fascinating character. He did not duck a question. He reacted very emotionally to certain things. He was in tears on a couple of occasions. There's a depth to him, which I don't think people realise.
Everyone would have preconceived ideas about what Joey Barton is like as a person, and as you said yourself, you were no different. But was there much that surprised you about him, aspects of his personality that didn't conform to your expectations?
I can imagine people's eyebrows shooting up at this, but I think there's a sensitivity there. There are times when he has those red-mist moments and he hits that button.
It's usually Armageddon of one sort or another. When you look at Joey Barton, you might think 'nature and poser and philosophy' and all that sort of stuff.
The best athletes, I think, are always intensely driven but instinctively self-educated. A lot of people take the piss out of Joe for his thirst for knowledge and his drive to self-educate — I don't think that's a pose at all. He's genuinely interested in the world and people within that world.
He's got strong views politically. He's taken an opposite journey as well. Most footballers, when they acquire wealth, they basically lurch to the right of Genghis Khan politically. Whereas he's gone the other way around — as he's acquired wealth, he's become more socially conscious and certainly more left-leaning. That's an interesting aspect to his character.
I'd go back to the word that I used earlier on. He's got an honesty about who he actually is, what his failings are and where he came from. We went back to the estate in which he grew up and really got into the feel of that place again.
He had a willingness to open up into some painful areas. The relationship he had with Peter Kay of Sporting Chance was a fundamental one, and that triggered some pretty emotional moments. It was almost like renewing his vows with him posthumously.
As I said in the acknowledgements, I didn't set out to make you like him. That's your choice. What I did want to do and what I hope we've done is allow you to understand him a bit better — who he is, where he came from and what he was shaped by.
If you have that depth of understanding, you can look beyond the caricature of the guy.
Has he been a victim of bad reporting at times? I'm thinking specifically of the Jamie Tandy controversy, where he claims he was unfairly treated and that the controversy was misportrayed by the media.
He's not one of life's victims, Joe, he doesn't wallow in it. But obviously, the other thing that was important in the book was for him to contextualise things and as a writer, that's the key. If I do a column, it's 1,000 words, but if it's a book, it's 100,000 words. And if you don't get any perspective from 100,000 words, you are not doing your job properly.
One of the things that really attracted me to him was his ability to respond to prompting. I'm not saying 'you say what I want you to say,' but one of the other things that I insisted on doing was to take him out of that football environment.
I said 'right, we're going to the Anglican Cathedral in Liverpool'. I said 'I want you to be reflective'. I'm a great believer that buildings and place have got a mood and a vibe about them.  We sat all day in this alcove and then we went up to the roof of the cathedral and looked out over the Irish Sea where the immigrants came in from.
You then could do a panoramic view of the tower — you start in the corner where you look at the docks where the immigrants came in, you look at the areas that were slums and are now becoming gentrified, you've got the crack dealers on the corner next to a full-tiered house that is worth x million. You then look up to the distant hills — where he grew up, which was the dumping ground for slum clearance.
In many ways, that's not the stuff of the traditional football autobiography, is it? 'I was lucky enough to score a hat-trick and get man of the match.' I've got a great belief that one of the major problems with sport books is that they're too full of sport sometimes.
You look at the great books, (Paul) Kimmage's book with Matt Hampson, Vincent Hogan's book with Paul McGrath, they just happen to have a sporting context. I hope the people that have no interest in sport and maybe have not even heard of Joey Barton, can get something out of the book, because it's the story of an individual who, hate him or love him, there's a humanity about him, and that's really important to understand.
One particularly striking passage is the section where he discusses his brother's imprisonment. Would it be fair to say this incident changed him as a person?
It came after the incident in Thailand. He enacted it in a playroom at the back of his house. He almost went through that evening with the Honey Monster and everything else. And I said: 'Mate, you were psychotic.' And he didn't disagree. He went from (discussing) that incident straight into the murder.
It was a pivotal moment in his life for so many reasons. He was as appalled as anyone by the nature of the crime. It was strange because he almost became the head of the family through that. Basically, the family were there and they were under siege and it's become known as 'the Joey Barton murder'.
He had to become the family spokesman and I think there's a little bit of anger about that, because everything was focused on him. That wasn't being self pitying or undermining anything, because as I said, he was horrified by that. He knew the victim's family, he understood the area, it was an awful manifestation of a social evil.
I know it happened after the book came out, but where did it go wrong for him at Rangers in your opinion?
Rangers was a combination of circumstances. The Scottish season starts ludicrously early. July 16th was Rangers' first competitive game. So when he went into the season, he had no match fitness.
He has very high professional standards and he was trying to impose those standards on the people around him. He did that in a positive way at first. Talk to the Burnley players, they loved it.
His first game at Burnley, they won 5-0 at Milton Keynes, and he went bonkers at half-time when they were winning. When he sees perceived standards not being reached, that's when he gets antsy.
He's not saying this, I'm observing it from a distance and I can understand that when you're playing for Rangers, there is always a danger of a self-satisfied culture being created in the club.
That group came from the lower leagues and let's not beat about the bush, the standard is relatively poor. You can be a Rangers star and play in front of 50,000 people every week, but you're basically playing in a sub-standard Scottish Championship.
Then you can go into the (Scottish) Premier League and you can have a debate about standards and you might think you're better than you are. And that would be one of the things that would be guaranteed to get Joey's back up.
His problem was that he didn't back up his criticisms of others with his performances on the field. That's fundamental and I'm sure, in time, that will be a big regret. He could see the potential and was very taken by the tradition and the stature of the place. I think he possibly underestimated the virulence of the environment out there.
But to encapsulate that in a sentence — he wasn't fit enough, he didn't play well enough and however valid his criticism of some of his teammates, that doesn't matter if you don't produce yourself.
Where does his long-term future lie? Could he be a successful coach?
He could walk into the media tomorrow and make a fortune. He's a very good communicator, very eloquent and incisive. That's one of the things that surprised me — the depth of his football knowledge. He could tell you who the Nancy right-back is.
When you get to know someone quite well, and I got to know him as well as anyone probably, you get a sense of when people bullshit you. He was talking (to me) about coaching and learning his craft — that wasn't bullshit. That was authentic.
The thing about Joe is that he is at his best when he is humble. When he went into Burnley, he knew that was one of his last big chances in his career to make a statement about himself.
He committed himself to that group and especially to Sean Dyche. He was humble and responded.
If he went into coaching, I think he would be equally humble. My next book's about youth development and I was speaking to a coach yesterday, a former pro and he said 'look, as a pro you get really lazy.'  You think: 'I've been playing for 15 years and I'll just walk into a coaching job.' I don't think Joe has got that arrogance. As bizarre as it may seem to some of his critics, he's not particularly arrogant in that sense.
He believes in himself and as he says, as a coach, he'd be able to inform people by his own failings and his own experiences. I think that would be part of his coaching rationale.
I could see him doing a really good job in an academy system. It's quite revealing that he's still absolutely loved in Marseille. It made me think he may go back there for a couple of years and work in their academy.
The other option that people take and I'm not sure it'd be the right idea — there would be a publicity-hungry chairman in League One or League Two that would want to give him a job. Is he ready for that? You never know until he does it. But the impression I got is that he just needs to learn a new trade. If it takes five years, it takes five years.
Finally, what could a young aspiring professional footballer take from this book and from Joey's story in general?
I'd tell them to read chapter 5 where he talks about what it takes. It's called "Making It'. If they read that, they will have an unvarnished view of what is needed to succeed in what is a brutal game.
No Nonsense: The Autobiography by Joey Barton is published by Simon & Schuster. More info here.
The42 is on Instagram! Tap the button below on your phone to follow us!