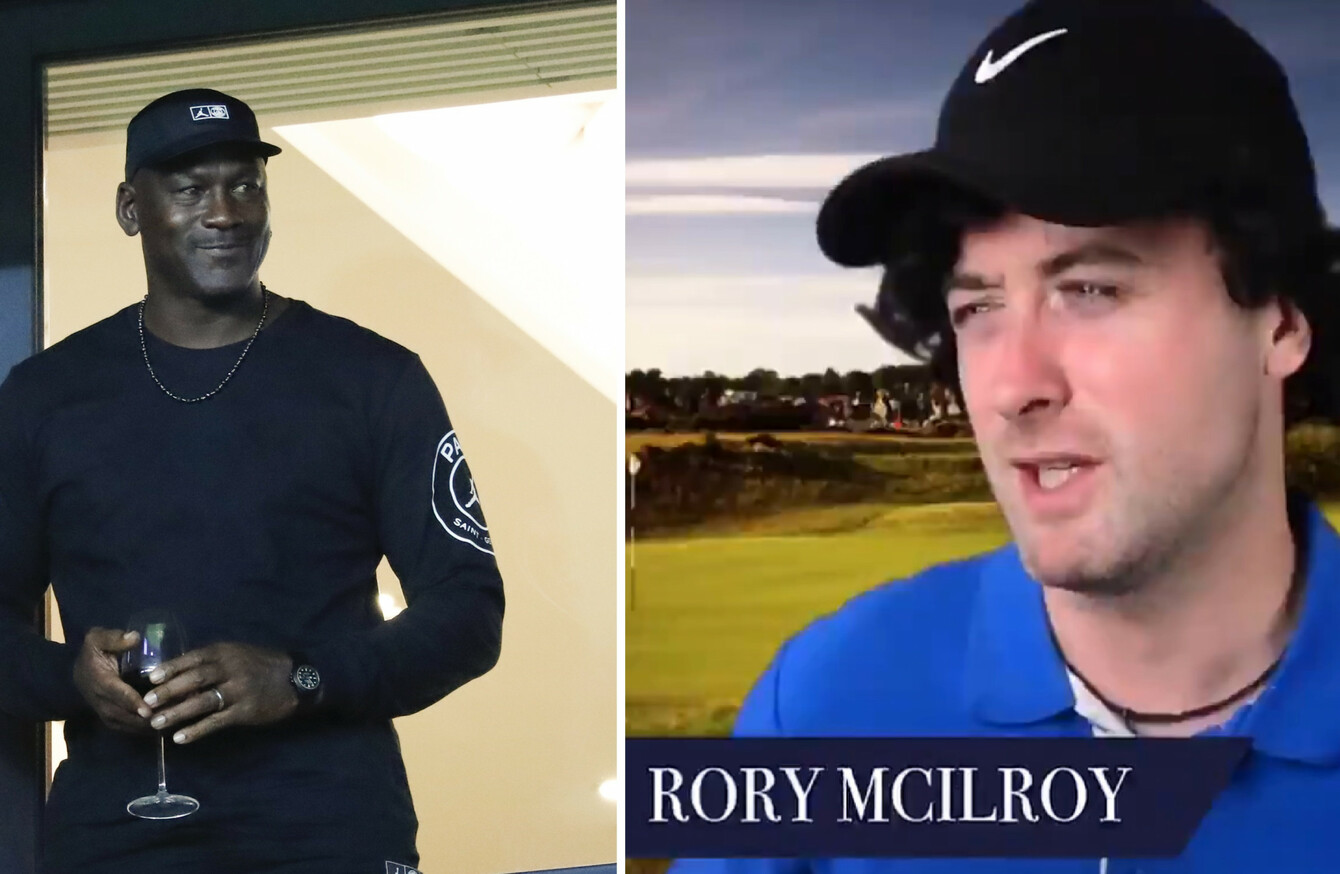 Michael Jordan and Conor Moore.
Image: PA Images & Twitter/ConorSketches
Michael Jordan and Conor Moore.
Image: PA Images & Twitter/ConorSketches
BASKETBALL GREAT MICHAEL Jordan has been passing on his wisdom to help the American Ryder Cup side in their bid to win the trophy on European soil for the first time in 25 years.
The US have turned to avid golf fan Jordan, a six-time NBA champion, for advice on how to deal with vocal home fans ahead of Friday's opening matches, which will tee off in front of an imposing 6,900-capacity grandstand.
"He talked about how he didn't hear the crowd. It's kind of the same thing," three-time major champion Brooks Koepka told reporters yesterday. 
"But I think, also, too, I took that as, he couldn't wait to shut them up, and the second he would go off… you might hear a few boos, whatever it is, but the quieter they are, you're kind of laughing inside. You've done what you wanted to do, and I thought that was pretty cool."
As a basketball player, Jordan won 13 of the 18 away games he played in NBA Finals, and showed his general sporting prowess during a brief stint in minor-league baseball.
The US Ryder Cup outfit have not won in Europe since 1993 at the Belfry, suffering a miserable run of five straight defeats.
But Rickie Fowler, who will be playing in his fourth Ryder Cup this weekend, said that he was privileged to get to spend time with Jordan.
I'm lucky to get to spend some time with MJ back home in South Florida and play a bit of golf with him," said the 29-year-old.
"As you can imagine, he's very competitive… He's special.
"He talked about, you know, the guys that he faced and who he thought were the toughest, not just as a team but the individuals that he faced and how he kind of went about home games versus away games.
"It's just cool to hear him talk about him going to battle or going to play a big playoff game with his team-mates."
Tiger is back... Alright, Alright, Alright 😎

Our @ConorSketches brings you reactions to @TigerWoods' 80th win from @McConaughey, @IanJamesPoulter, @TheNotoriousMMA & more ✨ pic.twitter.com/elu9Llpo7N

— Golf Channel (@GolfChannel) September 24, 2018
Meanwhile, the European golfers broke the tension of Ryder Cup week with a comedy video that left none of captain Thomas Bjorn's 12-man squad unskewered and all of them laughing at themselves.
Irish comedian and impressionist Conor Moore imitated the European players in a 10-minute video shown Monday night at a team meeting, players revealed Tuesday.
"Thomas made it out how it was a serious video, and then we had this press conference of Conor doing all these impressions. It was a nice little laugh," said England's Tommy Fleetwood, one of five Cup newcomers on this year's team.
England's Ian Poulter, a captain's pick making his sixth Ryder Cup appearance, was still smiling about the impressions.
"Team Europe are great from a video perspective and a perspective of team bonding," Poulter said. "So we had a great video clip last night, which was done by Conor, and he kind of took everyone off in the team, and it was extremely funny.
It was hilarious. You know, just clips like that, which kind of help the team get together. Although we're taking the Mickey out of one another, it's quite a good way to start the week off."
It's a helpful icebreaker between serious moments such as when Fleetwood saw the Ryder Cup uniform he dreamed of wearing for so long.
"Walking into your room, and you've got all your clothes, your outfits that are lined up, and getting in the team room with all the guys, it's really cool," he said.
"And without a doubt, this morning, putting this on, it's the proudest moment of my career. It's very special."
Fleetwood built camaraderie with his new teammates, even if it meant taking a few pokes for his long hair, and he got to enjoy the dead-on impression of deadpan Francesco Molinari, the reigning British Open champion from Italy.
"I got away lightly, really. I've just got hair to talk about," Fleetwood said. "Fran's was just hilarious. I think Fran's has made me giggle for about 10 hours now. Yeah, it was great. (Moore) was really good.
"Just how deadpan he was and just trying to make how excited he was with his deadpan tone. It was perfect, really. It was absolutely spot on. Fran's was definitely my favourite."
Fifth-ranked Molinari, usually stoic, was laughing as he recalled the video imitation while at an actual news conference.
"I'm actually thinking of it all the time now answering questions, trying to smile a bit more," Molinari said.
Later he added dryly, "Can't you tell the difference?"
The42 is on Instagram! Tap the button below on your phone to follow us!