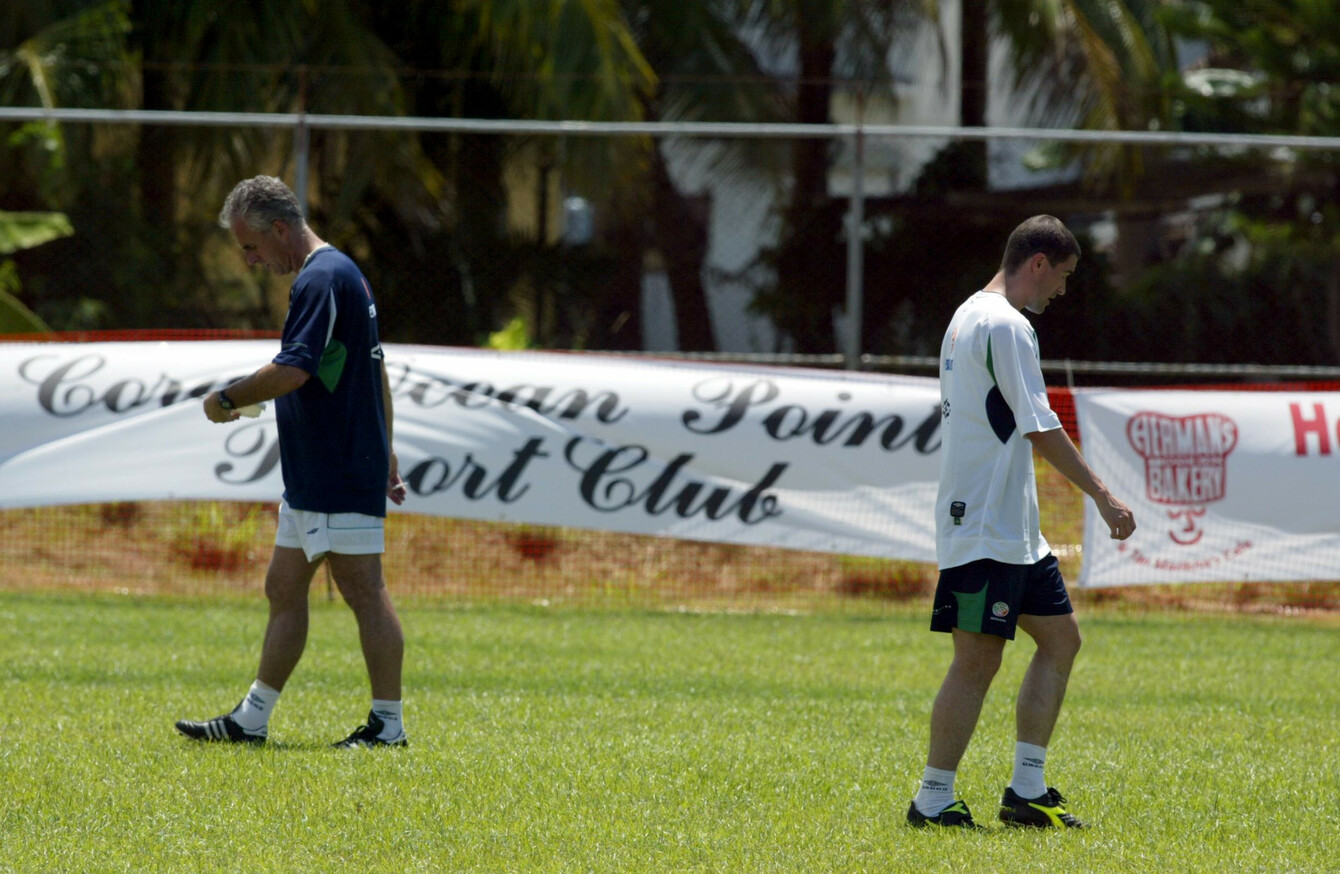 Manager Mick McCarthy and Roy Keane pass each other during training in Saipan prior to the 2002 World Cup.
Manager Mick McCarthy and Roy Keane pass each other during training in Saipan prior to the 2002 World Cup.
- Paul Fennessy reports from the Aviva Stadium
IT WAS THE question not many wanted to ask, but perhaps it was for the best that someone did bring it up ultimately.
Now, surely, more than 16 years after it took place, people will finally stop taking about Mick McCarthy, Roy Keane and the Saipan pre-World Cup 2002 debacle once and for all.
The new Ireland boss said it would be the final occasion he would speak about it, and you got the sense even from the majority of journalists in the room that they were sick to death of a story, as significant as it was at the time, that has been analysed to death at this stage.
When asked about the importance of moving on from the past, McCarthy simply laughed initially and joked: "Why? What happened there? My memory's gone as well, the last 16 years."
The 59-year-old then added, in a more serious tone: "I honestly believe that both my career and Roy's shouldn't be remembered or determined by that. Because [we] both had successful playing careers, him an unbelievable one, far better than I. And I've had a pretty successful career as a manager.
"I'd like to be remembered for that, and I think Roy, in Ireland, should be remembered for what a wonderful player Roy was. And for the fact that when we got to Saipan, he was a big part of that, instrumental. I have the utmost respect for him for that. So, if people want to talk about that, good luck, I won't be answering any more questions about that."
McCarthy could be forgiven for feeling a little exasperated at this stage. In addition to the inevitably intense media scrutiny he was subjected to at the time amid an incident that threatened to overshadow Ireland's entire 2002 World Cup campaign, he has also repeatedly been asked to re-evaluate what happened in the intervening years.
As recently as last September, he was quizzed extensively on the subject by Eamon Dunphy — one journalist who was firmly in the pro-Keane camp at the time, but who has softened his view towards McCarthy considerably since then, even backing him for a second stint in the Irish job before his appointment was confirmed.
The former RTÉ panellist is not the only one who has changed since 2002 though.
"I've certainly lost some hair," McCarthy said with a smile. "Got older. Wiser, I think. I've a bit more perspective on life. I tend not to fall out with everybody as quickly as I did before. I realise you [journalists] have a job to do.
I'd like to think the experience I've gained since I was here the last time — won the league twice, been in the Premier League for three or four seasons. I think I've learned something, that's for sure.
"I'm certainly not a starry-eyed 36-year old [compared with my first Ireland managerial appointment], that's for sure. I adapted. We reached the play-offs and qualified for the World Cup and we had some success doing it. The job is still the job.
"I'll get the players and go and speak to them — I'll get them together, we'll work with them and do our best to win games with the best team we possibly can from the players we've got.
"If you start asking me about players and young players, you're probably going to get a shock, because I don't know a lot of them. I've been managing in the Championship trying to sign players for my team. I've been preoccupied with that for the last 16 years, with Sunderland, Wolves and Ipswich, so we've now got a good spell to go and find the players and see what we've got and decide what I want to do."
One other considerable difference compared with McCarthy's first tenure is the sporting public's relative apathy for the senior team.
Ireland regularly played in front of packed stadiums back when the former defender initially took charge, but a dismal set of results under Martin O'Neill in 2018 led to increased calls for the manager's exit, as well as substantial criticism of the people running Irish football amid a general air of disillusionment and toxicity.
Whereas in 1996, when he was appointed initially, the former Millwall boss still had several heroes of the Charlton era to choose from, including Andy Townsend, Ray Houghton, Steve Staunton and Niall Quinn, the current crop of players are considerably less venerated.
McCarthy understands the difficulty of the task ahead of him and acknowledges the supporters need convincing after consistently watching abject displays over the past 12 months.
"It's always been such a wonderful experience, as a player, walking up the steps in Lansdowne Road with a tingle on the back of your neck," he said.
As a manager, it was the same. I was talking about playing at Lansdowne against Spain and we beat them 1-0, I think it was an own goal. I've still got a photo at home, I'm crushing [Emilio] Butragueño's hand and he's smiling at me — I think he was grimacing. We made the place an intimidating place. There were great games and great times and we did have it rocking. It's my job to get that going again. It's important that we get the fans back on side.
"I hope it's a positive today that I've took over. We played good football the last time I was here and got some good results."
McCarthy, of course, has faced no shortage of daunting challenges during his career, so it is no surprise that the experienced campaigner sounds relatively relaxed about the taxing tests that lie ahead.
Subscribe to our new podcast, Heineken Rugby Weekly on The42, here: