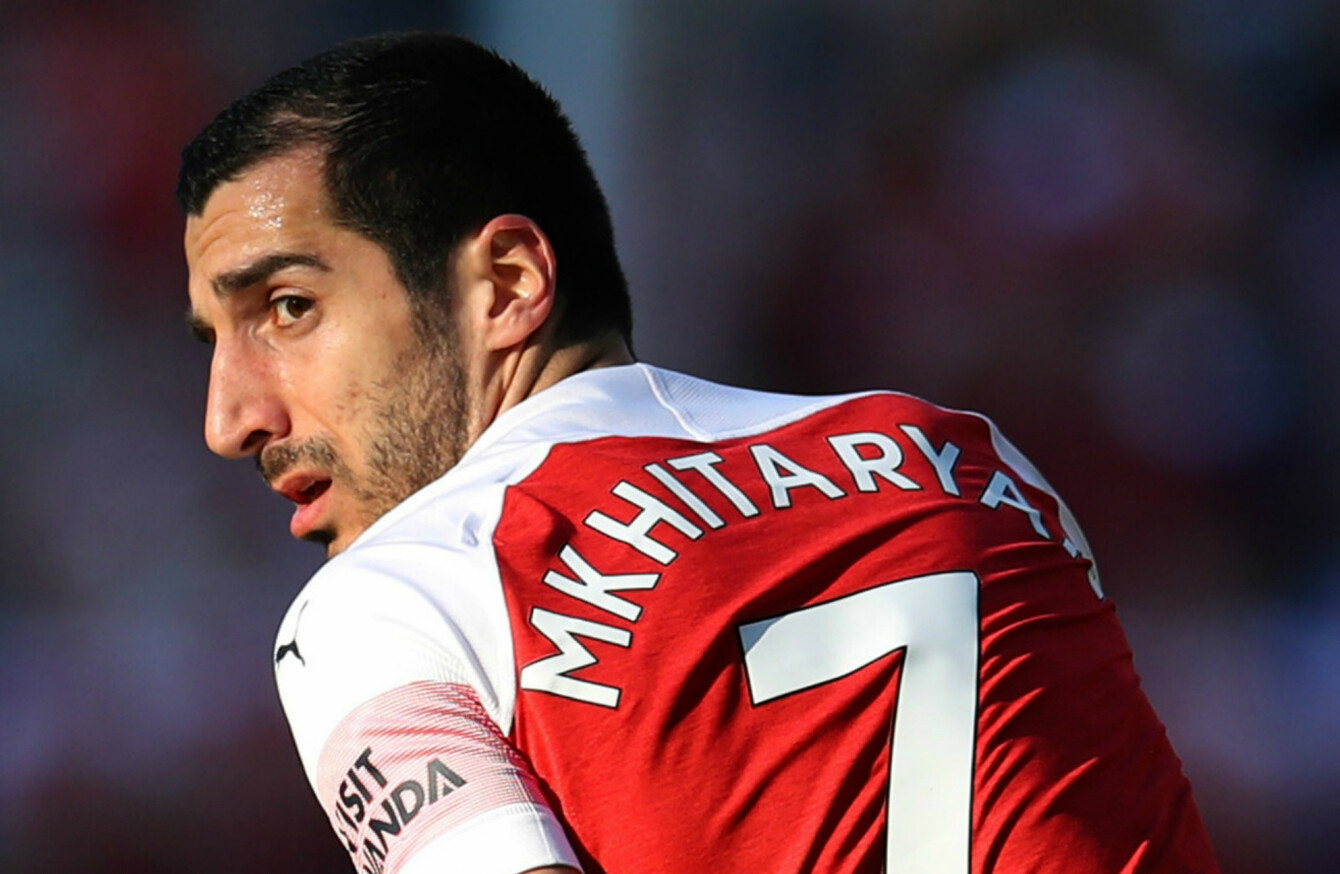 Arsenal's Henrikh Mkhitaryan.
Arsenal's Henrikh Mkhitaryan.
Updated May 21st 2019, 3:00 PM
ARSENAL HAVE ANNOUNCED that Henrikh Mkhitaryan will not be travelling to Azerbaijan with their squad for next week's Europa League final due to safety concerns.
Doubts had been cast over the Armenian playmaker's involvement in the clash with Chelsea on 29 May.
Political tensions between his homeland and Azerbaijan had raised concerns over the impact his presence in the showpiece event could have.
Mkhitaryan was left out of Arsenal's squad for a trip to Qarabag earlier in the season, for a group stage encounter in October, and today the club revealed that he will not be involved in the final.
"We're very disappointed to announce that @HenrikhMkh will not be travelling with the squad for our #UELfinal against Chelsea."

Full statement 👇

— Arsenal FC (@Arsenal) May 21, 2019
"We are very disappointed to announce that Henrikh Mkhitaryan will not be travelling with the squad for our Uefa Europa League final against Chelsea.
"We have thoroughly explored all the options for Micki to be part of the squad but after discussing this with Micki and his family we have collectively agreed he will not be in our travelling party.
"We have written to Uefa expressing our deep concerns about this situation. Micki has been a key player in our run to the final so this is a big loss for us from a team perspective.
"We're also very sad that a player will miss out on a major European final in circumstances such as this, as it is something that comes along very rarely in a footballer's career.
"Micki will continue to be part of our preparations until we depart for Baku at the weekend."
Mkihtaryan had been assured by Azerbaijan's ambassador to the United Kingdom that it was perfectly safe for him to travel with Arsenal to Baku for the Europa League final.
Tahir Taghizadeh had claimed their fears are unfounded.
He told Sky Sports when asked if he planned to contact Mkhitaryan: "Absolutely. I would be delighted for him to have a conversation with me.
"This is a Class A event. If our purpose is to play political games around it, it is something different. You are being paid as a footballer, not a politician. Let's leave other issues aside.
"My message to Mkhitaryan would be: you're a footballer, you want to play football? Go to Baku, you are safe there. If you want to play the issue then that's a different story.
"What I can guarantee is that the Azerbaijan government will do everything that needs to be done and provide safety and security for every fan, player and staff member coming to this game."
Arsenal boss Unai Emery admitted after a final day outing against Burnley in the Premier League that he has no idea whether Mkhitaryan will form part of his plans in the pursuit of major silverware.
"It's political issues and I don't know what the solution is. We want to play with every player, he worked very well [against Burnley], and we'll do all we can to play with every player and with him, but I don't know the possibility [of playing] with him and the political issues.
"I don't know what the problem is between the two countries but we'll do all we can to be with Mkhitaryan there. It's not only a sporting issue. It's not in my hands, I don't understand what the solution is."
Subscribe to our new podcast, The42 Rugby Weekly, here: