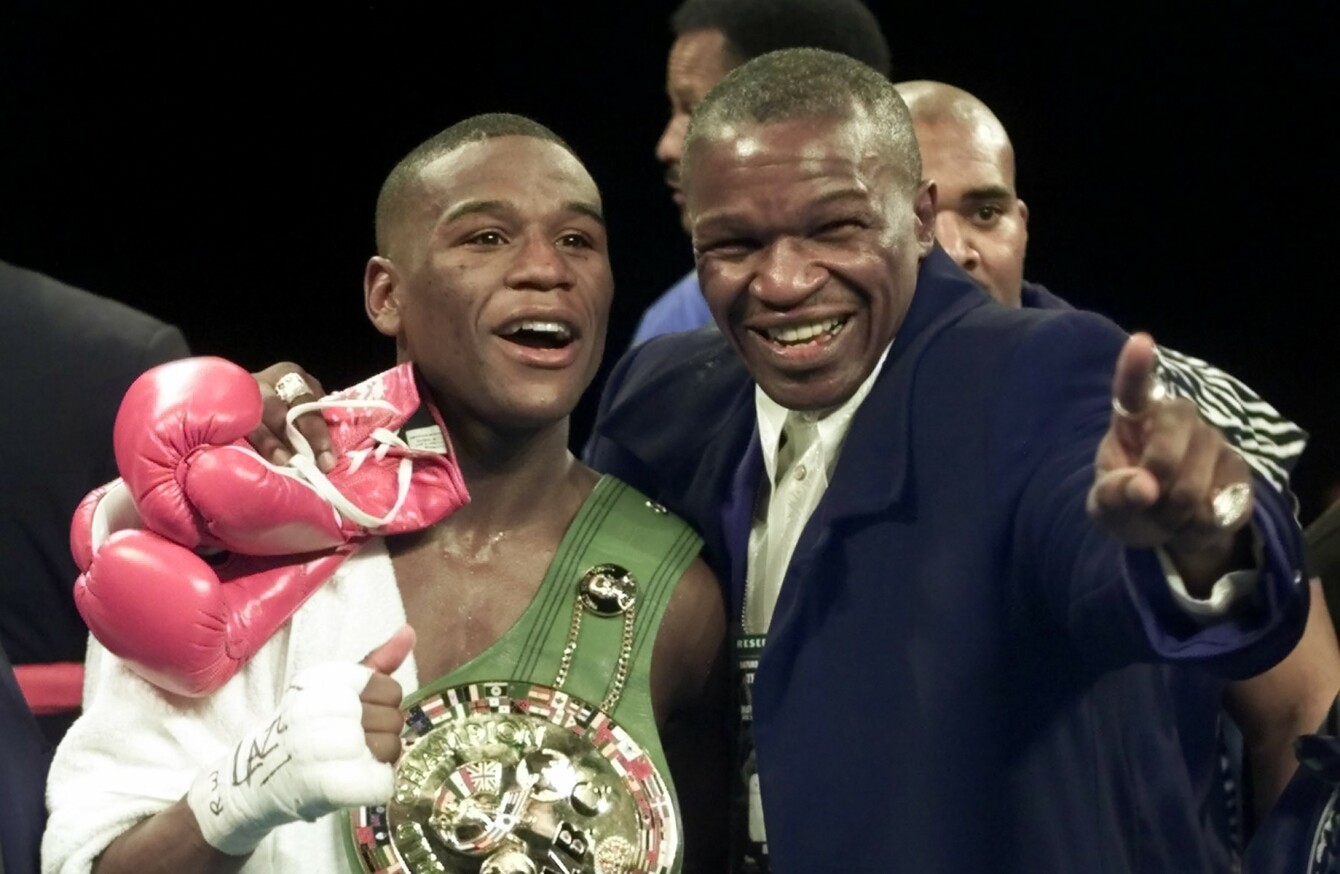 Image: AP/Press Association Images
Image: AP/Press Association Images
"I FEEL VIOLATED," fumed Diego Corrales.
"He has gotten really personal with this, and it's gone way beyond athletic competition. Everything that is important to me or means something to me, he's attacked and questioned. He will have to pay for that. That will not pass unnoticed. It's not sport anymore. I will go at him with every strength and fibre of my being.
"If Floyd had just shut his mouth and just minded his own business, we would still have fought, but the passion wasn't going to be there like it is now."
Mayweather had raised his rival's ire by repeatedly dragging Corrales's impending legal hearing about the alleged asault of his pregnant wife into the fight's build-up, with lines such as, "I'm going to beat Chico like the dog that he is for all the battered women out there. It's really ridiculous. You have to be a coward to beat on any women. It's ridiculous to do that. If you want to fight, go in the ring. What's the matter with a guy who would do that to a pregnant woman? I'm going to abuse him as a favour to all the battered women in America."
Corrales fired back, saying he was going to win for all of the battered fathers.
As a person . . . it's a shame, a crying shame the things he's done, like kicking his own father out of his house. Something like that is uncalled for. Floyd's a guy who acts tough when he has seven or eight of his buddies around him. But this time it's going to be just him and me.
According to fight insiders, the icing on the cake that saw the bout signed and sealed was when they ran into one another after Lennox Lewis defended his heavyweight titles against David Tua at the Mandalay Bay in Las Vegas.
"Several of Mayweather's posse cornered and tried to intimidate him [Corrales]," wrote Boxing News.
"Corrales claims Mayweather eventually showed up, words were exchanged, and Floyd took off his jacket as if to take the matter further. But the incident passed without fisticuffs."
Bad blood
Of course, it did not help the manifesting bad blood when James Prince
invited Corrales's wife, Maria, to sit ringside in Floyd's corner to see Corrales
take the same beatings she allegedly had.
"I think Diego and Floyd developed a dislike for one another and I think it happened in the amateurs," Ray Woods, Corrales's stepfather and trainer, recalled.
"They had some really competitive sparring matches in Colorado Springs and this time they were in the same weight class and Diego was coming up fast and Floyd started picking at him, especially when he got in trouble with his alleged beating of his spouse and it kind of just blew up from there."
Both fighters had stories to tell and presented them through TV, radio, newspapers and the growing online boxing community. Boxing websites were springing up left, right and centre, and many had an opinion on Mayweather himself, not to mention the fight.
Thomas Gerbasi, one of the men behind houseofboxing.com, hosted a webchat with both fighters ahead of the contest. He had them on the phone for an hour each, answering his and the fans' questions.
"Mayweather Jr was loose, talking smack, and generally sounded like he was
just happy to be alive,' said Gerbasi. "It was a young kid before the biggest fight
of his life and he didn't have a care in the world.
"If promoter Bob Arum and manager James Prince could bottle that Floyd Mayweather Jr up and sell it to the world, boxing might have its crossover star, and the SportsCenter addicts might be saying "Tiger Who? Kobe Who?" Or maybe Floyd Jr says it best.
"When asked what he needs to do to get to the level of a Woods or Bryant?
More promotion. And don't talk about it. Just keep beating the best fighters
they've got."
Floyd was so animated on the line to Gerbasi that Dena duBoef, Todd's
sister and PR guru at Top Rank, tried to cut Floyd off after several minutes.
'I'm not done yet,' said Floyd, who had more on his mind.
The fight was set for 20 January 2001, though the leadtime was far shorter
than initially intended.
They had been due to meet separate foes in a 17 February show, with Corrales challenging José Luis Castillo for the WBC lightweight title and Mayweather tackling another Mexican, Alejandro Lopez.
The respective winners of those fights, and the assumption was it would have been Mayweather and Corrales, would then meet in the spring or summer, and most probably at lightweight after Corrales had moved up.
However, after Roy Jones's contract expired with HBO and he began playing hardball over a new deal, HBO needed a date filled quickly, and Mayweather and Corrales felt there was no time like the present to settle their feud.
Kery Davis, along with Ross Greenburg, had stepped in and taken over the boxing reins at HBO from Lou DiBella, who had started his own promotional company, and the departed Seth Abraham.
Arum – with superstar Oscar De La Hoya breaking away from him, albeit with the aging promoter taking him to court – reckoned that Mayweather now saw an opportunity to be Top Rank's top dog, so had come back into the fold.
"Floyd called us and I think he finally understands that we and HBO really do have his best interests at heart and he's ready to start fighting again," Arum said.
Some felt Arum was pushing the fight briskly forwards as the rivalry between the fighters was too strong and they could blow at each other at any time.
Ray Woods agreed. "What I heard was every time Diego and Floyd laid eyes on one another, they got into it,' said Woods. "I think before those guys went at it in the street I think Bob said, 'Let's get on and do it before they do it for real."'
Storyline
Opinions were split in the trade, with few united on who would win. It was one of those contests that sold for the storyline and that fight fans salivated over because it was two young, ambitious guys, approaching their prime and undefeated and the best two in the weight class.
Corrales had vacated the IBF title to move up in weight (only to be enticed to stay), Mayweather, who in the build-up recounted how a sparring session in the amateurs with Corrales had been 'easy work', held the WBC strap.
Floyd was 24-0 (18); Corrales had won all thirty-three contests with twenty-seven knockouts in the process. Floyd was twenty-three; Corrales was a year younger. The latter was a tall, rangy and terrifically heavy puncher, the former was smaller and an artful scientist.
Floyd had speed. Corrales had power. If Mayweather was to take a heavy Corrales shot, from either hand, could he stand up to it?
Would Mayweather be distracted by what was going on outside the ring? Would Corrales be able to keep up with the seemingly infinite skills of Mayweather, or the hand speed?
"Everyone is saying Floyd doesn't have his stuff right," said Mayweather's
old sparmate Paul Spadafora, the IBF lightweight champion, "but if Floyd is
Floyd, he'll win the fight easy."
In fact, when put on the spot more people seemed to be coming down
on the Mayweather side of the argument. HBO commentator Jim Lampley
picked Floyd, so did ESPN's Brian Kenny and Boxing News's Claude Abrams.
Tommy Brooks, then trainer of Mike Tyson, tipped Corrales. "He's too tall,
powerful and may want it more," he said.
"He [Floyd] showed he can fight if need be the case," added Roger
Mayweather. "And I'm gonna tell you this, I've worked with Diego Corrales.
He's going to box Diego Corrales early in the fight and he's gonna beat his ass
down the stretch, too smart for him, too slick for him."
Allegations
French boxing journalist Thierry Chambefort visited Corrales in camp, on
a secluded ranch fifteen minutes from Las Vegas. He was told Corrales would
not do interviews but when Chico saw him they began chatting, the tape
recorder rolling.
He asked Corrales about the allegations he was facing. "It's not true the way they put it,' he said. "My friend was into drug abuse. I went back home and she put a gun on me. Also, I myself never had anything to do with drugs. I hate Mayweather. I have to look my opponents in the eye. My dad told me the eyes are windows to the soul and I believe that."
Chamberfort was trying to delve beneath the surface of the two camps. He
spoke to Zakeisha Jones, daughter of boxing referee Richard Steele, who said
Floyd was acting too much, pretending to be someone he wasn't.
"He's recently been arrogant with people he's known for years," she told the Frenchman.
On the first floor of Corrales's accommodation was a dartboard, with
Mayweather's picture on it.
"This has nothing to do with "Chico", I installed it," said Alex Ariza, a young Los Angeles-based Colombian who was working with Corrales on his strength, conditioning and nutrition as he tried to make 130 lbs for a final time.
"I'll do whatever it takes," said Corrales, of having to hane his six-foot frame down to just over nine stone once more.
"The belt is not important. It's whipping Mayweather that counts."
'I'm going to bust him up good,' chirped Floyd.
High stakes
'This has become very personal,' wrote Boxing News editor Claude Abrams, who hoped their feud would be settled at the final bell, whatever the fight's outcome.
The stakes were high. The winner was looking at a six-fight deal with cable giants HBO. The loser would get just one more guaranteed bout on the network. The main prize on offer was bragging rights.
There was, however, a healthy dose of mutual respect if you looked hard enough for it. "Corrales is one of the best fighters out there," said Mayweather. To be known fifty years from now as one of the greats, I have to get past him."
"If I fall short in any area, Floyd will capitalise," Diego admitted. "I have to keep my head together and use my assets."
Interestingly, Miguel Díaz, who had been in the Mayweather corner looking after cuts, was to be in the opposite corner on the night. He had chosen to remain neutral but his cut of Corrales's $1.4 million purse would have meant a $70,000 payday, as a co-trainer, while he would have made $34,000 as Floyd's cutman.
Mayweather gave Díaz his blessing to follow the money. Mayweather was making $1,775,000.
Grudge matches have always been better payers in boxing, and 8,126 fans were inside the MGM Grand in Las Vegas to watch. That meant, disappointingly, only around half of the seats had been taken.
For Corrales, who for three previous fights had struggled to make 130 lbs and was keen to move to 135lbs, it wasn't about the money or the weight anymore.
"He will have to pay. Honestly, I would fight this fight for free. The way I feel about him, I will tear him up. I promise you that."
From a fan's perspective, they were both bad guys. Mayweather was the arrogant punk, Corrales the alleged wife beater.
Mayweather couldn't understand that. "I feel like it's this," he said. "I turned off the money and I'm the villain. This guy Diego Corrales allegedly cracks his wife in the ribs and she's pregnant, and I'm the bad guy. The only thing I'm looking forward to doing is winning.
Either people are going to see me win or they're going to come just to see me lose. The main thing is that they're paying to see me.
Like Mayweather, Corrales was at odds with his own management team of Cameron Dunkin and Barrett Silver. He would later sign with Prince.
Mayweather-Corrales made for a potent combination and ESPN writer Tim Graham was hoping they would both pay for past crimes on the night.
*An extract from  MONEY: The life and fast times of Floyd Mayweather, Birlinn Ltd.