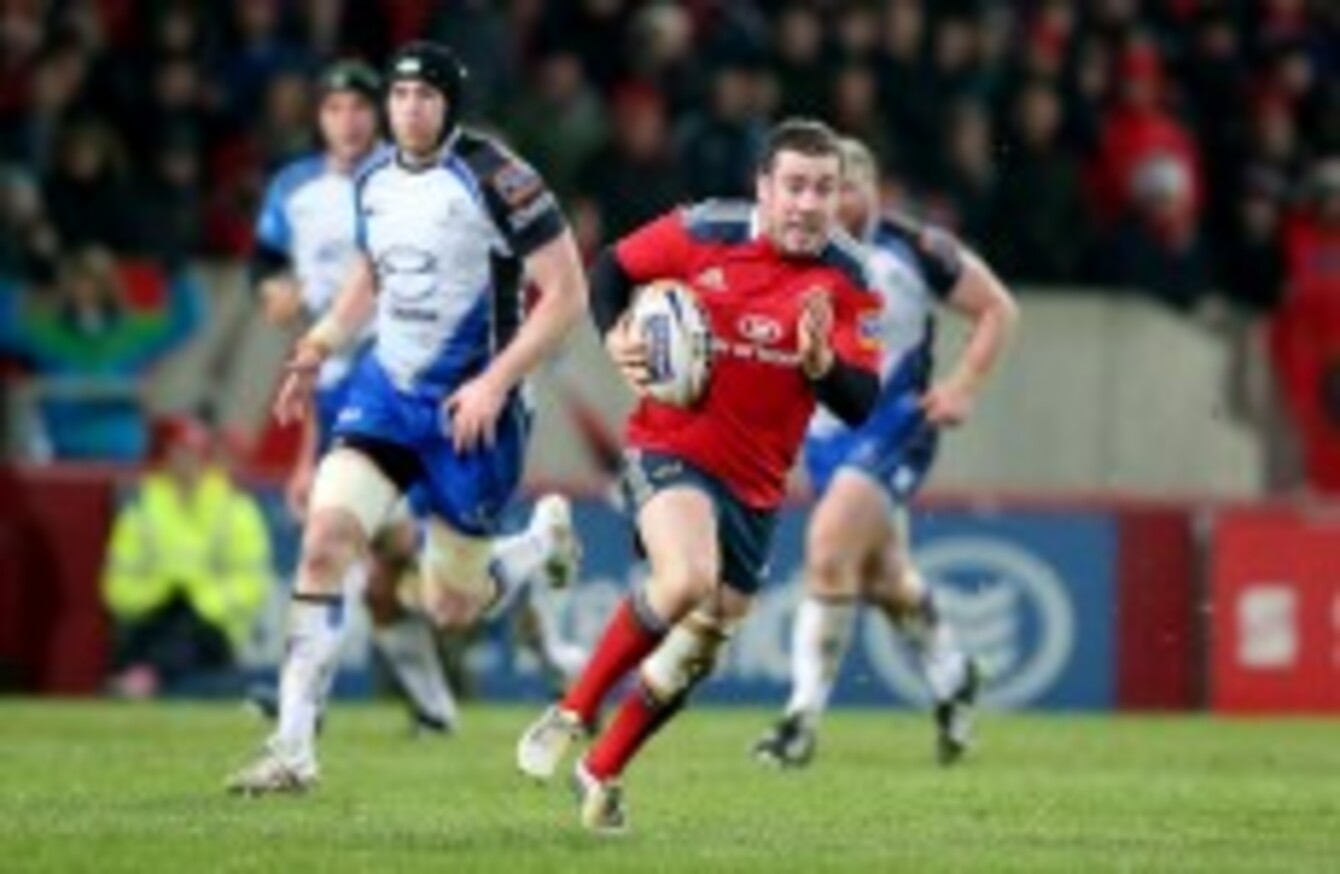 Hanrahan breaks out in Limerick last night.
Image: ©INPHO/Dan Sheridan
Hanrahan breaks out in Limerick last night.
Image: ©INPHO/Dan Sheridan
ONE OF THE more pleasing aspects of Munster's 22-16 win over Connacht was the performance of JJ Hanrahan in the number 10 shirt.
The 21-year-old demonstrated that he can indeed control a game through intelligent use of the boot, an area of his skillset that has been in doubt. While this Pro12 fixture was far from the high stakes of a Heineken Cup game, Munster's support will have been encouraged by further signs of progress from the great white hope.
Head coach Rob Penney was – as he might say himself – rapt.
He probably wouldn't have had the best of games last week [against the Scarlets], and he's a very assiduous, conscientious young man," Penney told TG4. "He's trying very hard to do the right things and he's got got good people around him; Simon Mannix and Ian Costello are just working hard, getting the growth into him.
"It's bearing the fruit, he's a talented kid and he's making great progress."
It was revealing to note Penney's praise of Mannix and Costello, as well as the words regarding Hanrahan. If the New Zealander is to continue as Munster coach next season, as looks more and more likely, he will surely be insistent that that pair of coaches remain on board too.
Overall, Penney was pleased with the four points on a miserable night at Thomond Park. The result of the weather conditions was a scrappy encounter, although the former Canterbury back row felt his side had got through their phases well.
Penney is directing things well at Munster this season. ©INPHO/Dan Sheridan.
"We showed some good aspects of continuity at times, which we haven't been able to do very accurately. I thought our set piece, our scrum in particular, operated efficiently.
"We had some young blokes out there who didn't have a lot of experience and for them to get an opportunity to go out against a side that was pretty much the same as the side that went out over in France a few weeks ago, it's a great credit to the depth we're building. It's lovely."
Munster were 13-6 up at half time, thanks to a try, conversion and two penalties from Hanrahan, meaning that Penney's half time speech wasn't the most difficult to manufacture. The southern province arrived at the interval in clear control of the momentum of the game.
We felt that we were starting to get real ascendancy.  We probably, a couple of times, let them off the hook, whether they were real or referee's perception about things that were happening. There was a couple of penalties there that didn't allow us to build pressure when we were in a position to do so.
"It was about us obviously being more accurate and not allowing the referee to let them off the hook. I thought in the second half, we played 90% of it in the opposition half."
Job done, progress made. Attention turns to a trip to Ulster next weekend.