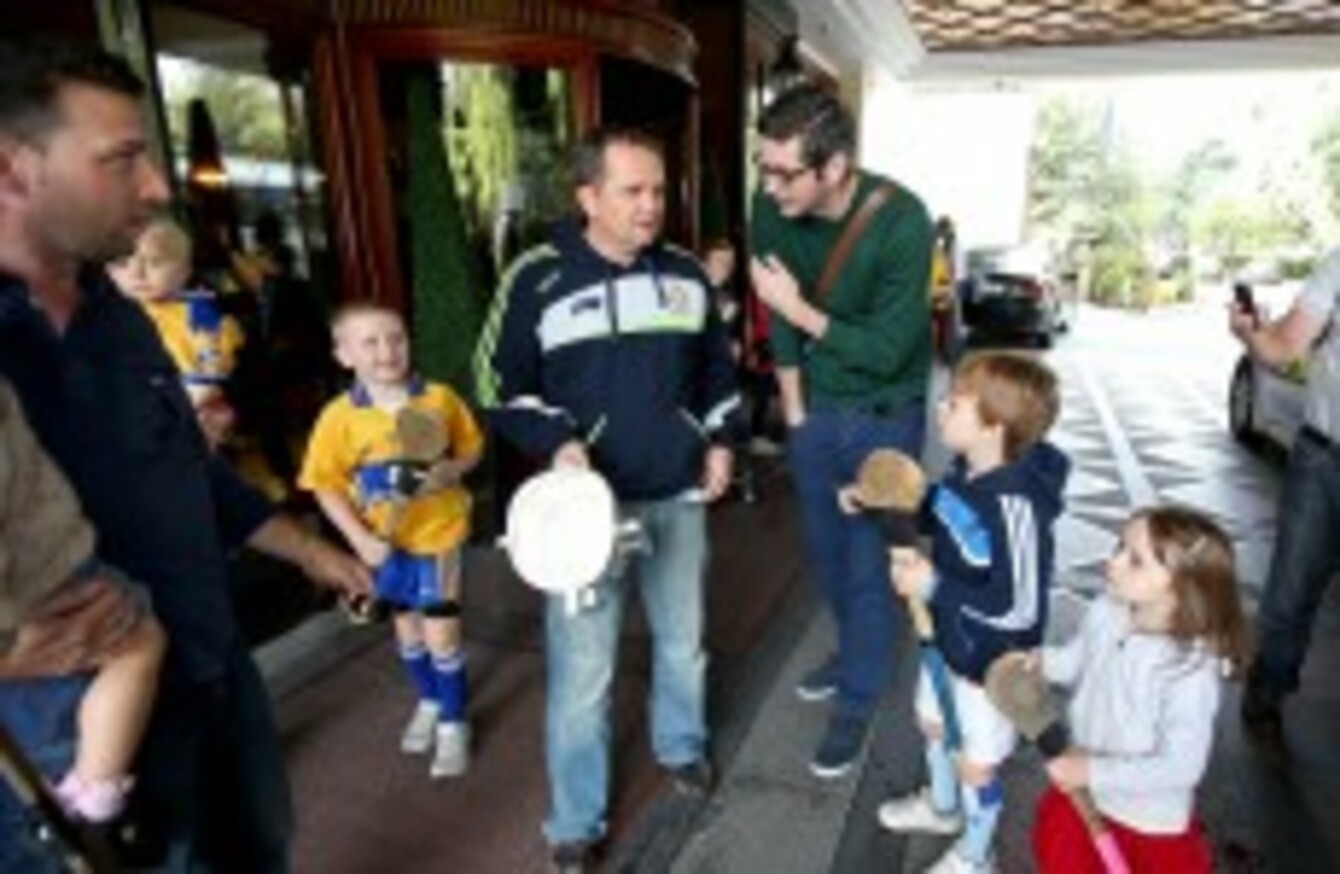 Murphy catching a word with Davy outside the Clyde Court Hotel on Sunday.
Murphy catching a word with Davy outside the Clyde Court Hotel on Sunday.
THREE HOURS AND nineteen minutes in the life of Shane O'Donnell – from preparing to watch an All-Ireland final from the bench, to scoring a first half hat-trick.
That's some whirlwind. And that should only be the start for a guy who looks like a One Direction member, and who has won for his county only their fourth ever All-Ireland title.
It was an extraordinary arrival on the scene for him, and there would have been even more noise made about his age… if he wasn't surrounded on all sides by team members every bit as young. That age profile, and the fact that Pat Donnellan's first words in his speech were about how Clare intended to be serial winners of the big titles in hurling over the coming years, should send a shiver down everyone's spine.
I remember writing here before the All-Ireland quarter final weekend that all 6 teams left had a real chance of winning the All-Ireland. But at that stage you would still have backed both of last year's finalists Kilkenny and Galway to frank the form of recent years and get back into the All-Ireland semi-final. In Kilkenny's case the nagging suspicion was that they'd still go on and quell the revolution that had seen Dublin and Limerick win their provincial titles.
That day in Thurles was a moment of vindication for Cork, and a day when all the self-belief that Clare had in themselves was first seen. From there it really was an entirely even race for the top – one bookie even had the four remaining teams at the same price that evening.
So what happened to Clare that helped them to push on? They still felt they had won nothing – maybe in Limerick and Dublin the celebrations surrounding their Munster and Leinster wins took more out of them than they were prepared to accept.
Davy and Shane O'Donnell at the final whistle. Credit: INPHO/James Crombie
But what happened too was that those young players started adding senior championship experience to that self-belief. They didn't have to be great to beat Galway in the quarter-final, and they had to be little better to beat Limerick in the semi-final.
But the sense continued to grow that they were a team on an inexorable rise. The calmness, determination, and conviction in their performance in the first 20 minutes on Saturday evening was extraordinary. Their fade-out in the middle third of the game meant they were a lot more worried than they needed to be but, as in the football championship, there's no doubt about it – the best team won the All-Ireland.
I think it was Ken Early (well, who else would it be?) who mentioned on one of our Second Captains online radio shows the story of the returning generals in Roman times, who would be given a parade of triumph through the streets. But while he was receiving the acclaim of his people, a slave would be mandated to stand beside him and whisper – "all glory is fleeting."
As Clare sit atop the hurling world this morning, maybe this is a salutary lesson. Their near neighbours Limerick won 3 under-21 All-Ireland titles in a row and never got the rewards that this Clare team has already achieved.
Tipperary were supposed to dominate hurling for years to come after winning senior and under-21 titles, in even greater style than Clare have done, in one glorious 6-day period in 2010. They have seen that growth wither away to nothing. If they are to return to the top, they'll have to start from quite a way back in the pack.
What are they
really like?
Rare insights on sport's biggest names from the writers who know them best. Listen to Behind the Lines podcast.
Become a Member
For O'Donnell, a long autumn and winter of acclamation should await. I just hope that what the GAA want, and what Clare wants, can be synchronized in some way. Clare will want to keep his feet on the ground, the GAA should do everything in their power to make him a recognizable face.There aren't enough of them, and the idea that the two most famous faces involved in last Saturday's game were the managers shouldn't happen again.
The Clare players could be around long enough for us all to get to know them very well indeed.
This Week Murph Was – accosted by a pair of Claremen at the All-Ireland final who insisted on repeating my Fr Harry Bohan celebratory leap from last week's TV show. The final episode of this series of 'Second Captains Live' is on this Wednesday night at 11pm, I hope you can all tune in.
And thanks for all your words of support or criticism in recent months for the column, much appreciated. I'm on twitter, @saveciaranmurph if you want to continue the chat in the off-season!