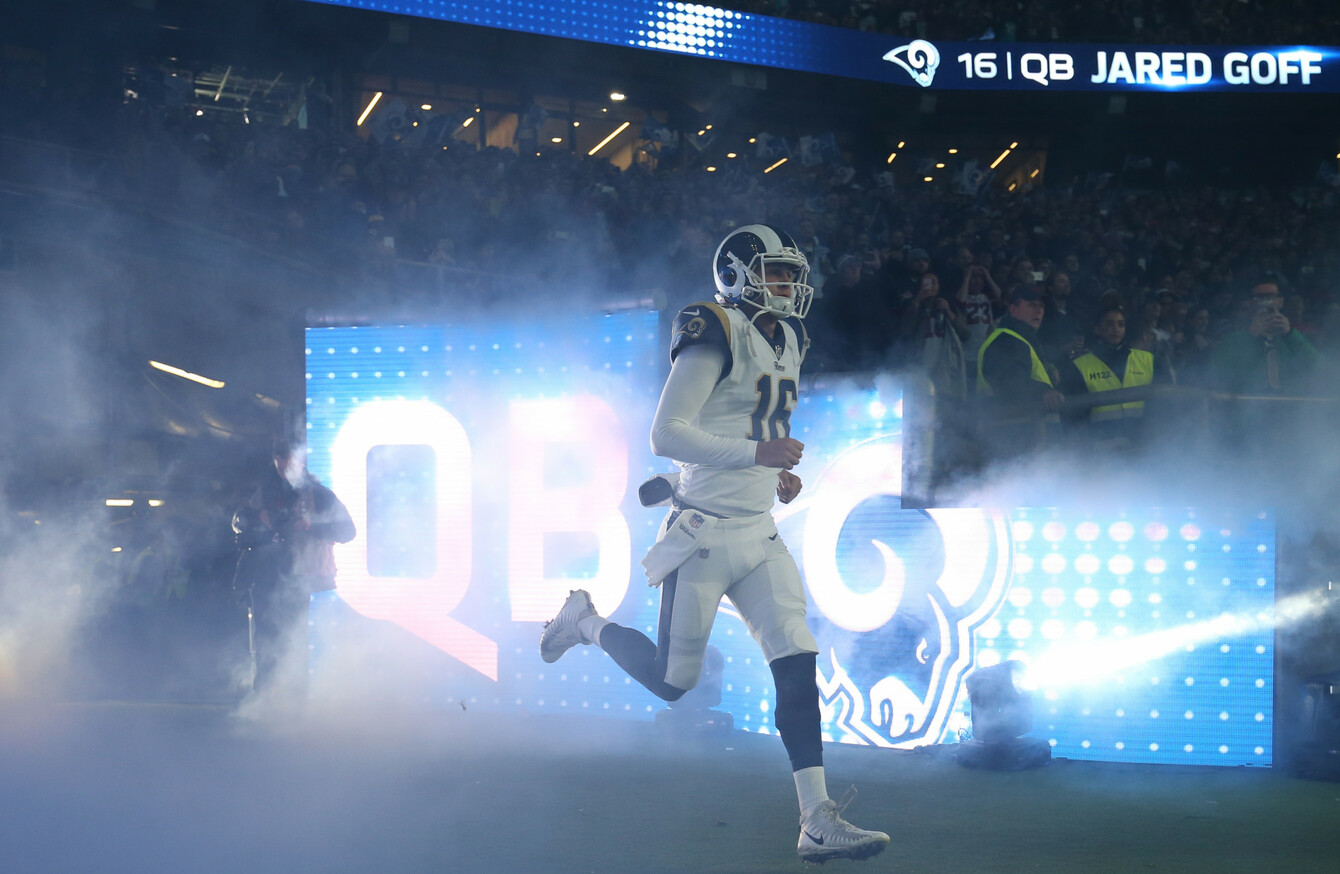 The Rams need to bounce back this week.
Image: PA Wire/PA Images
The Rams need to bounce back this week.
Image: PA Wire/PA Images
THE42 LAUNCHED OUR first book on Thanksgiving. It's quite good, you should buy it.
I've a story in it about the past and present state of the NFL, but at the launch, somebody asked me what football might look like 10 years from now.
I'll be honest, it's not something I've dwelt too long on before but I've been thinking a lot about it since.
I think it's fairly obvious that football will look a lot different and, while it will never be a no-contact sport, I can see a day when — in the continuing battle against concussion and CTE — it becomes a sport played without pads and helmets.
Now, it might seem counter-intuitive to remove gear designed to protect players but, when helmets and pads are still routinely used by players to injure the opposition, removing them might teach players to tackle properly.
There are already eight states where a seven-on-seven full-contact version of the game is played without pads so it's not an entirely off the wall idea.
The focus — correctly — on head injuries has already seen a downturn in the number of kids playing the game so I also think it's entirely possible we might be enjoying the twilight of the golden age of quarterback play. If the next Tom Brady doesn't even take up the sport, how can he follow in the footsteps of the GOAT?
That all seems quite negative, but I do think the future football could see the game grow too. Efforts to make it a global sport have been spotty at best so far and, under a new and more imaginative commissioner, more and more countries could provide feeder leagues to the NFL, or even offer an alternative.
Finally, even in 2027, the Browns will still be bad.
Sunday – 6pm
Tampa Bay Buccaneers @ Atlanta Falcons (-10)
The Atlanta Falcons (6-4) will go for their third straight win when they host the Tampa Bay Buccaneers (4-6) but they must do so on a short week. The visitors have won three of the last four meetings between these divisional rivals but their defence must come to terms with an Atlanta offence that has been clicking into gear of late.
Verdict: Falcons to cover
Cleveland Browns @ Cincinnati Bengals (-8)
The Browns are so toxic that, last week against the Jags, as they were driving to potentially win the game in the fourth quarter, they gave up a fumble that Jacksonville scored from to cover the spread. And yet, Myles Garrett against that Cincinnati line makes Cleveland stupidly tempting again.
Verdict: Bengals to cover
Tennessee Titans (-3) @ Indianapolis Colts
Now that they're a game behind the Jags, the Titans have no choice but to keep winning. However, this is exactly the sort of game they have dropped over the past couple of seasons when they've needed a win. The Colts have little but draft position to play for, but that doesn't mean they don't want to play spoiler in the AFC South.
Verdict: Colts against the spread
Buffalo Bills @ Kansas City Chiefs (-10)
The Buffalo Bills potentially ruined Nathan Peterman's career last week by putting the fifth-round pick in way before he was ready, only to watch him throw five picks and fail to finish the game. The Chiefs managed to hold the Giants to 12 points and still lose last week and are 1-4 in their last five after being the one-time Super Bowl favourites.
Verdict: Bills against the spread
Miami Dolphins @ New England Patriots (-16.5)
Matt Moore gives the Dolphins a better chance of winning this game than Jay Cutler but, at this stage, it feels like you or I would too. The Patriots have been rolling of late and, Steelers aside, you'd wonder where their next loss will come from?
Verdict: Patriots to cover
Carolina Panthers (-4) @ New York Jets
Speaking of teams finding form, the NFC South is a real battle now that the Panthers are using Cam Newton the way they're supposed to. Getting rid of Kelvin Benjamin has also had a positive impact on the team in a rare case of addition by subtraction. The Jets can keep this close, but not close enough.
Be part
of the team
Access exclusive podcasts, interviews and analysis with a monthly or annual membership.
Become a Member
Verdict: Panthers to cover
Chicago Bears @ Philadelphia Eagles (-13.5)
I said last week the Eagles are my Super Bowl favourites and their dominant win over the Dallas Cowboys not only effectively sealed the NFC East, but makes them favourites for home field advantage throughout the playoffs. The Bears are a very different team at home compared to on the road.
Verdict: Eagles to cover
Sunday – 9.05pm
Seattle Seahawks (-6.5) @ San Francisco 49ers
Injuries on defence may well become too much to overcome for Seattle but they at least need to take care of business against a divisional rival to stay on the coat tails of the LA Rams. There's still no sign of Jimmy Garoppolo staring for the 49ers which is about the only interesting thing to say about San Francisco.
Verdict: Seahawks to cover
Sunday – 9.25pm
New Orleans Saints @ LA Rams (-2.5)
This is undoubtedly the game of the weekend. The Rams need to bounce back from a big defeat at the hands of the Vikings while the Saints, fresh from an unlikely fourth-quarter comeback against Washington, must cope without their two starting cornerbacks, Marshon Lattimore and Ken Crawley, the former the best young secondary player in football.
Verdict: Rams to cover
Jacksonville Jaguars (-5) @ Arizona Cardinals
Jacsonville are only in trouble if they find themselves in a two-score deficit. That won't be a problem in this game.
Verdict: Jaguars to cover
Denver Broncos @ Oakland Raiders (-5)
Both these teams have been hugely disappointing this season — as has the entire AFC West. Perhaps the most interesting thing about this game is the fact the Broncos' new offensive coordinator, Bill Musgrave, held that position for the Raiders until this season. How the Silver and Black offence could do with him now.
Verdict: Raiders to cover
Monday – 1.30am
Green Bay Packers @ Pittsburgh Steelers (-14)
When the schedule makers put this game in for Sunday Night Football, they dreamed of a match-up between Aaron Rodgers and Ben Roethlisberger, two of the best quarterbacks of their generation. Instead we have Brett Hundley and an easy Pittsburgh win.
Verdict: Steelers to cover
Tuesday – 1.30am
Houston Texans @ Baltimore Ravens (-7.5)
The Ravens, despite Joe Flacco's best efforts on offence, look very likely to win the last Wildcard spot in the AFC, which tells you all you need to know about how bad that conference is this year.
Verdict: Ravens to cover
The42 has just published its first book, Behind The Lines, a collection of some of the year's best sports stories. Pick up your copy in Eason's, or order it here today (€10):