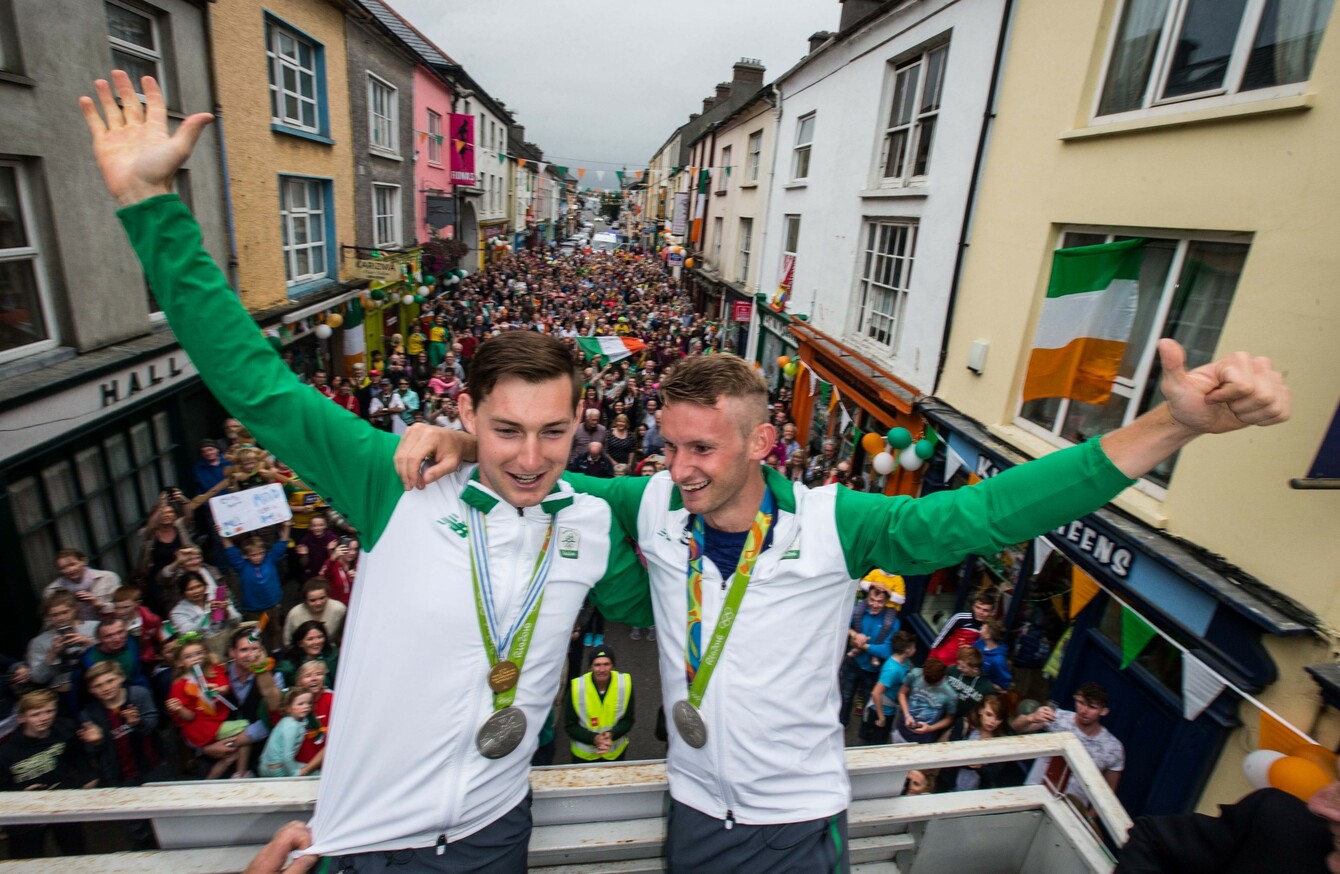 Gary and Paul O'Donovan celebrating at their homecoming in Skibbereen.
Gary and Paul O'Donovan celebrating at their homecoming in Skibbereen.
ON FRIDAY AUGUST 13, just before the final of the Olympic men's lightweight double sculls, the Skibbereen rowing club committee had a quick meeting in the local credit union of the West Cork town.
The club's roots can be traced back to 1970 and a few pivotal members from those foundations are still working at the coalface today.
It's a small sports club but throughout the Olympics in Rio, they had witnessed the huge swell of interest in the exploits of their flagbearers, Paul and Gary O'Donovan.
They considered the explosion in public support for the pair and the intense media sport – both at home and abroad – and wondered if Gary and Paul were to stand on the podium with medals draping their necks later that afternoon at the Rodrigo de Freitas Lagoon in Copacabana, then how was Skibbereen going to cope with the explosion of interest?
The meeting was adjourned, the group opted to wait for the result and decide afterwards. They watched the race and observed history being made on the water. Silver medals secured.
"It was crazy and wonderful," says Kenneth McCarthy, who has been rowing for the Skibbereen club for over 20 years.
"To see the people of Skibbereen get together for such a huge moment made me very proud. But I think it was a proud moment for most Irish people.
"Ireland have never won an Olympic medal in rowing. To take two Skibbereen lads to do it was something special being a Skibbereen man and a Skibbereen rower for 20 years. It was quite emotional."
Afterwards the committee got together. McCarthy remembers them all being in a state of shock as they considered how they were going to manage a homecoming.
Skibbereen is predominantly a GAA town, the previous landmark sporting moment had been in 1993 when the local club O'Donovan Rossa were crowned All-Ireland senior football champions.
But that was going to be dwarfed by the feverish interest levels in the O'Donovan brothers achievements. A town of roughly 2,500 residents was going to have to find a way to pack a crowd ten times that amount in for a Monday night in late August.
And yet they found a way.
"It was a huge ordeal to organise such a homecoming, it was big," recalls McCarthy.
"The whole town pulled together very well. A good comparison is a picture was sent on of Henley-on-Thames which is the home of Team GB rowing.
"They always bring in a massive haul of medals at the Olympics. But in 2012, the British won the men's four gold and when they paraded through Henley, the town looked like a busy day in Skibbereen.
"But then Skibbereen (this year), it had tens of thousands of people there. The magnitude of people was huge. It was crazy.
"I was on the bus with the lads and to look down and see everyone's face smiling. It's not often that happens. Everyone was so happy that Monday night."
Watching the two heroes on the bus soak up the adulation as Olympic medallists, marked the end of a journey for McCarthy since he'd first seen them as youngsters heading out on the water. Their age and inexperience never deterred them and they were hooked straight away.
"I was out rowing one day and I saw their dad Teddy, he was involved with the club at the time, he was a FÁS worker there.
"Next thing I saw Teddy had these two young lads with him, 7 or 8. Now they were probably a bit young to be rowing but they kept it on.
"There was two other guys with them, they had a four man boat and they were relentless the four of them. They were mad little feckers.
"There could be a trawler going down the river in Skibbereen and the boys would try to catch it. They would try to challenge us senior oarsmen when they were only 12 or 13.
"They'd no problem in thinking they could beat us and they were always like that. Very motivated, never saw an obstacle. But always a bit of craic, always good fun."
Pairing them together was the union of two distinct personalities.
"I think different but when they're together, they bounce off each other," says McCarthy.
"Paul has always been kind of quiet, reserved, focused. Gary then would be up for the craic, bring a lighter mood to it. From hearing stories they were telling me of different regattas leading up to the Olympics, it's a very serious time just before your race.
"Everyone's focused, no one's talking, it's a very tense place to be. But the boys would be telling me that they were going up to other competitors, rubbing their hair and having the craic.
"I think it definitely helped them, they didn't get fazed by the occasion. A lot would and they'd go to these things and under-perform. They went and cranked it up a few gears."
Since 1975 over 90 members from Skibbereen rowing club have represented Ireland at various levels. The O'Donovan brothers brought the tally of five Olympians from the club to five.
How do you explain that this West Cork town has become a hotbed for rowing? For McCarthy, the 34 kilometer River Ilen is at the core of their success.
"It is huge. We're lucky. We've the river to ourselves. You go to London where lots of big rowing clubs would be competing. We've one rowing club on our stretch of water, in London you could have 30 rowing clubs in that stretch.
"There's a chance of crashing and you've to constantly look around. In Skibbereen you go out to row, do your job and go home. It's a lovely, beautiful place. You'd never be bored there, rowing away."
Then there is the brains of the whole operation. Dominic Casey is not a man who avidly seeks the limelight.
But his role is intertwined with the development of the club. Row on the River Ilen and you'll come across the boatyard where he used to work before recently taking on a job with the Irish Rowing Union.
A couple of kilometres down the river and you'll pass his house, a vantage point where he can monitor his Skibbereen charges.
"He'd be a very shy person," says McCarthy.
"He doesn't like the spotlight. He likes to be in the background, doing the hard work, doing the hard slogging.
"But I think if anyone was to get an award this year out of the rowers, it should be Dominic. He's unbelievable.
"In fairness to them they always say it. I think Gary said at one stage in Brazil, 'I can't wait to get this medal around Dominic's neck'."
They reflect on 2016 as a year with its historic and seismic moments for the club.
"I don't think there ever will be something like the homecoming again," says McCarthy.
"I think it's one of those moments, maybe I'm wrong, I couldn't see it replayed again. It was very special.
"But we try not to get carried away. That's typical of the thing. The lads come home, they've an Olympic medal but they're not getting any special treatment in Skibb rowing club.
"It keeps them grounded and that's the way Dominic would want it. He'd always tell us, 'be humble in whatever you want to do'. Younger guys wanting to beat them.
"There's that attitude, no fear, we want to take on the world. We have a bit of craic and fun doing it. It's a great rowing club and Dominic is a huge part of it."
The42 is on Instagram! Tap the button below on your phone to follow us!