TIME FLIES WHEN you are watching people chase their dreams.
The swimming is nearly over but the Americans are not finished just yet.
A man named Phelps will go for medal number 21 tomorrow; if the swimming went until next Tuesday he would surpass Ireland's total medal haul ever.
Team Ireland's swimmers have a nasty habit of picking up ailments in four year windows. Chicken soup on the menu for the Rio 2016 hopefuls.
Headline of the day
Hold please! Michael Phelps won the 200m Individual Medley for his first solo gold of the games and his second top prize of London 2012. The achievement was enough for US President, Barack Obama to get off the re-election trail and give young Michael a call. Unfortunately for the Prez, Phelps was busy showing off his medal to the cameramen and Obama had to wait on hold for two minutes.
What we learned today?
Team Ireland lost a boxer but sails on serenely as rowing becomes the new 'Fill me in?' sport of choice.
Darren O'Neill admitted that he was outfoxed and outclassed by a superior opponent today. Stefan Hartel of Germany, a man that O'Neill knows well from the European circuit, perplexed the Kilkenny boxer with his high guard and quick hands. Hannah Craig got a respectable 10th place finish in the Women's K1 Slalom but Irish fans will now set their sights on rowing and Sanita Puspure, who won her semi-final on the 'C' class and advances to a final on Saturday.
What honour next for Chris Hoy?
Sir Chris Hoy got his knighthood for winning three gold medals at Beijing 2008. It was a surprise to many that he was not given the sole honour of lighting the Olympic flame and he will only compete in two of the three events he was planning to defend. None of those quibbles troubled the Scot as he, and his two teammates, won the Men's Sprint event at the Velodrome. What honour trumps a knighthood?
Germany emerged as the gold medal winners of the Women's Track Cycling Team Sprint champions but they had some help in getting there. Less than an hour earlier, Team GB had set a new world record in the qualifiers, only for that time to be bettered by China five minutes later. Germany sucked it up and kept pedalling.
GB were then disqualified for an illegal changeover, which stunned a crowd including Prince William and his wife, Kate.
The Chinese then beat Germany in the final only to get demoted for a similar offence. The Germans, Miriam Welte and Kristina Vogel, wore the gold medals as everyone tried to catch their breath.
Highlights from Team Ireland
A new friend we made today
Ike Jacob, the RTÉ kayaking analyst, cared not a jot for live television etiquette as he answered his mobile phone on-air in front of a non-plussed Michael Lyster. In fairness to Jacob, he got the national broadcaster a nice scoop as the man on the other end of the line was Team Ireland kayak coach Karl Dunne looking for an insight on how Hannah Craig had got on in her semi-final.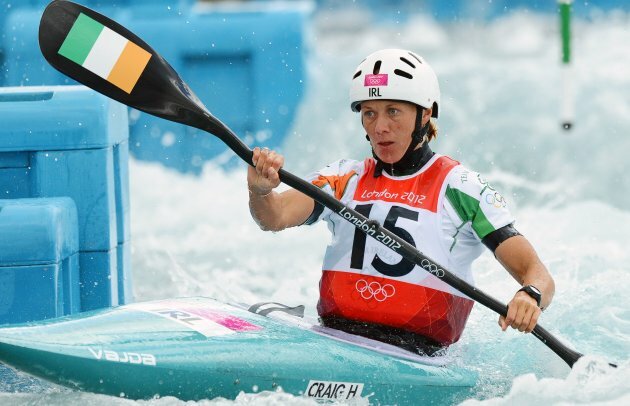 "She's doing grand Karl." (©INPHO/Photosport/Andrew Cornaga)
Lost in translation
No translation issues for the Australian media, just some of that cheekiness that they are loved so much for. In their medal table for the games, they listed South Korea as 'Nice Korea' and the Democratic People's Republic of Korea as 'Naughty Korea'.
You said what?
Now and again, rubbish things happen and it was just one of those days.
- Victoria Pendelton tries to remain upbeat after getting disqualified from the Women's Sprint event at the Velodrome.
He holds a very high guard, he's very durable and he's got a lightning fast backhand. You just don't see it coming.
Exclusive Six
Nations Analysis
Get Murray Kinsella's exclusive analysis of Ireland's Six Nations campaign this spring
Become a Member
- Darren O'Neill reflects on his Last 16 boxing loss to Stefan Hartel of Germany.
I love you mum.
The word's Team GB judo silver medallist Gemma Gibbons directed to the heavens after she reached her final. The Londoners' mother passed away from leukaemia eight years ago.
The best thing we read today
The Telegraph had a great pictorial (with some wordy captions) on the amazing journey of 16-year-old Chinese swimmer Ye Shiwen, from a medal winning nine-year-old to a young women that likes to win medals of the Olympic kind.
Olympic dictionary
"Gastroenteritis" – The stomach trouble that struck down Irish swimmer Melanie Nocher. The Holywood native revealed on Twitter that she had the illness since Sunday but was proud that 'I gave it my all' despite touching in at a disappointing time of 2:16.29. She later told RTÉ:
It's my second Olympics and unfortunately the result wasn't what I wanted and isn't me as an athlete. It doesn't reflect how I've trained and the four years I've put into this but not everything goes right on the day and unfortunately I just wasn't right.
Medal table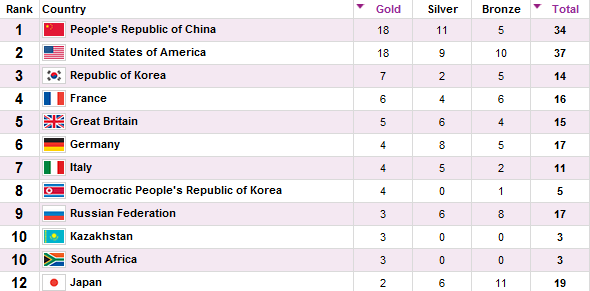 (Medal count correct as of 10.20pm on Thursday, 2 August)