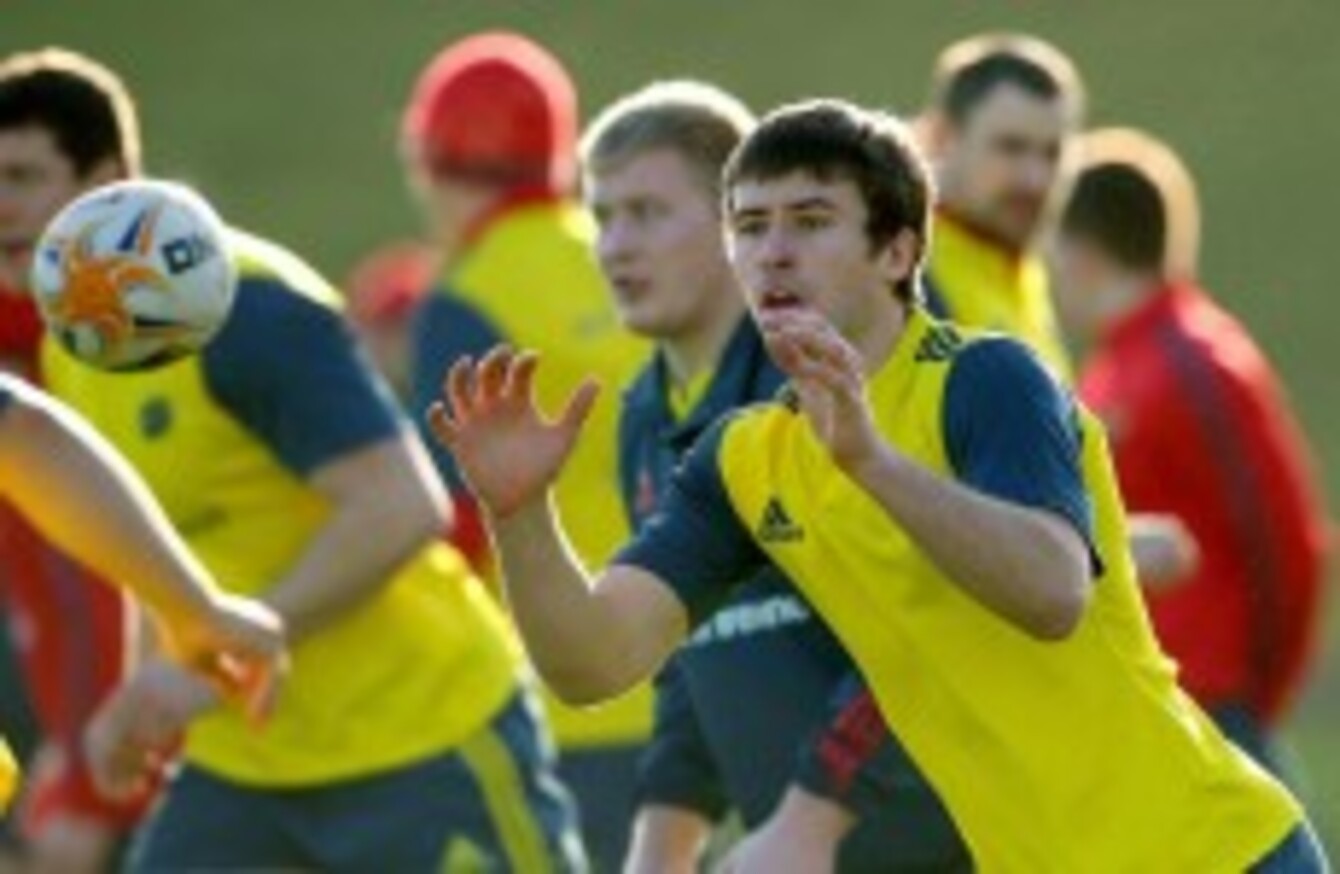 Harry McNulty in training with Munster.
Image: ©INPHO/Cathal Noonan
Harry McNulty in training with Munster.
Image: ©INPHO/Cathal Noonan
HARRY MCNULTY IS currently focused on breaking into the senior Munster team having trained with rugby hero Brian O'Driscoll in Clonmel last Thursday.
The promising centre is eager to take a break away from the rugby fields later this year, however, to lend his support to a charity that provides operations to underprivileged children with facial deformities. McNulty has been involved with Operation Smile for the past four years and is hoping to travel with the charity to take part in one of its foreign missions.
McNulty was in Transition Year at Rockwell College when a classmate's mother dropped by to give a talk on Operation Smile's work. A trip to a student conference at the University of Virginia followed and the Bahrain-born rugby player has been involved ever since.
Since it was established in 1982, Operation Smile [an NGO] has funded facial operations for more than 200,000 children in 50 countries. The main surgery that takes place deals with cleft palates and lips.
During his time in the United States, and on subsequent courses in Ireland, he received training in how to aid and support young children before their 'life-changing operations'. "You learn how to take care of the children during their time at the hospital," McNulty told TheScore.ie. "You also advise them on hygiene, hydration and how to treat their faces after the operation. You are there, too, to keep them from getting nervous."
McNulty's college studies and burgeoning rugby career have hindered him from taking part in one of these missions but he has already shown his commitment to the cause. "In the summer of 2012," he said, "I was in Rockwell at a summer camp and also training with the Munster U20s but I had the chance to take part in a skydive. I raised over €500 for the dive, which happened in, or over, Offaly."
Many of the young students McNulty first met in Virginia have kept in touch with him about their work on missions. Their stories have struck a chord with the 20-year-old. He said, "In some countries, children with facial deformities are often seen as a burden on the family. Many of the children can't go to school and are often not allowed to mix with other children. Some of the guys on the missions have told me that families travel for miles, begging to get surgery for their children.
"The surgical procedures take between 45 and 60 minutes, and costs €240, and allow many of the children to return to a normal life. Cleft palates are something you just wouldn't see in Ireland — it would be looked after at an early age — and it is crazy to think there are so many kids out there that don't get that opportunity."
For more on the work @OpSmileIrl you can visit their website here >>>