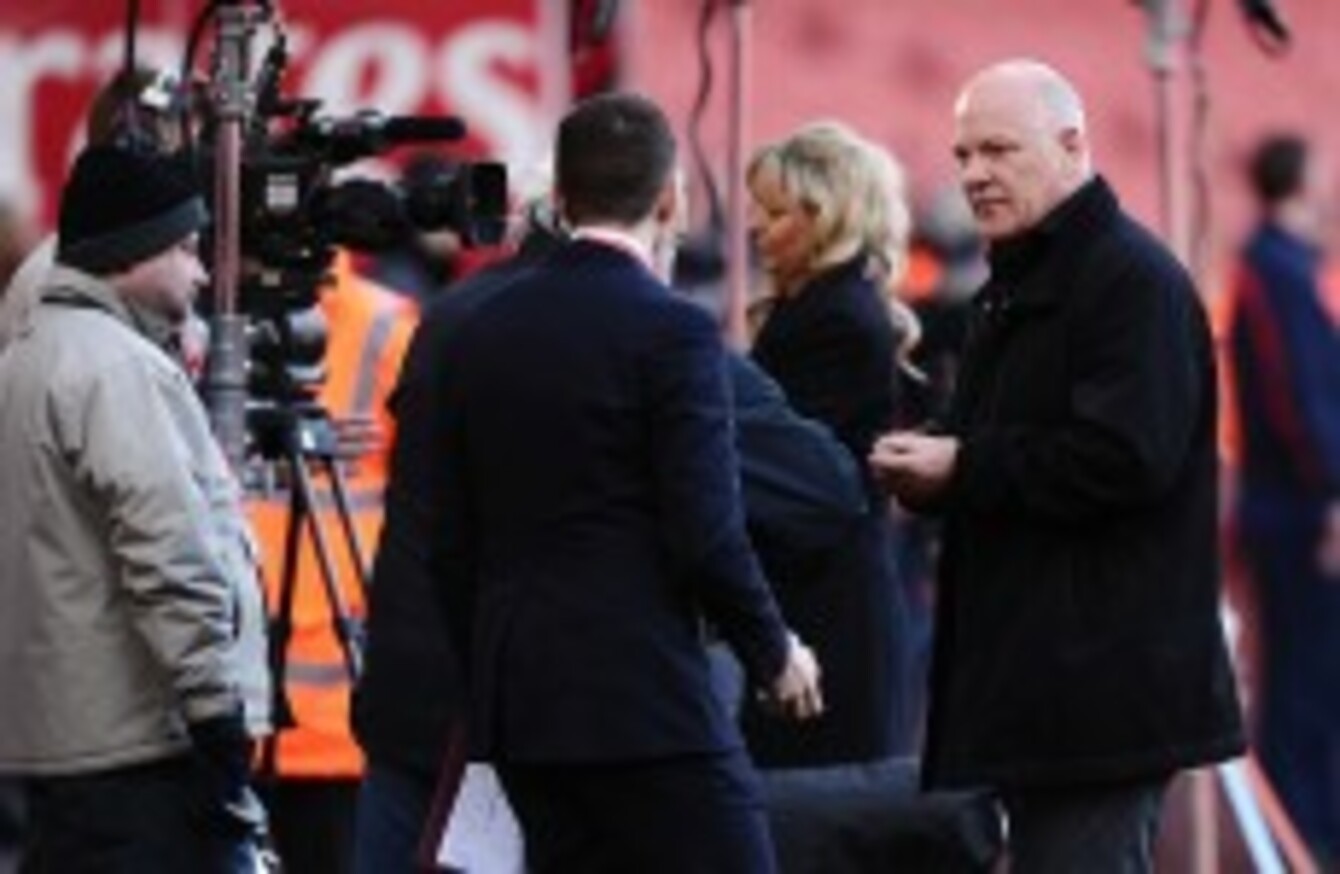 BT Sport pundit Andy Gray (right) before kick-off during the weekend FA Cup game between Arsenal and Liverpool.
BT Sport pundit Andy Gray (right) before kick-off during the weekend FA Cup game between Arsenal and Liverpool.
WHAT'S THE GREATEST piece of sports punditry you've ever witnessed?
Perhaps it's Gary Neville's brilliant deconstruction of diving? Or maybe you preferred Matthew Said's ballsy refusal to celebrate Roman Abramovich's 10-year anniversary at Chelsea. Maybe it's Shane Horgan providing an illuminating insight into modern rugby in a manner arguably more articulate and persuasive than anything we've ever witnessed with anyone else before him? Or perhaps Brain Clough's old-fashioned straight-talking style was more up your street?
Personally, my favourite was Eamon Dunphy's withering assessment of Steve Staunton, in which he infamously asked: "Would you let him drive the train to Cork?"
It consummately summarised the hapless Staunton, whose mercifully brief tenure as manager of Ireland seemed to comprise of a series of disasters and new ever-more-predictable lows, when it had previously seemed impossible for the Irish team to descend any further to the depths of despair with which they were frequently plummeting and on intimate terms with, by the end of Stan's reign.
It was so witty and cutting that it was almost impossible to imagine Staunton recovering thereafter and regaining the faith of the Irish sporting public.
Moreover, it summed up what great sports punditry is about. Indeed, it was very little to do with sport and was basically a personal jibe, but it was so brilliantly off the cuff and unexpected that few people seemed to care.
The essence of great sports punditry is not being able to consistently predict which team will triumph, or being able to explain in monotonous and painstakingly technical detail why team x are having a good day or why player z is having a considerable influence on the game.
The test of a truly great pundit is simple — would the pundit in question make a good dinner guest? It's difficult to think of a pundit more consistently inaccurate in his assertions than Eamon Dunphy, whereas Alan Shearer, for instance, generally makes points that are difficult to disagree with.
But if faced with the choice of spending time in the company of either Shearer or Dunphy, there is no doubting who the more entertaining individual would be. And that's why the BBC's audience in Ireland is consistently dwarfed by RTE during any major international soccer tournament — people know what they're going to get with Shearer et al: some reasonable and not exactly earth-shattering opinions that are generally very difficult to disagree with. Whereas with Dunphy, the validity of what he says may be called into question, but you know there is always going to be a good chance you'll be provoked. Or amused. Or prompted to shout at the TV in frustration.
(Irish soccer pundit Eamon Dunphy is known to hold controversial views)
All of which brings us to Andy Gray. As most long-term football watchers will know, Gray was sacked from his lucrative job with Sky in 2011 after being unwittingly caught on camera making sexist remarks. The subsequent recent decision from BT Sport to revive Gray's television broadcasting career in Britain and hire him to commentate on the Stevenage-Everton FA Cup tie sparked outrage in certain circles. This furore was exacerbated when a new video of him emerged (again, dating back to his time with Sky) making more outrageous and sexist remarks, with BT's decision to invite him back to commentate on the Arsenal-Liverpool match at the weekend adding further fuel to the fire.
The pre-match pundits for the game were Jens Lehmann and Gary McAllister. After about five seconds of listening to them, I grabbed a nearby paper and began reading it, assuming they would continue to make a number of reasonable-but-boring points that were difficult to disagree with.
However, as soon as the match began, the paper was cast aside. A distinctive Scottish brogue had caught my attention. Like him or loathe him (and most people seemingly subscribe to the latter sentiment), it is undeniable that Gray understands sports punditry in a way that so few people who practice it for a living seem to do.
90 minutes of the Scot was enough to banish memories (or lack thereof) of the perpetually bland Michael Owen, who is usually on co-commentary duties for BT. There is a conviction about what Gray says that's so seldom evident in the thoughts expressed by many of his colleagues in the world of footballing punditry. For instance, when Howard Webb denied Liverpool a stonewall penalty despite being a mere five yards away and looking straight at Alex Oxlade Chamberlain unceremoniously clattering into Luis Suarez, Owen would inevitably have given a meek, diplomatic response — something along the lines of 'that's not the best decision he'll ever make'. Gray, on the other hand, had the conviction to express a more forthright opinion, rightly calling Webb's error "embarrassing".
The pundit was consequently a considerable relief from the chronically bland opinion usually offered up by the fledgling sports channel, and makes their decision to hire an ostensibly unapologetic sexist all the more explicable if not exactly justifiable.
Getting back to Dunphy, he has often remarked that the key to being a successful sports pundit is "honesty" and saying "what you think". Yet these qualities do not necessarily apply to Gray — after all, his infamous remarks about Sian Massey or his unsavoury behaviour in the presence of Claire Tomlinson revealed a level of childishness and immaturity that was unrecognisable from the authoritative, confident voice of his heyday, when he was routinely regarded as being easily the best analyst working on British television, prior to his spectacular fall from grace at least.
All of which brings us to why he has been eminently popular as a pundit. The key to success in the field is not necessarily honesty but performance — and Gray, in that regard, is as convincing as they come. The performer behind the mask — and all the disreputable opinions he may secretly hold — is invariably irrelevant in a billion-pound industry such as Premier League soccer (on a more low-key scale, see also Neil Francis). Not only has Andy Gray, the brand, been intimately associated with the Premier League since it began, he is also one of its most compelling characters. And when large amounts of money and viewing figures are at stake, the moral high ground often tends to take a backseat
For sport, ultimately, is theatre and entertainment above all else, and any pundit worth their salt realises this. As Dunphy might say — it's showbiz baby!