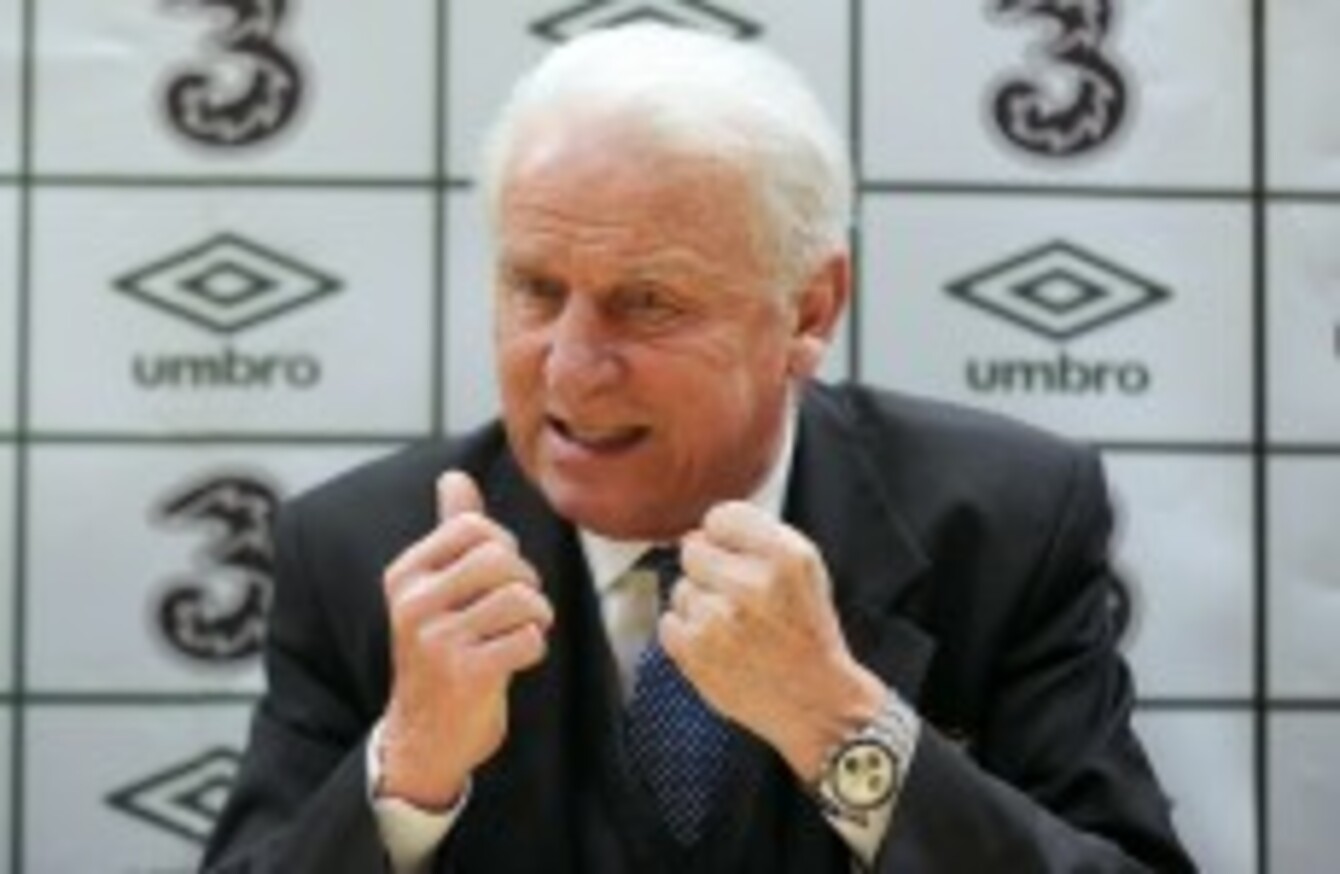 Trapattoni indicated Wes Hoolahan was unlikely to start against Sweden during a recent press conference.
Trapattoni indicated Wes Hoolahan was unlikely to start against Sweden during a recent press conference.
AS IS THE case with the majority of Ireland matches these days, Wednesday's friendly with Poland was, by most accounts, a relatively dull affair.
The primary reason why Ireland matches are now sometimes quite difficult to watch is of course owing to the conservative, some would say negative, brand of football that manager Giovanni Trapattoni consistently favours.
Yet amid all the tedium at the Aviva earlier this week, there was one ray of hope — a rebel to the system whose style was the very antithesis of the customary Trap footballing prototype.
On Wednesday night, Wes Hoolahan was an anomaly as far as players wearing green were concerned. We saw him demonstrate a trait that has seldom been seen from an Irish midfielder since the Italian was installed in the managerial hotseat – we saw him actually demanding the ball on a consistent basis. Moreover, the Irish team noticeably grew in confidence following his arrival on the field, as his superior technique and evident touch of class gave the entire stadium (or at least the Irish-supporting part) a lift.
And what was Hoolahan's ultimate reward for his accomplished goalscoring display? Rather than focus on the positives of his performance, as any manager with a basic grasp of psychology would surely do, he instead issued a sniffy put down in Hoolahan's direction.
Starting the Norwich man against Sweden would, Trap suggested at yesterday's press conference, be tantamount to "playing with fear," before pointing out that the Irish side got on just fine before Hoolahan came along, qualifying for the Euros in the process.
The comments were understandably greeted with scepticism by some critics, though granted, playing Hoolahan would, in all likelihood, result in Ireland reverting to a 4-5-1 formation. On the other hand, he is arguably the team's most creative player and has amply demonstrated that he knows where the goal is. Surely Ireland would be more likely to thrive with him in the side as opposed to Conor Sammon, who failed to score in 27 appearances for Wigan, or even Kevin Doyle, who hasn't exactly lit up the Championship with goals this year.
However, Trap's midweek comments indicate he is as intent as ever on playing 4-4-2 in Stockholm, which means he remains unwilling to find a place in the side for Hoolahan. Such a move would, by extension, suggest he is unlikely to drastically alter the formula that worked reasonably well up until the Euros, before failing dismally once the Irish team got there.
Ultimately, the Ireland manager's latest Hoolahan-related quotes suggest he is still suspicious of the idea of a significant tactical shift, even if it means leaving out one of the side's most talented players. You get the feeling that, deep down, he is extremely reluctant to make the ex-Shels man an integral part of the team. The unimpressed demeanour of the veteran coach, even in the immediate aftermath of Ireland's second goal, whereby he determinedly refrained from emulating Marco Tardelli's ecstatic pose, seemed telling.
Nonetheless, the Italian, at the very least could be rarely accused of simply siding with popular opinion. And single-mindedness is often a useful characteristic for a manager to have – most people thought Alex Ferguson was mad to instantaneously rebuild his team with youngsters at the start of the 95-96 Premier League season, but it was ultimately considered an astute move. Similarly, Trap is undoubtedly entitled to adopt whichever methods he sees fit to choose, no matter how ill-advised they seem.
Of course, a loss against Sweden could spell the beginning of the end of the Ireland manager's regime. But if he is to lose his job ultimately, which is likely to be the case if Ireland fail to qualify for the World Cup, he can at least say he persisted with his inherent footballing philosophy over the course of his time in charge.
So if he wants to select Paul Green and ignore Wes Hoolahan, who are we to stop him?