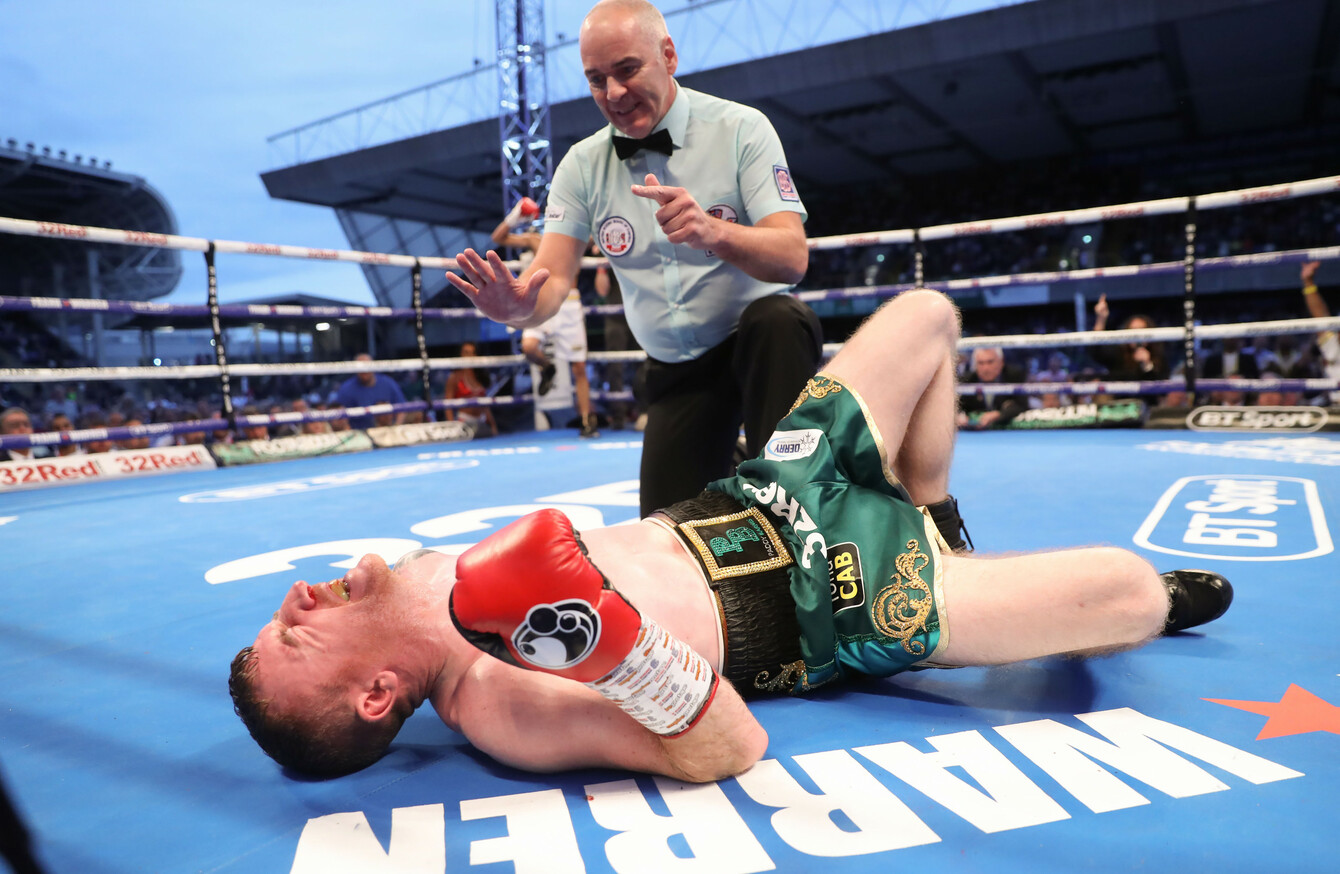 Image: William Cherry/INPHO
Image: William Cherry/INPHO
PADDY BARNES FOUGHT gamely but was ultimately destroyed by a debilitating body shot in the fourth round of his first world title as a professional.
Cristofer Rosales will fly back to Managua, Nicaragua with his WBC belt as hand luggage following a picture-perfect finisher at Windsor Park in what was the first defence of his title.
Two-time Olympic bronze medalist Barnes was attempting to become a world champion in what was only his sixth fight as a professional but suffered a crushing first defeat in boxing's punch-for-pay ranks.
Though it was doubtless being edged by Rosales at the time of the stoppage, this was an engaging contest while it lasted.
Barnes started on the front foot and after finding his range sneaked an unorthodox straight left through Rosales' guard. The Nicaraguan fired a few testing flurries which sent Barnes scurrying, warming up as the opening round progressed, but the Irishman just about held his own with some neat work behind his jab.
A minute into the second the pair stood and traded at centre-ring. Barnes didn't take the bait when Rosales attempted to goad him into a firefight, but they went hell for leather once more shortly afterwards as Barnes found his back to the ropes. It was the home fighter who finished more effectively, though, mixing it up to Rosales' body and head in the final 30 seconds.
His confidence conspicuously imbued, Barnes started the third with a fluid attack and nifty footwork which took him out of range, but Rosales closed the gap and planted four unanswered shots on Barnes' whiskers. The challenger drew a portion of the third-full crowd to its feet with a sharp three-punch combo to body and head – a right hook upstairs the cherry on top – but Rosales' heavier hands found enough meat for the champion to conclusively take the round as he turned up the heat.
Barnes responded well to begin the 4th, a couple of powerful hooks to Rosales' jawline rousing if also conspicuous in their inability to budge the teak-tough visitor.
The finish was all the more jarring in that, while Rosales was dictating the pace and edging proceedings, the fight had seemingly settled into a 'you go, I go' pattern.
But in an exchange along those lines, Rosales let rip with a right uppercut to Barnes' solar plexus which immediately struck as a curtain-caller.
Instantaneously robbed of all oxygen, Barnes collapsed to his knees before writhing around on the canvas in agony. By the referee's count of six, it was plain that the home faithful's shrieking attempts to resurrect him Jamie Conlan-like were made in vain.
Rosales curtailed his celebrations somewhat with Barnes still grounded long after the fight was waved off. When he finally regained his feet, Barnes paid the champion his dues.
At 31 there remains scope for Barnes to come again, but tonight proved his world-title ambitions to be premature. As to whether he fancies a scenic route back into contention remains to be seen.
The42 is on Instagram! Tap the button below on your phone to follow us!