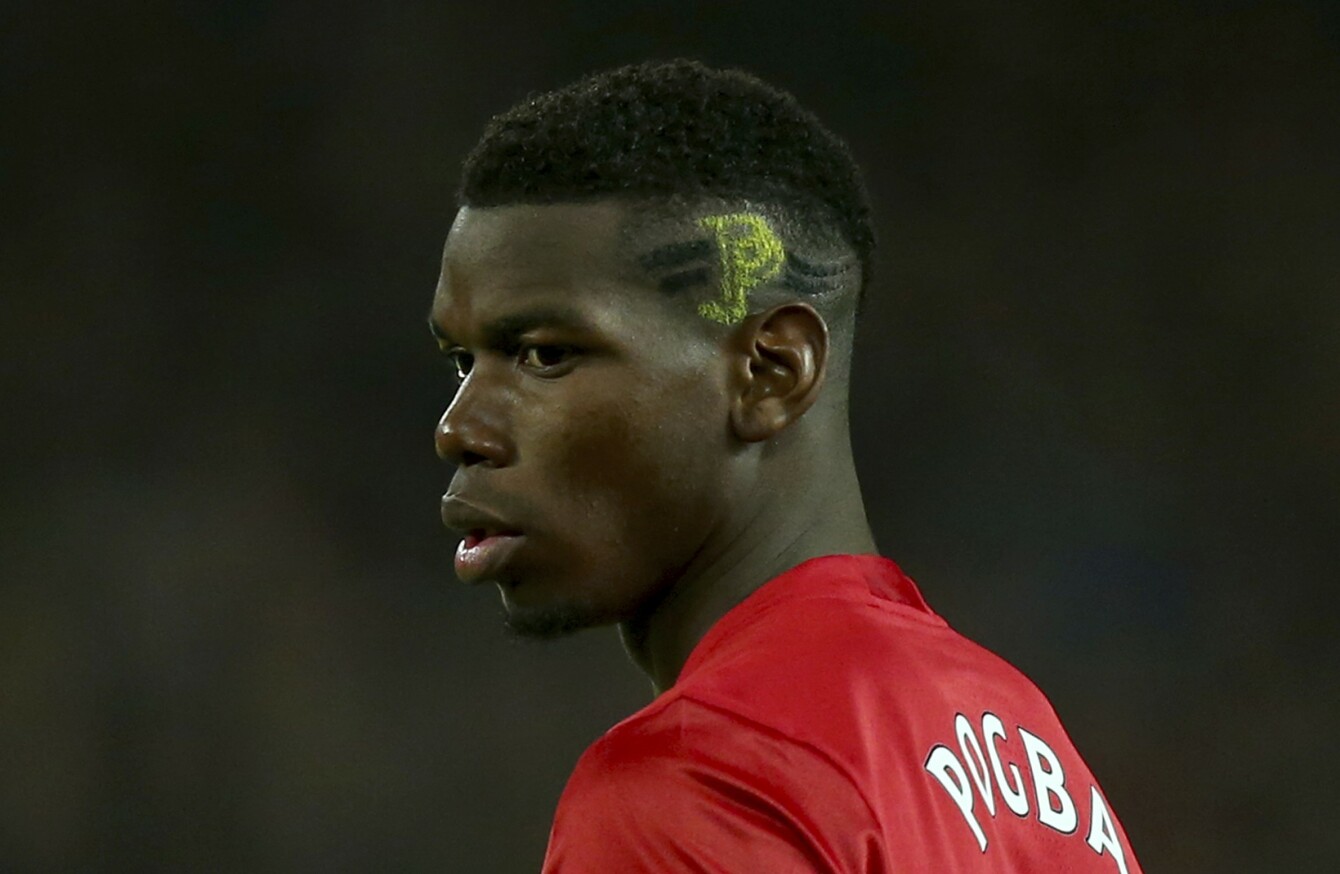 Pogba's new haircut.
Image: Dave Thompson/AP/Press Association Images
Pogba's new haircut.
Image: Dave Thompson/AP/Press Association Images
CREDIT TO PAUL Pogba, he did front up after his disastrous performance in Manchester United's draw with Liverpool on Sunday.
Not with a penitent post-match interview though. No, Pogba chose the more meaningful option of launching a branded hip-hop inspired clothing range the following day. After all, nothing speaks of sincere professional disappointment than offering fans the chance to purchase sweat pants and hoodies in a "bold and striking colour palette of black and gold."
To be fair, Pogba had already offered a mea culpa via his Instagram page. This was notable for the inclusion of two emojis (pile of poo, flexed bicep), neither of which was the new, personalised one which appeared to mock him from the electronic Old Trafford billboards throughout Sunday's ordeal.
On the back page of Tuesday's Daily Mail, Pogba posed in his 'PP' branded gear (the logo was also died into his hair on Sunday. What's that, you thought it was psoriasis?). The story inside pointed out that the £89million man had contributed as many new haircuts in his first six months at Old Trafford as goals.
The Daily Telegraph, meanwhile, imagined a simmering of murderous rage within Sir Alex Ferguson as he witnessed the #Pogba fiasco:
The man who sold the England captain after tiring of "Brand Beckham" must have been secretly cursing under his breath from his seat in the directors' box."
The inference was clear: more in your line to be working on set pieces, Sonny Jim, than fannying around with gold-plated trainers, Twitter emojis and preposterous barnets.
Pogba must have found it all about as puzzling as trying to locate Dejan Lovren at a corner.
He must have wondered where all the gushing press coverage he received in the build up to Sunday's game had suddenly disappeared. Sure, he had played like a baby giraffe falling down a flight of stairs, but that was hardly in keeping with his recent form, if his pre-match clippings were to be believed.
There was the bit in the Sunday Times pointing out that "Pogba's attacking numbers have spiked and he's on course for his best ever scoring year."
Talking up United's chances, the Guardian said "…in recent weeks it has been the performance of Paul Pogba in midfield that has caught the eye…of late the 23-year-old has started to look a sound investment, even at the price."
The Telegraph focused on his leadership qualities within the United dressing room, quoting a source that claimed he and Zlatan Ibrahimovic "have filled that void left by big personalities such as Patrice Evra and Rio Ferdinand."
Once he'd digested his first lesson in the fickleness of the English media, he might have had words with the Old Trafford commercial department, whose ludicrous wheeze the Twitter emoji campaign was. He might quietly have said that with this, and the whole 'Pogback' campaign last summer, maybe they might pick on someone else for a change next time they want to 'drive social media engagement' before a massively important game.
Thing is, he might have struggled to make himself heard in there with the popping of champagne corks this week, after the news that United had retaken their position ahead of Real Madrid at the top of the Deloitte Football Money League.
Not bad for a club that finished 7th, 4th and 5th in the last three Premier League seasons. And given that managing director Richard Arnold recently boasted that the club was engaging on social media at a level "akin to religion" it's clear that flogging Pogba's image for likes and retweets is a profitable part of Old Trafford dogma.
Ibrahimovic, who's acted as a kind of surrogate big brother to Pogba, stuck up for the young Frenchman during the week, as he aims to combine playing at the highest level with designing gold-embossed baseball caps.
[Social media] is part of the game now. What is too much, what is too little? We don't know. We just follow the game. We are professional, we train like always, try to do our best every game…For Paul the [Liverpool] game was different. It was a 'dirty' game, in the way we had to play more direct, by jumping over the midfield because the pressure Liverpool put on us was hard."
Liverpool's pressure is more relevant than that caused by the #Pogba nonsense or the launching of snazzy Adidas clobber.
It's not Pogba's fault that his explosive qualities made him hopelessly overvalued in world where clips on social media are more important than mundane matters of defensive discipline and positional play.
Or that he's still learning that coping with Liverpool's piranha pressing is a lot tougher than the Queen of Sheba treatment he received from the Hull City midfield earlier in the week.
Most of all, Pogba could reflect on this difficult week in his attempt to handle that price tag and think of the words of Kipling about meeting with triumph and disaster, and treating those two impostors just the same.
Or, as they say these days: flexed bicep, pile of poo.