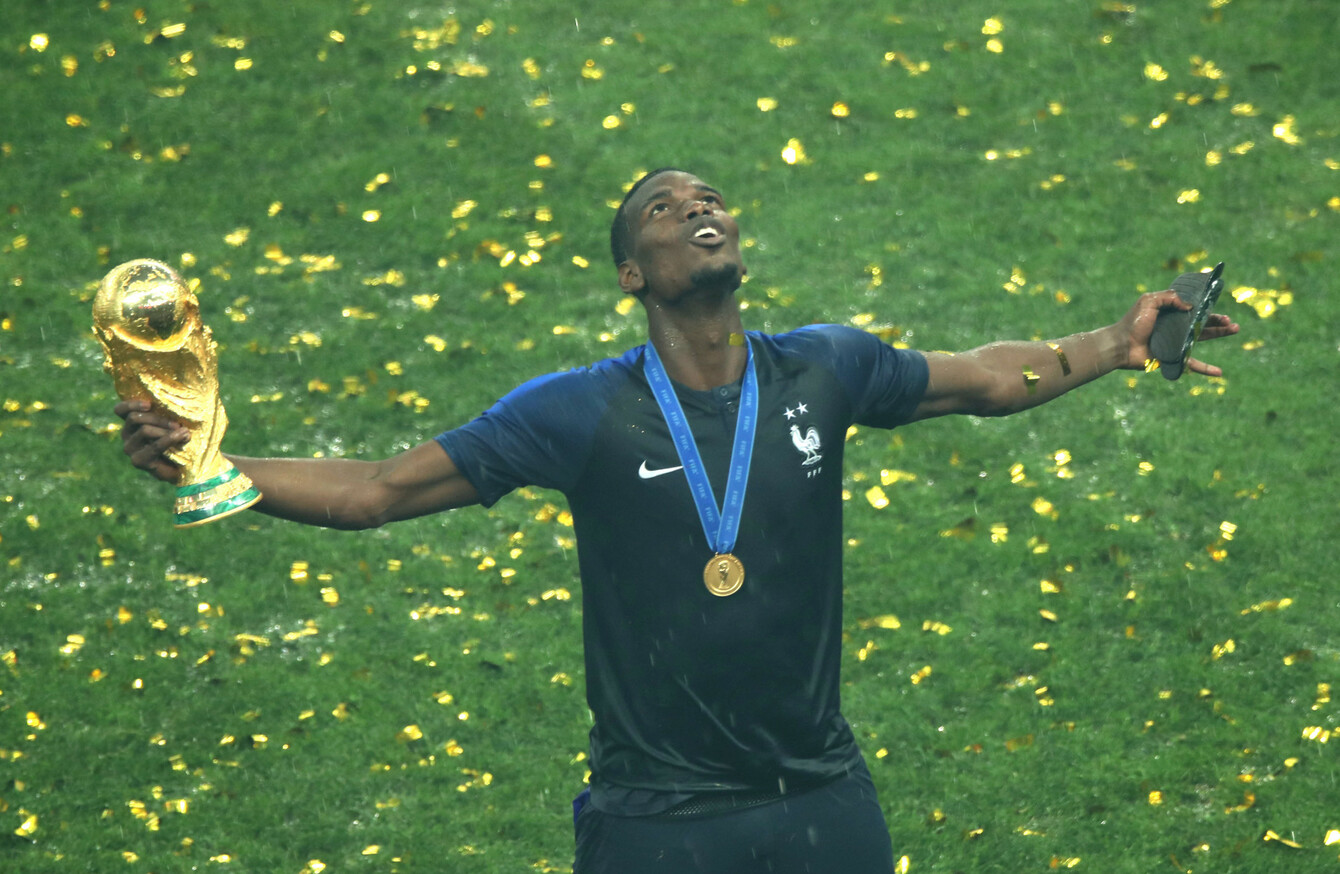 Paul Pogba celebrates with the World Cup trophy.
Image: Xinhua News Agency/PA Images
Paul Pogba celebrates with the World Cup trophy.
Image: Xinhua News Agency/PA Images
SINCE HIS €105 million move to Manchester United, a narrative has been built-up around Paul Pogba.
Frank Lampard accurately summed up the view of many old-fashioned football men when he branded the France star a "YouTube" footballer.
A negative perception of Pogba has been gaining increasing traction.
While few if any pundits have blatantly stated that the 25-year-old lacks character, the implication is often there. How many times have you heard people mention his haircut? Or his penchant for social media?
Such criticisms are absurd. How a player chooses to dress or style his hair is irrelevant to how he performs on the pitch. And Pogba's obvious interest in social media makes him no different to Cristiano Ronaldo, Neymar or a considerable portion of footballers.
Yet these habits are frequently used against Pogba. They are supposedly 'distractions' from his on-field duties. The insinuation is that the Man United midfielder is all style and no substance.
Granted, given the money they paid for him, Pogba's form for United has been far from exceptional. Nevertheless, the criticism aimed at the player has been disproportionate — with the possible exception of Arsenal's Mesut Ozil, it's difficult to think of an individual who is more routinely scapegoated for his team's failings.
The star surely deserves more respect than he gets from those who talk of Pogba as if he has done nothing in the game. Consider some of his achievements: with Juventus, he won four Serie A titles, two Copa Italias and two Supercoppa Italianas. Even in his much-maligned United spell, he has still at least won a Europa League and EFL Cup.
Individually too, Pogba has excelled. At the World Cup four years ago, he mirrored the 2018 feat of team-mate Kylian Mbappe and won the best young player award. In 2015, he made the Fifa FIFPro World XI, in addition to finishing fifth in the race for the Ballon d'Or. In 2016, he provided more assists than anyone else in Serie A. And now, he has a World Cup winners' medal. You don't achieve all of this at the age of 25 by being someone who prioritises their haircuts and physical appearance over football practice.
And yet for all he has achieved in the game, Pogba remains a divisive figure. His controversial agent, Mino Raiola, is probably partially the cause of this enmity. Alex Ferguson essentially blamed Raiola for a teenage Pogba leaving Man United and joining up with Juventus for next to nothing (at least in the context of football's transfer market).
Ferguson is not the only enemy Raiola appears to have made. The agent is far from the most diplomatic person in football, having branded Pep Guardiola a "dog" and a "coward" earlier this year.
This negative publicity surrounding Pogba does not help matters, and all the criticism he has faced seemingly has affected his game to an extent.
At Man United, he has yet to reach his potential. The calibre of players around him is a problem. Nemanja Matic, for all his qualities, is no Andrea Pirlo. There is a greater responsibility on Pogba to create and yet, in a Jose Mourinho-managed team, defensive discipline will always be integral.
After a starring performance in the win over Man City earlier this year, a game that Pogba took by the scruff of the neck and in which he finally appeared to be turning things around, the midfielder told Sky Sports.
I give the credit to Michael Carrick, because after the game every game he shows me the video and says to make those runs. He's someone who's helped me a lot, every time after training he says: 'Come, look at this run, you can kill because nobody can stop you.'
"It's hard to make this run in a two, because you have to stay and you have to control. When we have three players, I know Matic will stay behind, and you have more freedom to go in front."
GOAL France #FRA 3-1 #CRO

59mins: Paul Pogba's beautiful pass started the move and he was there at the end to stick it in the net.#RTEsoccer

Updates: https://t.co/6Xl4rm9N4W pic.twitter.com/SXYomNWpWv

— RTÉ Soccer (@RTEsoccer) July 15, 2018
These comments suggested Pogba himself felt he was best deployed in a free role, with others compensating for a disinterest in defending.
This ostensible attitude has not always gone down well with boss Jose Mourinho, who dropped or substituted the player on occasion last season, including for the crucial Champions League loss at home to Sevilla, when Marouane Fellaini was preferred to him in the starting XI.
After appearing to be rejuvenated following his inspiring role in the Man City victory, Pogba followed that up with a lacklustre display in the 1-0 loss against soon-to-be relegated West Brom, as he was substituted on 58 minutes.
Such inconsistency has mired his time at Old Trafford and while the player is usually not short of bravado in interviews, it perhaps masks a deep-lying insecurity, with plenty of evidence to suggest that Pogba is a confidence player, who thrives under coaches who believe in him.
Mourinho's faith in the big-money signing appears to have fluctuated over the past 12 months, but the same cannot be said for his national coach Didier Deschamps.
It's easy to forget now that Pogba came into Russia 2018 under severe pressure, with some people calling for the player to be dropped by France owing to his unconvincing club form.
A pre-World Cup profile of Pogba by ESPN's Wright Thompson captured this mood of uncertainty well. "No other player on the planet needs the psychic reboot of a World Cup as much as Pogba," it noted.
The piece went on to explain how Pogba maintains a close relationship with the Dalbys, the family who accommodated him as a youngster growing up in Manchester.
"They can take one look at him and know how he's doing. Earlier this year, Carol walked through the room where their big television played the United game. Paul [Dalby] grew up watching Bobby Charlton and George Best and loves to see his local club play. Almost accidentally, Carol caught a glimpse of Pogba on the pitch.
"He doesn't look very happy," she said.
"He's not," he said
But even Pogba's harshest critics will find it hard to disagree with the common consensus that he has had a good World Cup.
In the very first game, when France looked in serious trouble amid an underwhelming tournament opener against Australia, he was key to the pivotal winner nine minutes from time
Since then, both Pogba and his team appear to have grown more confident and formidable with every game.
In the semi-final defeat of Belgium, even Mourinho marvelled at his maturity and discipline, something certain naysayers felt he was incapable of producing.
And for the final, most of the pre-game talk revolved around midfield maestros Luka Modric and N'Golo Kante. Yet Pogba eclipsed both on the day, scoring a superb goal to effectively kill the match off, having played an equally sumptuous pass in the build-up.
For Pogba to perform so well, in what many people still consider to be the biggest game in football, after all he has been through in the past few months, is a testament to his resilience and temperament.
The player needs to maintain such standards and probably win further trophies at club level to secure a legacy as one of the game's greats — but at the very least, today's immaculate display will stop the ridiculous complaining about his hairstyles for a while.
The42 is on Instagram! Tap the button below on your phone to follow us!