TWO NECK INJURIES in three months forced Paul Warwick into ending his rugby career sooner than he would have liked. The former Connacht and Munster back ended his playing days with Worcester and is hoping to take up a coaching role at the club next season.
TheScore.ie spoke with Warwick about the tough decision to call it quits during the week. Today, we focus on a period of his career that he remembers fondest — his four seasons with Munster.
"I knew nothing of Munster's history or reputation to be honest," he admitted. "I was very naive to it all. I had played against Munster before and the games had always been close encounters. Most of the [interpro] fixtures of course are in December, in bad weather [like The Sportsground -- driving rain and horrible], and they finish something like 3-0.
"Tony McGahan had come to Munster as a defence coach. He was an old school teacher of mine, in Australia. It was on his recommendation that I drove down to Limerick and met Declan Kidney, and Jim Williams. As I said, I was a bit naive, but I had always wanted to experience being in a big team, a big rugby environment.
"It was a very special time in my life and probably the best rugby decision I ever made, to go down there. I had four years and jumped on the back of that group that were together for a long time and experienced a lot of success. I was forever grateful for that opportunity, I really am."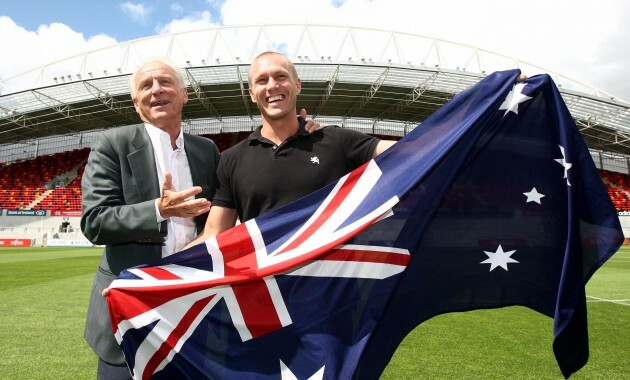 Dan Sheridan / INPHO Warwick poses for a picture with former Ireland football boss Giovanni Trapattoni in 2009. Dan Sheridan / INPHO / INPHO
Former Munster out-half Ronan O'Gara often speaks about the tension-filled, high stakes training sessions that used to take place in the build-up to big matches. "We had such an experienced team," Warwick recalls, "that there was such a high level of trust that when you trained you had to be at your best because [that effort] was demanded of you at the weekend. You were certainly let know by the players if you let those standards drop. It is the mark of a really good rugby environment when the players take control of that and it is not left to the coaches.
I've said this before but it was certainly not the most talented of teams but, in terms of work ethic and competition, people just drove each other on and got the best out of each other. It is obviously still happening, with the success they are having in Europe, so those players have left a great legacy.
The Australian won two league titles with the province but cherishes one medal above all others. "I think I played a total of 12 minutes in the [2008] Heineken Cup season but I proudly display the medal at home and no-one will ever take it off me. I'm very happy with that."
Asked for other highlights from his time at the province, Warwick picks out three. He commented, "The New Zealand game was a huge occasion for the province and to be a part of that was pretty special. Beating Australia was a hugely impressive performance and I took a lot of pride out of that. Also, because I never played international rugby, playing for the Barbarians was a huge highlight for me and something I will treasure for a long time. We lost to England but we beat Ireland at Thomond Park. That was nice to experience."
"In terms of an individual performance," he added, "I would say the [Heineken Cup] quarter final against Ospreys in 2009. We ended up losing the semi-final to Leinster at Croke Park. But I was man-of-the-match in that quarter final. It was a special day when everything seemed to work for me. It doesn't happen too often so it stands out in the mind."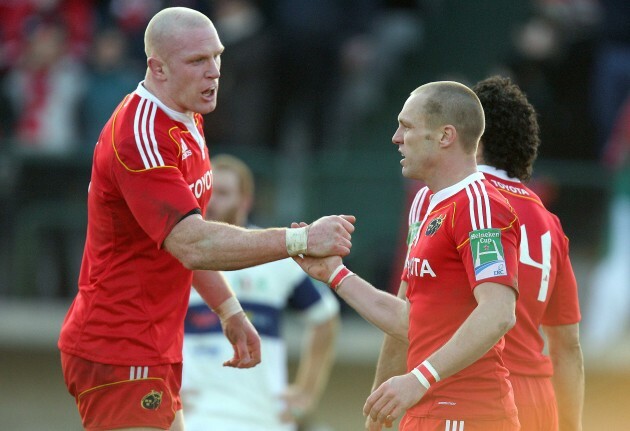 Morgan Treacy / INPHO Paul O'Connell congratulates Warwick on a try against Treviso. Morgan Treacy / INPHO / INPHO
The 33-year-old moved to Stade Francais after leaving Munster. He managed to make it back to Thomond Park, in 2012, as his former team defeated Glasgow 31-3. "I did go to one game a couple of years ago and snuck into the crowd. I walked past a few people who said hello and were lovely. A few people asked for photos. It was nice. When you have that perspective and know what fellas are feeling running out, and when you see them perform, it's great and it brings back a lot of memories."
He added, "As you mature and grow up you appreciate that part of your life because you'll never get it back again. I'm proud of that part of my life. A lot of things fell into place for me. Rua Tipoki got an injury and I got a chance to play, against Sale, at fullback in my first Heineken Cup game. I scored a try and kicked a field goal and it turned out to be a really good day. I guess the rest is history."