Beaver Stadium, the home of Penn State football.
Image: Gene J. Puskar/AP/Press Association Images
Beaver Stadium, the home of Penn State football.
Image: Gene J. Puskar/AP/Press Association Images
Updated 12.00
THE AMERICAN UNIVERSITY at the centre of a recent child sexual abuse scandal is "very interested" in staging a major college football game in Ireland.
Athletics officials at Penn State University, one of America's most famous football colleges, are looking at locations for once-off matches outside the US while they serve sanctions arising out of the Jerry Sandusky sex scandal.
Penn State coach Bill O'Brien said last week that a game in Ireland is high on the list of options while his team is banned from playing in end-of-season "bowl" matchups.
In an email to TheScore.ie, associate athletics director Greg Myford confirmed that the Nittany Lions are looking at dates and opponents for an Irish trip in the near future.
"In short, we are very interested," Myford wrote. "We are exploring our options for dates and potential opponents to do so. Sooner rather than later is our hope.
But until we can bring the timing and potential opponent into focus a bit more clearly, any conversation would be highly speculative.
A spokesperson for the Big Ten, the athletic conference of which Penn State is a member, said that they "defer to the institutions regarding the location of games" when contacted for comment.
In the past, Ireland has staged major college games with great success. Most recently the visit last September of Notre Dame and Navy drew a sell-out crowd of over 48,000 fans, mostly from outside of Ireland, to Dublin's Aviva Stadium. That game was worth an estimated €60 million to the Irish economy.
But the sport's governing body in this country, the Irish American Football Association, says Penn State may have trouble finding an opponent while it is serving sanctions.
The university was plunged into crisis in late 2011 following revelations that Sandusky, a former assistant football coach, molested boys on or near university facilities over a 15-year period. Sandusky, now 69, was convicted in June 2012 of 45 counts of sexual abuse and sentenced to 30 to 60 years in prison.
An independent report subsequently found that four university officials — president Graham Spanier, vice-president Gary Schultz, athletic director Tim Curley and football head coach Joe Paterno — had known about Sandusky's crimes as early as 1998 but failed to disclose them in a bid to protect the university's reputation. Spanier resigned, Schultz retired, Curley was placed on administrative leave and Paterno was fired after 46 seasons as head coach.
Following publication of the Freeh Report, the National Collegiate Athletics Association (NCAA) handed down penalties including a $60 million fine and a four-year ban from participating in the end-of-season bowl games which runs until 2016. All of Penn State's wins dating back to 1998 were also vacated, invalidating Paterno's record as the NCAA's "winningest" coach. Paterno died aged 85 in January 2012 following a battle with cancer.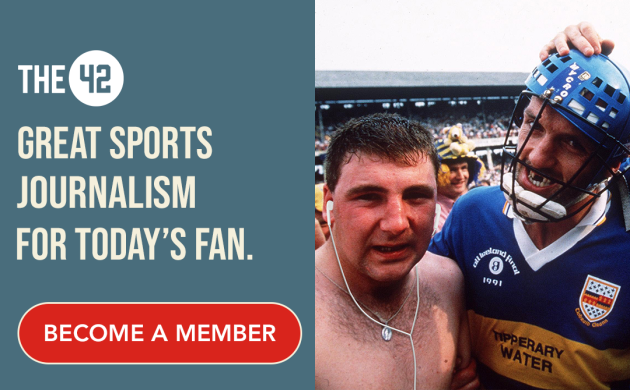 In an statement provided to TheScore.ie, the IAFA said that they have not yet been approached regarding a potential visit by the Nittany Lions.
"We're aware that there have been some rumours circulating regarding the possibility of Penn State playing in Ireland, however, nobody has approached us to date.
"We have checked via reliable sources within the sport and have been told that this speculation may be premature for two reasons – firstly, it might be regarded in some quarters as circumventing Penn State's NCAA sanctions and secondly that potential opponents may be reluctant to agree given the aforementioned and the reasons why Penn State received the sanctions in the first place."
A contract dispute between the IAFA and Navy following last September's Emerald Isle Classic is still ongoing but the Association said that it would not have any negative consequences on attempts to bring games to Ireland in the future.
"The IAFA is and always has been supportive of any efforts to bring major games to Ireland. The Navy High Court case is still very much live, so we cannot comment on it. However, we are quite certain that it is not having an adverse impact on the ability of Ireland to attract overseas teams to events in Ireland.
"Indeed, the IAFA has attracted a significant programme of high-profile games involving overseas teams, including some North American teams, to Ireland for The Gathering — details of which will be publicly announced shortly."
– Additional reporting by Steven O'Rourke