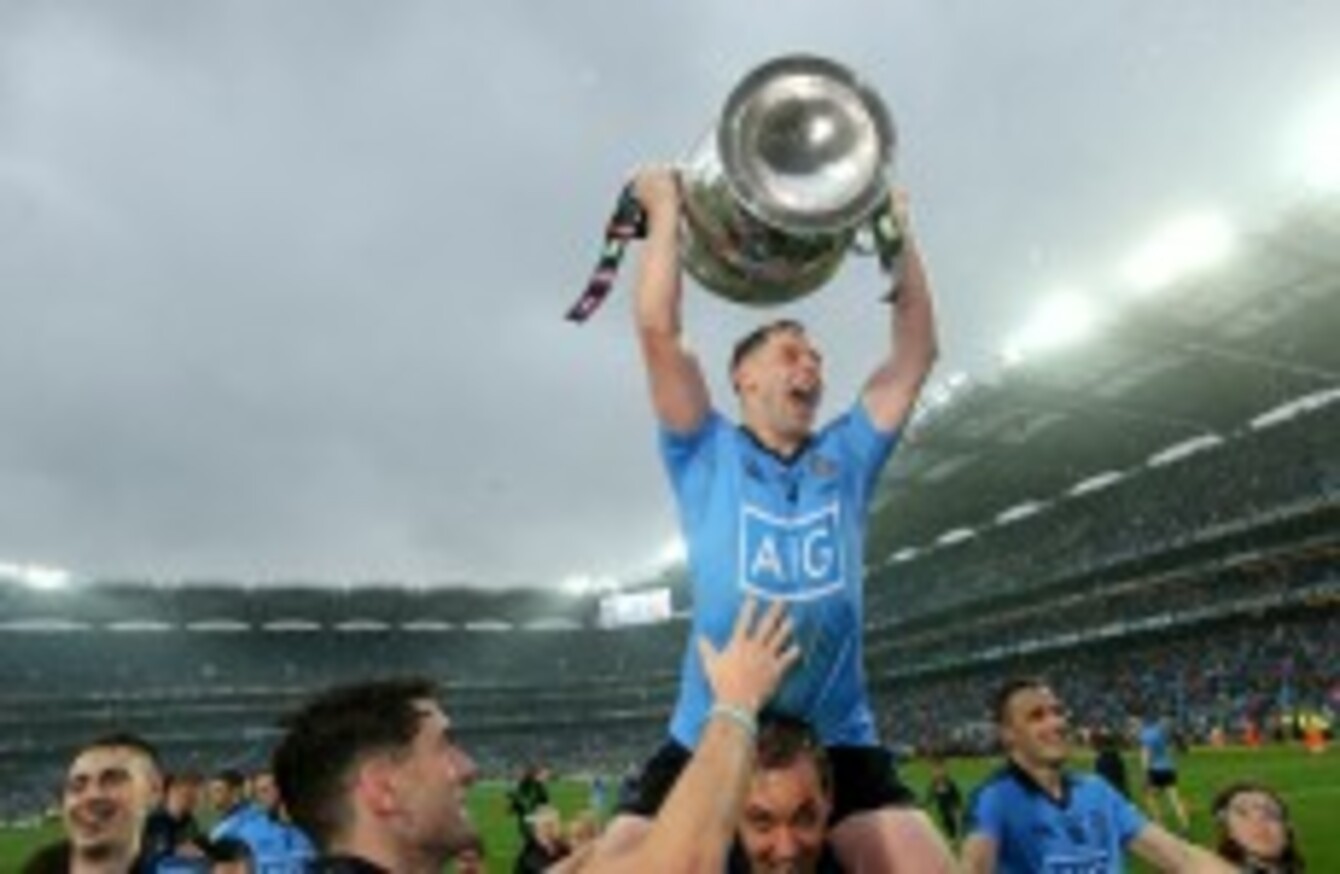 Philly McMahon raises Sam Maguire aloft.
Image: Ryan Byrne/INPHO
Philly McMahon raises Sam Maguire aloft.
Image: Ryan Byrne/INPHO
PHILLY MCMAHON HAS been in the spotlight more than most en route to Dublin's All-Ireland title win.
The Ballymun Kickhams man has excelled throughout 2015, central to their success in landing Sam Maguire on Sunday.
The42 caught up with McMahon yesterday to discuss that Kieran Donaghy incident, marking Colm Cooper and his own terrific form this season.
1. Kieran Donaghy gouging incident…
"I don't have to say how the conditions were yesterday and when the ball dropped, I went in to put my hand in and there was no intention to go for his face.
"He's a big man to get around, you know? I couldn't even see if the ball was there the second time I went in.
"But no, there was no intention there. To be honest I saw a little bit of it on the Sunday Game and yeah, it probably did (look bad), but there was no intention whatsoever to do that.
"If you look at it, the ball drops and I put my hand in to try to grab the ball, the ball slipped out of his right side.
"I tried to go in again with the left hand. That's what happened."
2. Controversy taking away from Dublin win…
"Yeah it does, talking to friends and family, I should be talking about keeping one of the best footballers in decades scoreless.
"Look it, there was loads of incidents on the pitch yesterday but it's unfortunate that mine always gets brought up.
But it's a part of the game and I have to accept it. If I get all these accusations against me and I win an All-Ireland, I don't give a s**t, to be honest."
3. Being constantly in the disciplinary spotlight…
"I don't think I have any personal problems with anyone on the Sunday Game!
"It's a tough game, playing as a defender. When we step up and we mark, we look the man in the eye and we're saying, 'We're going to war today, me and you, and let's see who comes out on the top end'.
"We don't have seven or eight men in our defence supporting us, we go man on man and go to war.
"That's what I love about the set up we have and it really does make you want to be better as a defender."
4. Marking Colm Cooper…
"I don't think Colm Cooper has been a great footballer playing defence. It was one thing I thought about going into the game when I was doing my homework, put him on the back-foot and see what he is like defensively.
"Two days before the game (told he'd mark Cooper). I was absolutely delighted. It is kind of an honour to be told that you are going to mark one of their key forwards. A man like Colm Cooper is someone I would have high respect for."
5. Stand off with Cooper at the end…
"Yeah, there was a little bit of a stand-off. We spoke then and I said this is the way that I play football, this is what you have to do to win a game.
"I am going to do what I can to beat you and you are going to do what you can to beat me. And he said "fair enough" and then we shook hands."
6. Winning an All-Ireland as a regular starter…
"I've had years where I've played throughout the campaign and I've lost All-Ireland's. I've won All-Ireland's and haven't played much so it was kind of getting the balance of both this year.
"I'm thankful that the lads that I'm playing around and competing with for the jersey have upped my levels and the forwards I'm marking in training have upped my levels.
"That's what we want, we want a competitive environment so that when we get to the All-Ireland final stage, we can compete. For me you want to spend every minute on the pitch. This year has been really good."
7. Ciaran Whelan labelling this team as the best Dublin has had…
"That's not for me to say, is it? But I suppose it's an exciting time for Dublin.
"I would never have thought in a million years that I'd have three All-Irelands, never mind playing for Dublin.
It's a massive thing and I'm proud to say that I'm from the area, and hopefully we'll have more lads coming from my area and doing the same thing."