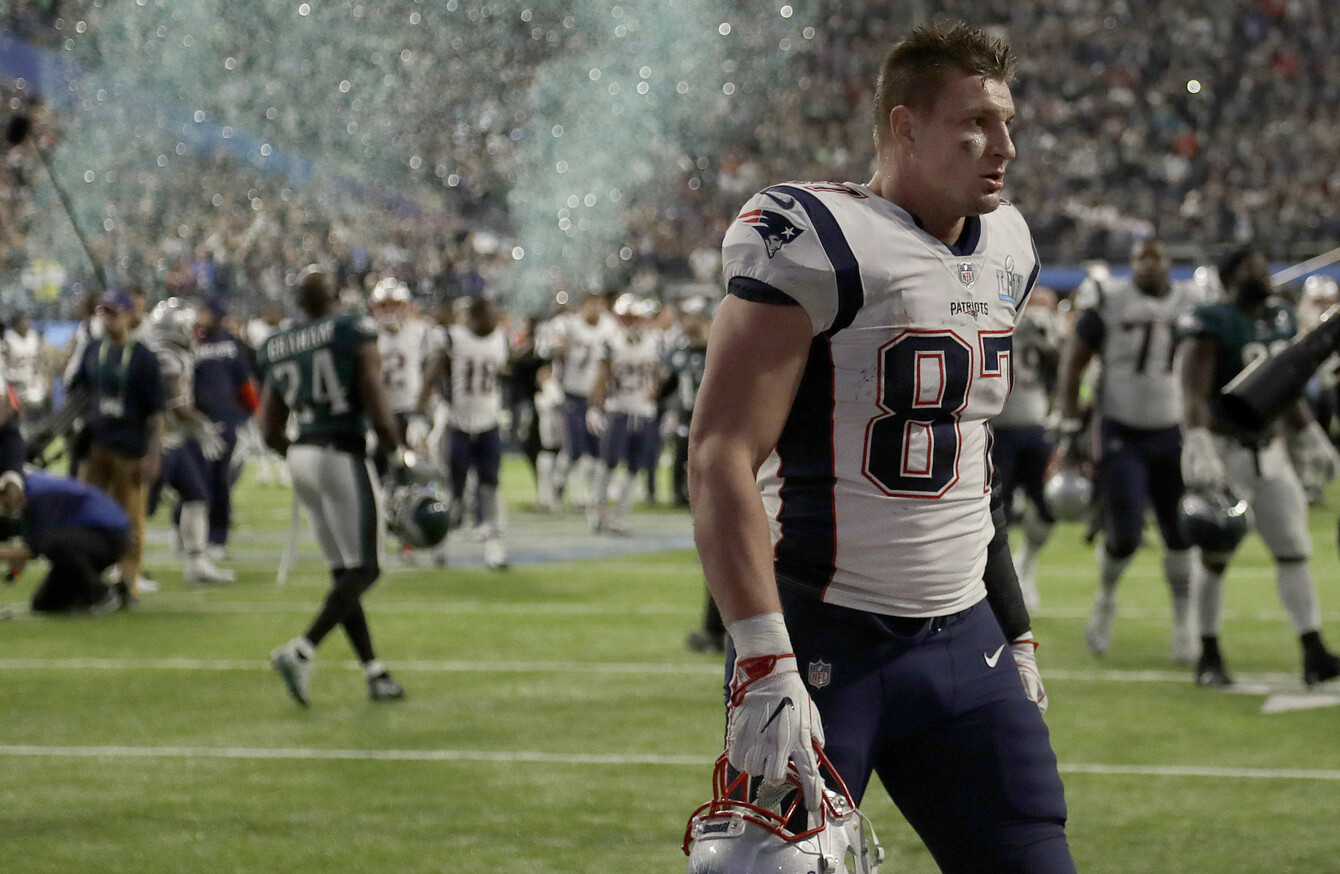 Image: Chris O'Meara
Image: Chris O'Meara
NEW ENGLAND PATRIOTS tight end Rob Gronkowski has hinted at a possible retirement following a 41-33 loss to the Philadelphia Eagles in Super Bowl LII.
Gronkowski caught nine passes for 116 yards and two touchdowns in Sunday's game, but has battled injuries over his career.
He did not play in last year's Super Bowl win over the Atlanta Falcons because of a back injury and was withdrawn from the pitch during this season's AFC championship game against the Jacksonville Jaguars with a concussion.
I'm definitely going to look at my future for sure," Gronkowski told reporters.
"I'll sit down in the next couple of weeks and see where I'm at."
The 28-year-old tight end is in his eighth campaign and has played all 16 games in a season just once – his second year in the league.
The five-time Pro Bowler has 474 career receptions for 7,179 yards and 76 touchdowns. Gronkowski's deal runs through the 2019 season – coinciding with the contract length of Patriots quarterback Tom Brady.
"I'm definitely going to look at my future."

What's next for Gronk? #SBLII pic.twitter.com/pWilvSDCKf

— NFL (@NFL) February 5, 2018
When asked why he would retire, Gronkowski said he was not "ready for these types of questions right now".
"I'm just going to sit down, reflect on the season (and) probably talk to my team-mates," he continued.
"We fought all year long, all the receivers, running backs, line men. We put all the work in together so I'm just going to reflect on the season, proud of the boys, and just see what happens."
Remarking on the disappointment of his side's Super Bowl defeat, Gronkowski said:
"It stinks to be on this side (of the scoreline) for sure. You put that hard work in the whole year. I'm proud of the boys, I'm proud to be on this team, I'm proud of the way everyone played. I'm proud of how all my teammates, (that) we all fought together all year long.
"We just never gave up, we played all 60 minutes to the final whistle so (I'm) proud to be part of this organisation this year. You've just got to keep your chin up because we put a lot of work in. We put in a lot of work for each other and it just didn't end the way we wanted (it) to.
"We accomplished a lot and we've got to stay positive."
With additional reporting by Sinéad Farrell