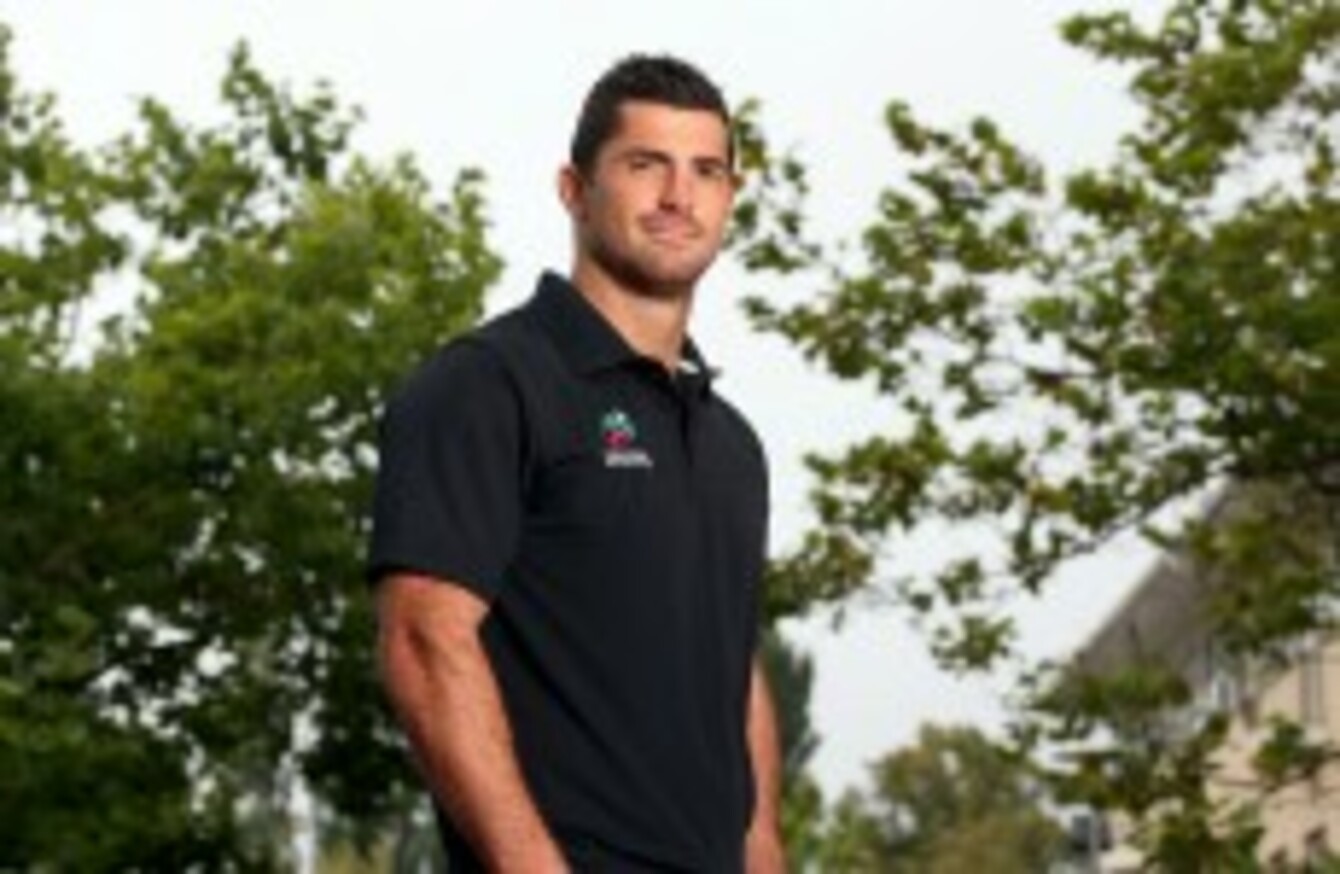 Rob Kearney took over from Jonny Sexton as IRUPA chairman.
Image: Dan Sheridan/INPHO
Rob Kearney took over from Jonny Sexton as IRUPA chairman.
Image: Dan Sheridan/INPHO
ROB KEARNEY IS settling back into pre-season with Leinster and memories of his four weeks of freedom are fading fast.
Las Vegas and England [for Geordan Murphy's wedding] were two of Kearney's off-season destinations but he gleaned equal enjoyment from having time to catch up with friends and family back home. The holidays are over for another year and Kearney may not get an extended break until November 2015.
"Once you're back, you're back," he told TheScore.ie. "No messing about. I can tell you exactly where I'm going to be every day for the next 11 months. Everything is mapped out for us — diet plans, training, extra gym and weight sessions, matches, club commitments. It's that regimented."
2013/14 brought Kearney a Pro12 winner's medal and his second Six Nations title. His only scoring contribution for Leinster was a long-range drop goal against Castres. Try-scoring was the reserve of the national team as he crossed for scores against Scotland [good], New Zealand [better] and England [best].
Last season was also significant for Kearney as he was named, and settled into his role as, Irish Rugby Union Players Association chairman. "It was something I was always interested in," he explained. "I would have done a little work with Jonny [Sexton] the previous season and, when he left, there was a job opening. IRUPA asked me to get involved and I was happy to do so. It has been a very positive season and I'm happy with what we have achieved."
Kearney points out that IRUPA and the IRFU have now established a collaborative approach to the professional game. Both organisations are acutely aware that Ireland's on-field success benefits the game as a whole, across the country. "Rugby is a business now," he said, "and if you don't run it accordingly everyone suffers." Kearney notes that Joe Schmidt's winning start to his tenure as Ireland coach has directly led to the IRFU announcing a "healthy" statement of accounts on 18 July. He added:
Having strong provinces and motivated players feeds into that. We'll never maximise and fulfil our potential as a rugby team if that consensus is not there. We're all looking for better performances and to go out on that rugby pitch as strong as we possibly can be."
He feels the players' union is taking small steps in what is a big work in progress. "Some of the issues we tackled last season revolved around sick pay, and leave, guys getting injured and the player development programme," he said.
Be part
of the team
Access exclusive podcasts, interviews and analysis with a monthly or annual membership.
Become a Member
"Because, when they retire, it is all about easing a player back into the big, bad world out there. As professional players, we live in a bubble. Landing back in that real world environment can prove a sticky situation for some guys. Our job, at IRUPA, is to ease that transition and provide career options and pathways.
"One such step in the developmental programme is the mentor scheme — teaming a player up with an entrepreneur or businessperson for guidance; giving them someone to bounce ideas off."
Hot topic
An issue that was a slow burner in previous seasons boiled over during Kearney's first season as IRUPA chairman is concussion. There were numerous concussion stories over the past 10 months [including the IRB extending the pitchside concussion assessment period to 10 minutes] but incidents involving three centres kept the issue in the headlines.
While Brian O'Driscoll was subbed off in the agonising defeat to the All Blacks, he took another heavy blow for Leinster, against Ulster, but the province were reluctant to call it concussion. He was declared fit to play the Pro12 final. Florian Fritz was somehow deemed fit to return to play, for Toulouse, in May after he was knocked out against Racing Métro. Then, in June, former England centre Shontayne Hape gave a stark interview about his struggles to recover from repeated concussions. "Players are just pieces of meat," Hape remarked.
Kearney has endured two 'proper, bad concussions' in his career and once played 78 minutes for Ireland [against France in 2009] after he was left reeling from a heavy blow after only seven minutes. "That situation," he argued, "wouldn't happen today. You would be straight off if the medical staff saw that."
"What surprised me most was how long it took for concussion to become such a hot topic… It has become more of an open one among the players and it has been addressed by the IRFU. At our last national camp we had a brain specialist come in to talk to the players about concussion — how to spot signs, long-lasting impact, the dangers."
He added, "I read the [New Zealand Herald] article about Shontayne Hape. It's good for guys in the game to see and read that kind of personal account by a fellow pro. The more accounts that come out like that, the more frightened guys will be. That's a good thing. The idea of 'Oh no, it's just a knock, I'll be fine', those days are gone."