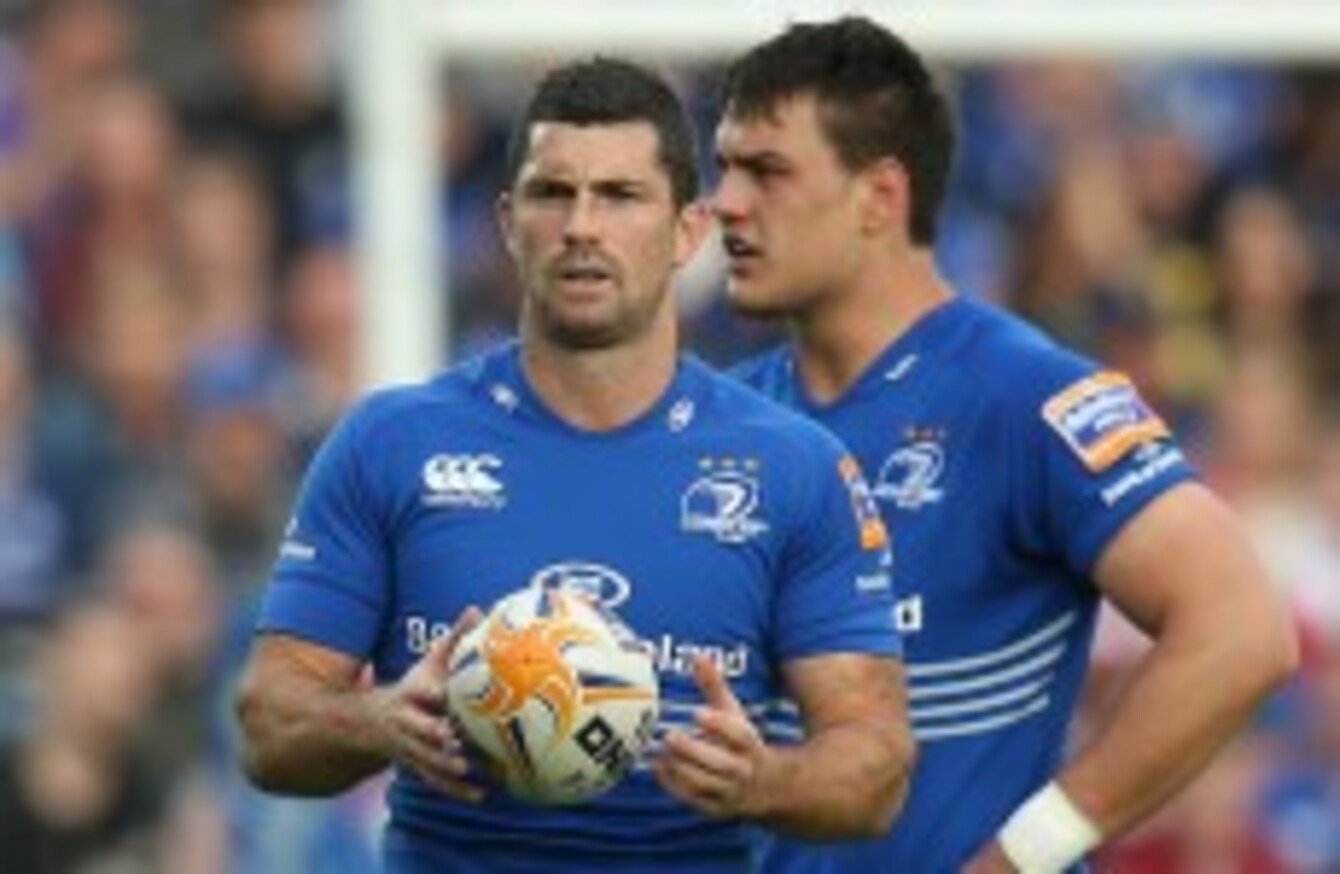 Kearney lines up a touch-finding kick in the semi-final against Ulster.
Image: Billy Stickland/INPHO
Kearney lines up a touch-finding kick in the semi-final against Ulster.
Image: Billy Stickland/INPHO
ROB KEARNEY IS in forthright form this week.
Ahead of the RaboDirect Pro12 final against Glasgow on Saturday evening, the Leinster fullback has stated that winning this fixture is essential if the province's season is not to be remembered as a failure.
Regardless of the changes at Leinster this season, the only currency in Kearney's mind is trophies.
"Any time you play in a season and you don't win trophies, it is a failure. We failed in Europe this year. We have a chance to win in the Rabo and we will be going for it. You have to set out at the start of the season with goals to win both competitions and if you don't do that, harsh as it is, your season is a failure.
It's really important for two reasons, because we have won something over the last four or five years, so it's important to maintain that trend and silverware. We have lost some key players and [have] a new coach, our form has at times been pretty average this year.
"If we can still win a trophy at the end of it, it's a pretty good sign of a strong team with a lot of good character in there, that they can win trophies despite not playing some of their best rugby."
Leinster have certainly not scaled the same peaks that drove them to two Heineken Cup successes under Joe Schmidt in an attacking sense, with Kearney pointing bluntly to the fact that they have scored less tries this season as the only marker that matters.
"You've got to judge these things on results. I just don't think we have fully clicked yet, no. I wouldn't like to start talking about things we want to work on next season but you have to stick to your strengths and make sure you are maintaining those strengths.
"We have got new players there, new systems and 17, 18 internationals going away, it is pretty difficult to get any sort of momentum there from an attacking point of view. It is a combination of both probably."
Looking to ensure that the 2013/14 campaign will be listed under Kearney's 'failure' column are Gregor Townsend's Glasgow Warriors, who come into the final on a nine-game winning streak and with confidence that they can cause an upset at the RDS.
Townsend has spoken about the fact that he has taken great inspiration from Leinster in building his Warriors side, and Kearney can certainly see familiar aspects in how Glasgow play.
[There are] huge amounts of similarities and imitation is the best form of flattery, isn't it? We can use that to our advantage too. A lot of their set piece moves and a lot of how they try to play their game is very Leinster-esque, I would think.
"Nobody knows Leinster better than we do ourselves. If we can use that to our advantage from a defensive point of view, brilliant."