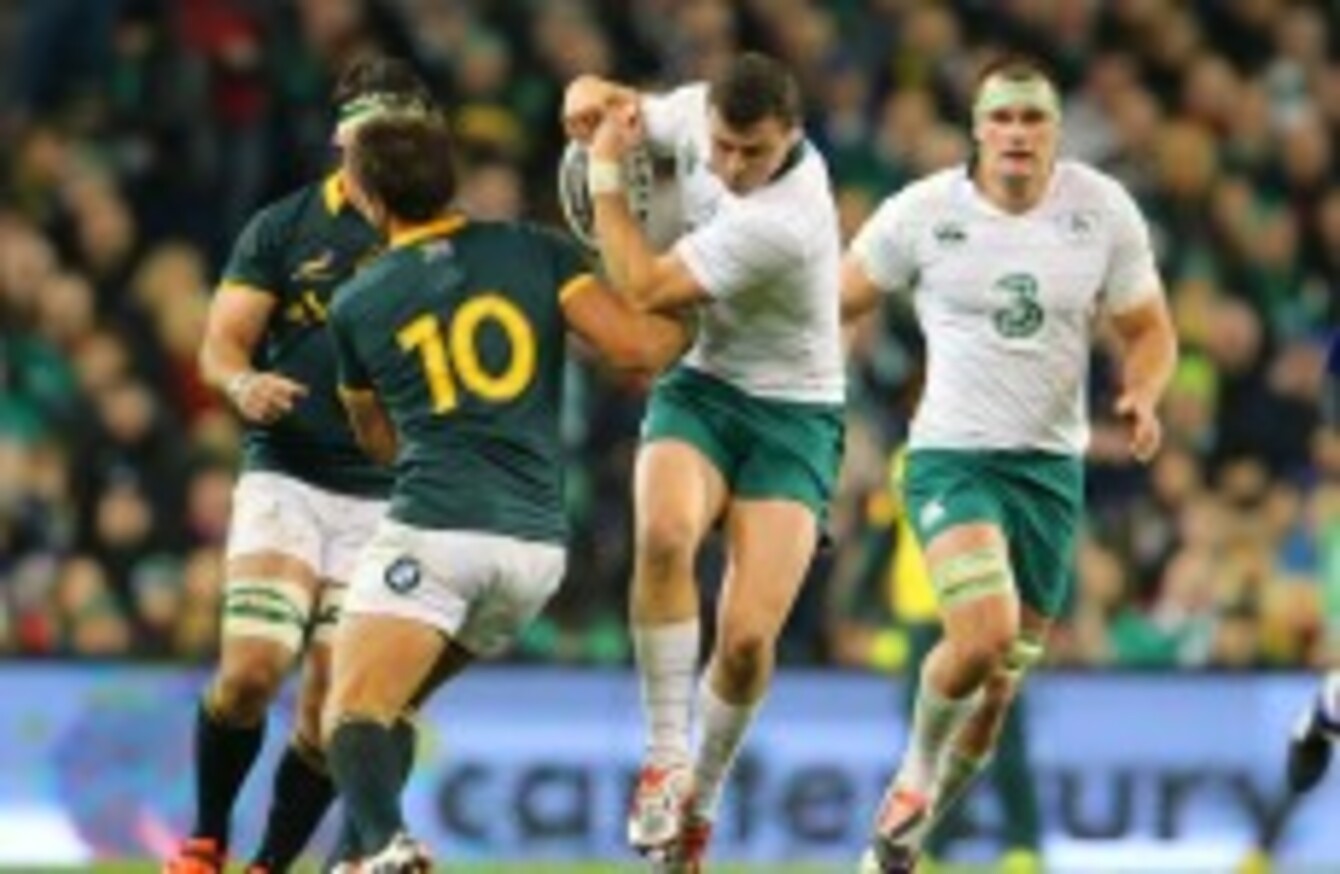 ROBBIE HENSHAW WON just his fourth cap and his second start in Ireland's ultra impressive 29 – 15 win over South Africa yesterday.
And while his centre partner was debutant Jared Payne, the Connacht man never looked out of place against the world's second-ranked team, saying he was "quite happy out there."
Henshaw still cuts a slightly nervous figure when faced with a pack of journalists hungry for a piece of him, but on the field he is settled, composed and confident.
That demeanour was perhaps never illustrated better than by his game-defining kick for the corner just after the half-time break. Never mind that he has only played the number 12 role a handful of times (including at school) in his short career, Henshaw demanded the ball from Johnny Sexton and then let instinct take over.
"I gave Johnny a call and said 'Hit me wide'. It was a spur of the moment thing," the 21-year-old said post-match.
"I was going to run it initially then saw there was a little bit of space in behind. I kicked through it – put my head down and got through – I got the bounce, it didn't go too far and [Willie] Le Roux just chipped it out."
Having had to survive a massive onslaught in their own 22 during the first half, Ireland were suddenly five metres out. Well within striking distance with a maul that was eager to make a statement on new coach Simon Easterby's behalf. From a nervy one-kick lead, Ireland were 10 points clear and trusting in their gameplan.
"You just have to focus on your role and your responsibilities within the team, doing what you can do and winning the moment every time," says the Athlone man before adding how he felt he had a point to prove on just his fourth cap.
"I came off the bench against Australia last year and it was a shock to the system, the speed of the game and how physical they were. I really didn't let it slip this year coming into this November and knew I'd be ready for a start or to come off the bench. I really got myself together mentally and prepared myself well."
Be part
of the team
Access exclusive podcasts, interviews and analysis with a monthly or annual membership.
Become a Member
That much he certainly did. Despite bursting onto the senior scene as a fullback, Henshaw expertly showcased a skill-set of a traditional 12 yesterday, providing a vital platform by carrying into congested zones – often inside his own 22 – and giving Conor Murray and Sexton clean ball to work from.
"Darce (Gordon D'Arcy) gave me a hand to run at 12 during the week. He said, 'do as you do at 13 but just one slot in'.
"I was quite comfortable. I had two good guys each side of me, in Johnny Sexton and Jared Payne – two experienced players who kept talking to me all night and helping me out."
Against South Africa, the game is never going to be anything but hugely physical, but Henshaw thrived the arena.
"It was a massive step-up. I don't think I've hit bigger fellas in my life. I was quite shocked by the size of them but got used to it after a couple of hits.
"Physicality is a big part of the game and I like that aspect as well. I love a big hit."
Standards
After Payne limped off with a foot injury, Henshaw may well find himself making and taking those hits back out one slot in the number 13 role when Georgia come to Dublin next week. It will be a step down in class from Jean de Villiers and Jan Serfontein, but Henshaw has his own motivations, standards that he wants to exceed:
"The two opposite centres tonight were world-class. They've played against the All Blacks, Australia and Argentina in the last few weeks. It was good to play against such experienced players as well. I learned a little bit as well, playing against them.
"It is a really good start but I'm not overall happy with it. I can still improve. I'm not going to settle for that. I need to improve and will strive to improve – keep working away, keep training away – that's my goal."