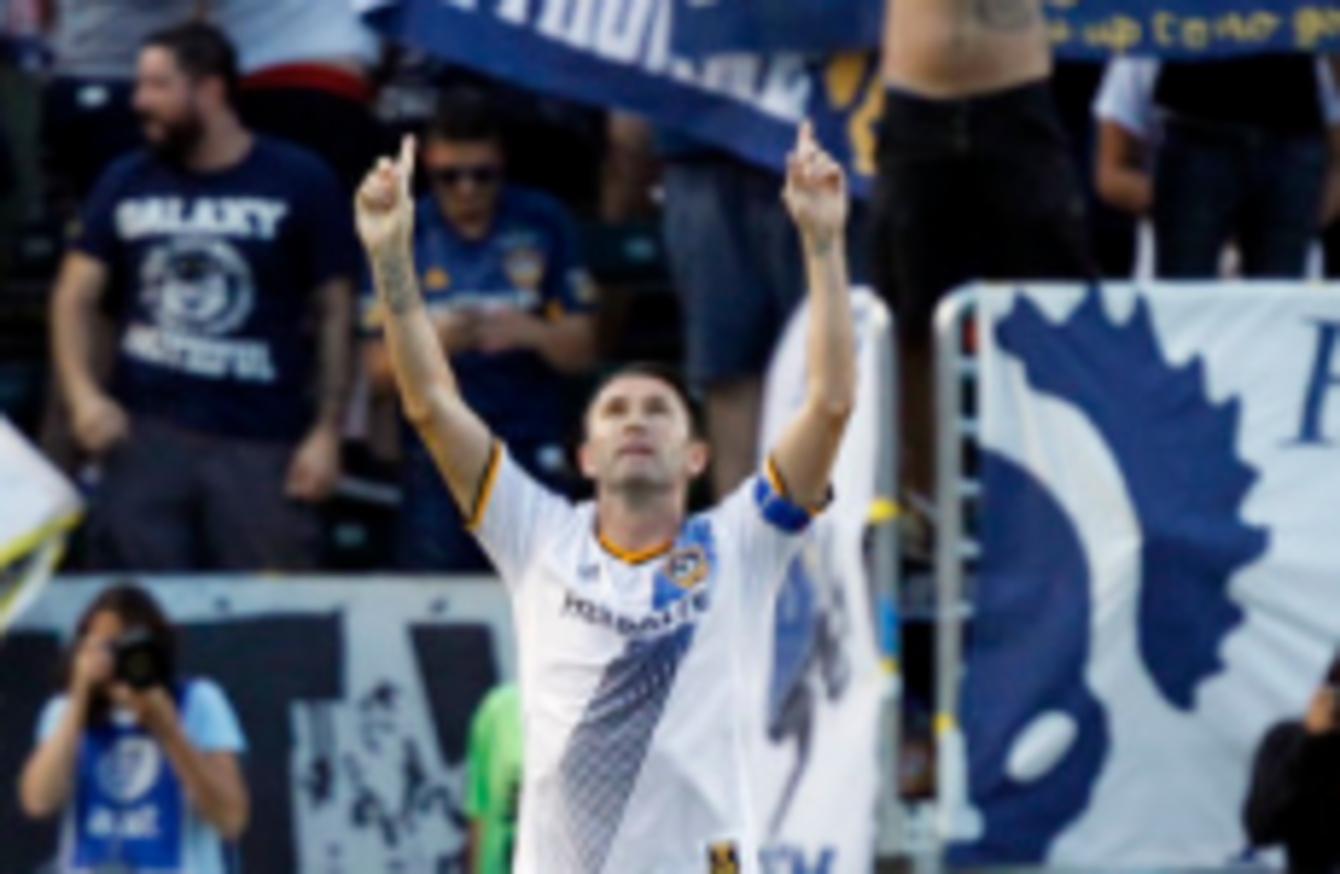 Image: Alex Gallardo/AP/Press Association Images
Image: Alex Gallardo/AP/Press Association Images
THE USUAL RESPONSE is always 'It's only MLS' as if the North American top-flight is home to a collection of bumbling half-wits.
Of course, ignorance is bliss.
On Sunday, Robbie Keane scored his 14th and 15th goals of the current season while he's also notched seven assists. Those stats are made all the more impressive by the fact that he's featured in 17 games, having missed almost two months with a groin problem.
He's scored three hat-tricks so far this season and his importance to the LA Galaxy team is immeasurable, not only because of the armband he wears.
He's the reigning league MVP, his goals having pushed his team to championship success in 2014 – his extra-time strike in the MLS Cup final ensuring a third league triumph for the franchise in Keane's four years on the west coast.
Yet, from the last three competitive Republic of Ireland games, Keane has only started one of them.
Despite being in the form of his life domestically, the 35-year-old is on the periphery of the international scene and is struggling to find his way back.
It's not surprising.
Those faraway hills don't seem of much interest to the Irish management. It's quite remarkable that the strapping, imposing figure of Shane O'Neill has never been capped by any Ireland group, underage or senior, despite the 21-year-old having declaring his interest and delivering some sterling MLS performances during his time with Colorado Rapids.
Born in Midleton, O'Neill is the son of former Cork footballer Colm O'Neill and a nephew to Kerry football legend Maurice Fitzgerald.
Capped by the US at under-20 level while he's been on the fringes of Jurgen Klinsmann's senior side. The Americans have been proactive in pursuing a gifted young athlete, twice naming him in training camps and including him in match-day squads for a couple of friendlies. O'Neill remains a crucial part of the US Under-23 team, currently looking to qualify for next summer's Olympics.
The Irish setup hasn't been as eager to investigate their options though.
In fact, it's all been a little too Irish.
O'Neill's father spoke to The Irish Examiner earlier this year and outlined the conversation that's occurred between the family and the FAI.
"I spoke to Noel King a couple of years ago, when he rang the house and asked if Shane would be interested (in Ireland), and I said he would be. I can't remember exactly how we left it, whether it was 'I'll get back to you', but we didn't hear from him again."
Then, last summer, Shane was over training with Sheffield Wednesday and Middlesborough, and someone called him from the FAI and asked if that number was the best one to get him at, but he never heard from them again."
Earlier this month, O'Neill left MLS and joined Cypriot outfit Apollon Limassol but is still to make his debut.
For Sean St. Ledger, it's something similar. He hasn't played for the Irish team since a friendly with Poland in 2013 and though there was a well-documented search for a new club after being released by Leicester, his performances for new MLS franchise Orlando City SC were solid, reliable, strong up until 'a serious breach in club policy' ensured his departure. Still, since moving to Colorado Rapids, it's been more of the same, not that he expects any call from the Irish staff anytime soon.
Speaking to me earlier this summer, he said:
"It's not disappointing. He (Martin O'Neill) is focused on getting to the Euros. The lads that are there and who have been part of the squad are worthy of his time. I'm eight hours away on a plane so it's not easy to keep tabs. I'm sure he's got people out here. I'm sure Steve Guppy (Ireland coach and chief scout) has contacts."
All I can do is keep playing well and hopefully word will get back. And if there are injuries in the squad or suspensions and I'm fortunate to get back in, then brilliant."
"That's just football. It's the cut-throat reality of it. When you're needed and wanted, you feel the love. When you're not, you don't. And you get on with life. I'm not closing that door. I would like to try and get back in there. But we'll wait and see what the manager has planned."
Others have slipped through the net too. During his stint at Keane's LA Galaxy, one of the club's best players was midfielder Mike Magee. In 2013, he was chosen as the league's MVP after a superb debut season with Chicago Fire. Yet, there wasn't even a hint of interest from the Irish camp, despite Magee's background. Seattle Sounders Lamar Neagle is another available and interested figure. According to him, there's been some contact between him and the FAI but nothing concrete.
At least the Irish are consistent.
In O'Neill's latest 37-man provisional squad for the upcoming qualifiers against Georgia and Gibraltar, two things were abundantly clear: there's a dearth of defenders and a distinct lack of goalscorers. In midfield, there's a valley of plenty we've seen before. Surely if those at middling Championship sides are being encouraged into the fold, there's room for some exciting MLS players?
Would it not make sense to offer St. Ledger – a player with 37 senior caps (of the provisional squad only 7 players have more than him) a return to the camp? Would it not make sense to get a decent look at Shane O'Neill up close? Or is there a genuine belief that MLS-related players are plying their trade in a retirement home, a place not to be taken seriously?
The most disappointing thing here, of course, is the closed-shop attitude, the short-sighted nature of the selections. What have the Irish setup got to lose by including players from further afield, particularly when they're getting regular first-team football and impressing many with their performances?
In the last home qualifier against Scotland, Daryl Murphy, a player who had never scored for his country in fifteen previous appearances, was selected up front instead of Robbie Keane – record goalscorer, rated the best player in North America, but a divisive figure in his own country despite the staggering statistics, prolonged career and success wherever he's been.
Many argue that Keane's inability to lead the attack is a problem. But surely the rule of thumb is to play to your strengths? Keane's ability to score goals is perhaps Ireland's only one.
Before the game, Roy Keane gave his take on Murphy:
"I've always liked Murph. Did I ever think he'd get 27 goals in a season? I always thought he had the potential but potential is one thing. If Murph starts, he won't let anyone down."
A ringing endorsement.
In Ireland's two key qualifiers against Scotland, Keane played for 39 minutes. He probably spent a lot of time sitting on the bench and contemplating what he'd done wrong.
The answer is not a lot.