RORY BEST IS still waiting patiently for his ceremonial squad gift, but the Ulster hooker is confident that everything else about Ireland's World Cup preparation is in its rightful place.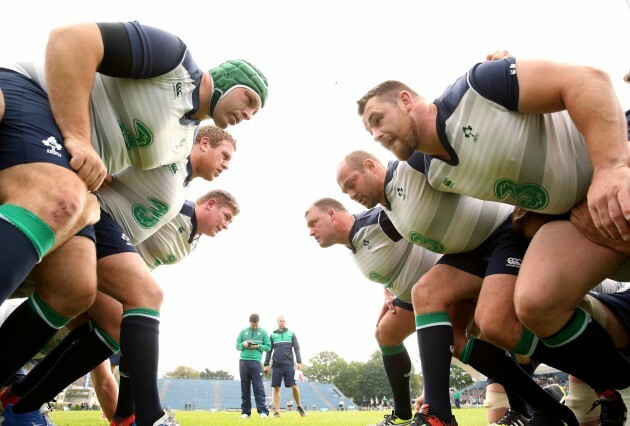 Billy Stickland / INPHO Best packs down alongside Cian Healy at the RDS last week. Billy Stickland / INPHO / INPHO
Sunday evening tweets from Jamie Heaslip and Mike Ross put the squad's gift-giving ceremony on full display – a tradition that survived the many chops that came after its inaugural outing in 2007. But after the 31-man squad waved goodbye to their loved ones after a Carton House barbecue, some were left short a freebie or two.
"Ach, it's just really a bit of craic," says Best. "This year we said 'it could be anything' the problem was some of the gifts didn't turn up in time. So I'm still waiting on the postman with mine at the minute."
The arrival presents and family farewells followed a hard-earned four day break for Joe Schmidt's squad. A welcome spell away from the pressurised environment of camp with its cycle of training, meals and meetings.
Nobody, however, is looking forward to their next day off.
"We're hoping to be around for a good few weeks over in England and Wales," Best says with a steely confidence.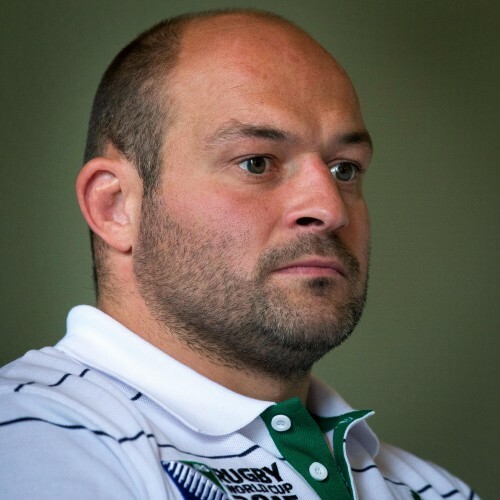 Ryan Byrne / INPHO Ryan Byrne / INPHO / INPHO
"The balance has been really good throughout the summer from the management in terms of weeks when we're in training and weeks where we've been off. It was nice to get three or four days at home to get completely away from rugby.
"Then (we) came in yesterday and really start this morning with a big build-up. Hopefully, we'll have a lot of time together over the next couple of months."
The 'start' Best mentions is more of a freshly tuned approach than a wholesale do-over after the warm-up fixtures seemed to fizzle out in to disappointment rather than build to a crescendo.
Wales, Scotland and England are now out of the way: such games carry a certain amount of importance, but no amount of sports psychology can make you believe they are World Cup finals with no goals beyond. The real Tests, the fixtures that truly matter, are on the horizon and that means intensity levels will naturally ratchet up now that everyone a player might come in to contact with is on the same page.
We've always tried to stay focused on the next game, but whenever you do media all anyone wants to talk about is the World Cup. You'd be doing build-up pieces before the World Cup and be asked: 'imagine you're selected, and imagine this…'
"That's not what you want to do, that's not the mindset you want to have. It's nice to come here and speak about a World Cup game and speak about players wanting to put their hand up to be selected for the first World Cup game for Ireland.
"Whether it's in the back of your mind, conscious or subconsciousness nobody wants to get injured in those last (warm-up) games. You look at Wales with two devastating injuries in their last game: nobody wants to be the guy on the verge of a World Cup but misses out. It's something you try not to think about, but it's something that's there.
Another chance?
"We were very focused on all four games, but this is in to a tournament now. We're in to competitive rugby, a World Cup comes around every four years and I think there's definitely a bit of refocusing in your mind.
"Some of us will not get another chance at a World Cup. Others might get one, but you just don't know.
"It's a fantastic opportunity for us and you have to make sure as players you do everything you can in the next five days to make sure we are fully prepared to play that game, perform and ultimately we need to win it."
Time to deliver.