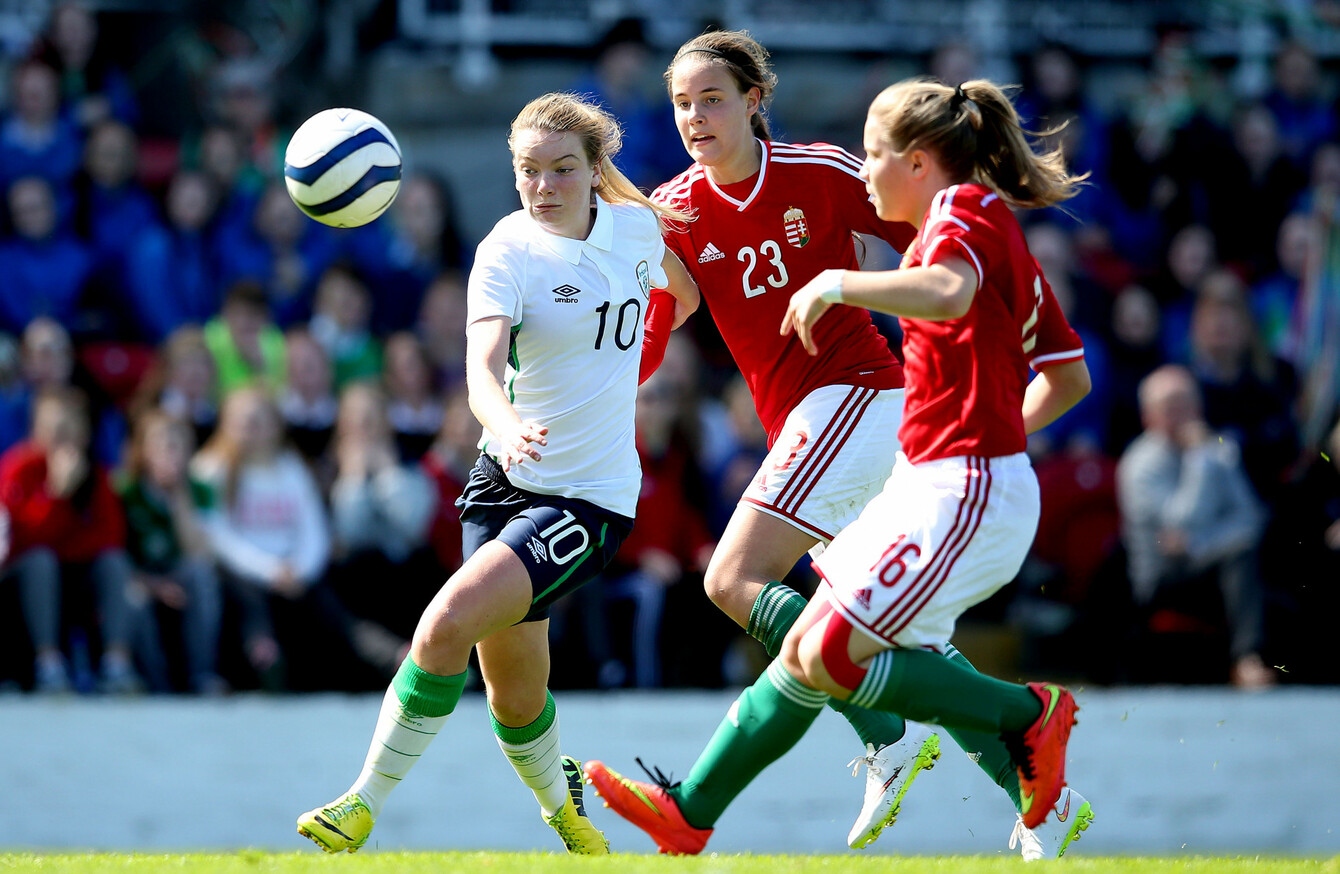 Saoirse Noonan has been a regular for the Irish side at underage level and has also appeared for the senior team.
Image: James Crombie/INPHO
Saoirse Noonan has been a regular for the Irish side at underage level and has also appeared for the senior team.
Image: James Crombie/INPHO
Updated at 22.33
ON SUNDAY, TWO sides representing Cork City will compete in an FAI Cup final at the Aviva Stadium.
The men's team's journey has been well documented. Around the turn of the decade, the club were in dire financial straits.
Despite finishing third, they were relegated to the First Division at the end of the 2009 season after the club's holding company was wound up by the high court.
However, since the Friends of the Rebel Army Society (FORAS) supporters trust took charge of the club, the Rebels have slowly started to thrive again.
After their promotion back to the top flight in 2011, Cork have gradually become a formidable outfit again, and this season, they won their first Premier Division title since 2005, while they can do the double by beating Dundalk tomorrow.
The women's team's success story, however, is arguably just as remarkable. The club have only been in existence for six years, having formed in 2011. Despite their squad containing some talented players in the early days, including current Ireland international Denise O'Sullivan and Clare Shine, results were mixed at best initially.
Invariably, the Leesiders hovered closer to the bottom of the Women's National League rather than the top.
The 2013-14 season was particularly gloomy. In 21 matches, they registered 0 points and scored only two goals, while conceding 109. Their season ended with their biggest defeat of the campaign — a 13-0 loss to Peamount United.
In 2015, however, there were signs of improvement. On 12 October, they faced a newly assembled Kilkenny United side, who were competing in their first-ever Women's National League fixture.
Goals from Stacey Paul and Maggie Duncliffe saw Cork prevail 2-1 — it may not have been the most glamorous of occasions, but it was their first league victory in two years, providing the side with a much-needed morale boost in the process.
There has been more progress since then. In 2016, the club finished sixth out of seven teams in the Women's National League, picking up nine points from 12 games along the way.
While the club are set to finish fifth this season out of seven teams in the league, they have acquired a much-improved tally of 22 points. Moreover, against the odds, they will compete in the Women's FAI Cup final at the Aviva Stadium on Sunday.
Along the way to this season's climactic occasion, they have significantly punched above their weight, beating Peamount United in the quarter-finals and Wexford Youth Women's FC in the semis, both of whom are in contention for the WNL title as it stands.
So for the Leesiders to be merely in this position represents significant progress, considering how badly the club were struggling just a few years ago.
One of the Rebels' key players hoping to make an impact tomorrow is Saoirse Noonan. While the club's season has been far from perfect, the signs were there early on that the side had come a long way since the bad old days of 2013-14. Up against formidable opposition in the form of last year's FAI Cup winners, Shelbourne Ladies, they emerged with a creditable 1-1 draw in the first game of their 2017 campaign.
Congrats to @CorkCityWFC on securing their place in #ContinentalTyres Women's FAI senior cup final in @AVIVAStadium pic.twitter.com/MOHGCxpSdb

— FAI Women (@FAIWomen) October 7, 2017
"We were back 10 weeks before our pre-season," Noonan tells The42. "We were really prepared for our first game against Shelbourne, who were the league champions last year. We went 1-0 up and held onto the lead for most of the game and only conceded in the 92nd minute.
"From then on, we knew we had progressed a lot since last season, because we finished very strongly.
"We had a solid end to the season, so after we beat Peamount, who are going for the league, in the quarter-finals (of the FAI Cup), then we beat Wexford, who are also going for the league, so we were just growing in confidence and building up that.
"We're on form coming into this cup final, so it's really exciting."
Though she has enjoyed some memorable moments in her young career so far, including a goal during a win against England at Turner's Cross, Sunday is almost certainly the biggest game of Noonan's soccer career so far.
When you look at the Irish senior team playing in the Aviva and we've all attended cup finals the last two or three years and see the girls out there, you just think 'imagine what it would feel like to play out there'.
"Seeing as Cork (men's team) won the cup final last year, the reality hits that 'we're going to be playing there Sunday'. Our friends and family are going to be there. Even to get the experience of playing there — I can't believe it really.
"To bring that cup home on Sunday would be a dream come true. It's hard to explain how we are now, it feels like a dream."
Clare Shine came off the bench as Raheny won the 2013 final against Castlebar, while Danielle Sheehy was an unused sub for the same club's victory over UCD Waves in 2014, but apart from those two players, Noonan says the experience of going to the Aviva for the cup final will be a first for Cork's squad.
Playing on a bigger pitch than usual with the RTÉ cameras watching will similarly be a relatively unique feeling for the majority, though Cork did undertake one clever measure to ensure these conditions will be less of a shock to the system than they might have been.
For last week's match at home to Wexford, which they lost 1-0, Frank Kelleher's side made the pitch's width and length equivalent to that which they will experience at the Aviva.
Nevertheless, with UCD five points ahead of them in the league, Cork will go into tomorrow's game as underdogs. On the three occasions the sides have met, the Students have won each time — 1-0, 5-0 and most recently 3-0.
"We haven't beaten them, but in the last game, the ref did us zero favours," Noonan says. "We should have got two penalties, then they scored and the heads dropped, which was the way our season started off — staying in the game, conceding a goal, the heads dropping and conceding another three or four.
"But for the day that's in it, we're going to have more heart — we're the underdogs, so it just gives us that push even more to go on and win the game."
At 18, Noonan is somewhat of a sporting prodigy. She is the reigning Ireland U17 Women's Player of the Year, while she is currently a regular for Dave Connell's U19 side, who last month secured their Uefa elite round spot with a 4-0 victory over Latvia.
Be part
of the team
Access exclusive podcasts, interviews and analysis with a monthly or annual membership.
Become a Member
And in addition to her soccer prowess, the multi-talented youngster is also an accomplished Gaelic footballer. Back in August, she helped Cork claim a third successive All-Ireland ladies minor A football crown, scoring a phenomenal 3-4 in the comprehensive victory over Galway. The year before, she had registered a similarly incredible 2-5 at the same stage.
But combining the two sports has been trickier than Noonan has made it look.
"I just like to try everything," she says. "It's been hard this the season with the soccer being played throughout the summer and the championship with the GAA.
(Cork City manager) Frank Kelleher and (Cork minor boss) John Cleary have been so understanding. I've done the best I could. John took me into the team and he knew that soccer would come first. The aim this year was to succeed in soccer and just give as much to the football when I could.
"I was very lucky that I was able to attend every match and most training sessions. I might miss football training sessions during the week, but I'd always try to catch up and stick with the girls and be around them as much as I could.
"It was hard to work around, but in the summer, we had a bit of a break (from the soccer) and I just managed to do it.
"I didn't put football into my diary when I was starting out my year, saying: 'This is what I want to achieve.' But when John Cleary approached me, I didn't even have to think about it. He said he could work with me and I said I'd try to work with him. If it came to it, I would have dropped the football, but I was lucky the way it fell."
In addition to starring in two sports, Noonan also has the Leaving Cert to worry about in the coming months.
"I try to tick away when I'm away, but it's not the same when you have to try to teach yourself here and there.
"My teachers in Christ King, they're so understanding. They always come up and help me and give me extra classes, and anything I ask for, there's no hesitating. They always look out for me. I can't thank them enough. Without them, I wouldn't be able to keep up with my schoolwork. I do the best I can and sometimes, it's tough, but (soccer) is what I want to do and I'm not going to stop doing it."
This Sunday will consequently be the reward for years of hard work from Noonan, who grew up playing several sports in Cork, encouraged by her father and inspired by her brother.
"I grew up really playing football with my dad's team that my brother was on. It was just kind of following my brother and copying what he did," she says.
"Every soccer team he joined, I'd try to join. Then I wasn't allow play soccer with the boys because they were too old.
"I went on and played basketball and camogie, but I had to get rid of them completely.
"It was just the way it fell when I joined Douglas Hall and I made the Cork senior team, then I made the Irish trials and I got dropped. I thought, 'I don't ever want to get dropped again.'
"I think that was the moment I realised 'this is actually what I want'. So I made the Munster team and from there I went from the Irish 15s to the 17s and then the 19s."
The attacking starlet has also already had a taste of life in the Ireland senior set-up. Last year, Noonan was called up by then-manager Sue Ronan and made her debut in a challenge match against Wales.
"It was weird, because I was on my holidays, and had to fly home for the All-Ireland semi-final," she recalls. "I flew home on Thursday and the match was on the Saturday.
The Saturday night, my mum rang me saying she got a call on the Friday, explaining I was called in to travel to Wales with the senior team.
"I thought: 'This can't be real, what's going on?' I went over there. It was a great experience, it was really enjoyable, a great moment in my life."
Noonan, who generally plays as a number 10 for Cork and in the main striker role for Ireland U19s, one day hopes to follow in the footsteps of several current Irish stars and play abroad.
"It's every girl's dream really. We look at the likes of (Man City player) Megan Campbell, Stephanie Roche at Sunderland, Denise O'Sullivan (of North Carolina Courage) over in America, we all want to get a step further and better ourselves every day.
"The first step is to stand out and the next is to try to achieve. We all want to play in the Premier League. That's where my dream is at and where I hope to get to. That's where I strive to go after I'm done with Cork City."
Cork City WFC are delighted to announce the return of senior Irish International Clare Shine for the 2017 season https://t.co/wyrarB2ZOd pic.twitter.com/xxpjctVGWU

— Cork City Women's FC (@CorkCityWFC) March 17, 2017
Yet Noonan only needs to look around the Cork dressing room for inspiration. Ireland international Clare Shine — who re-joined the side last May after a stint with Glasgow City — is one standout player that could have a big influence on proceedings tomorrow.
It seems odd at first when you hear Noonan describe Shine as her "idol" growing up, given that the latter is still only 22, but it makes sense when you consider the younger attacker was only 14 when her future team-mate played at the Aviva with Raheny four years ago.
"Every player is as important as the other," Noonan adds. "But we all look up to the likes of Clare, who leads from the front. She has played at the highest level.
"Amanda Budden in goals (is another source of inspiration) — she plays with Irish seniors. She knows what it's all about, she's experienced.
Maggie Duncliffe, a centre-back who's been with Cork City Women six years since day one, when they were getting hammered 8-0 and 9-0, and now she's playing in a cup final.
"They're all players that are ready to stand up on the day and they deserve to be there.
"But growing up, I would look to Clare Shine as my idol and now I'm playing with her on the big stage."
Subscribe to The42 podcasts here: