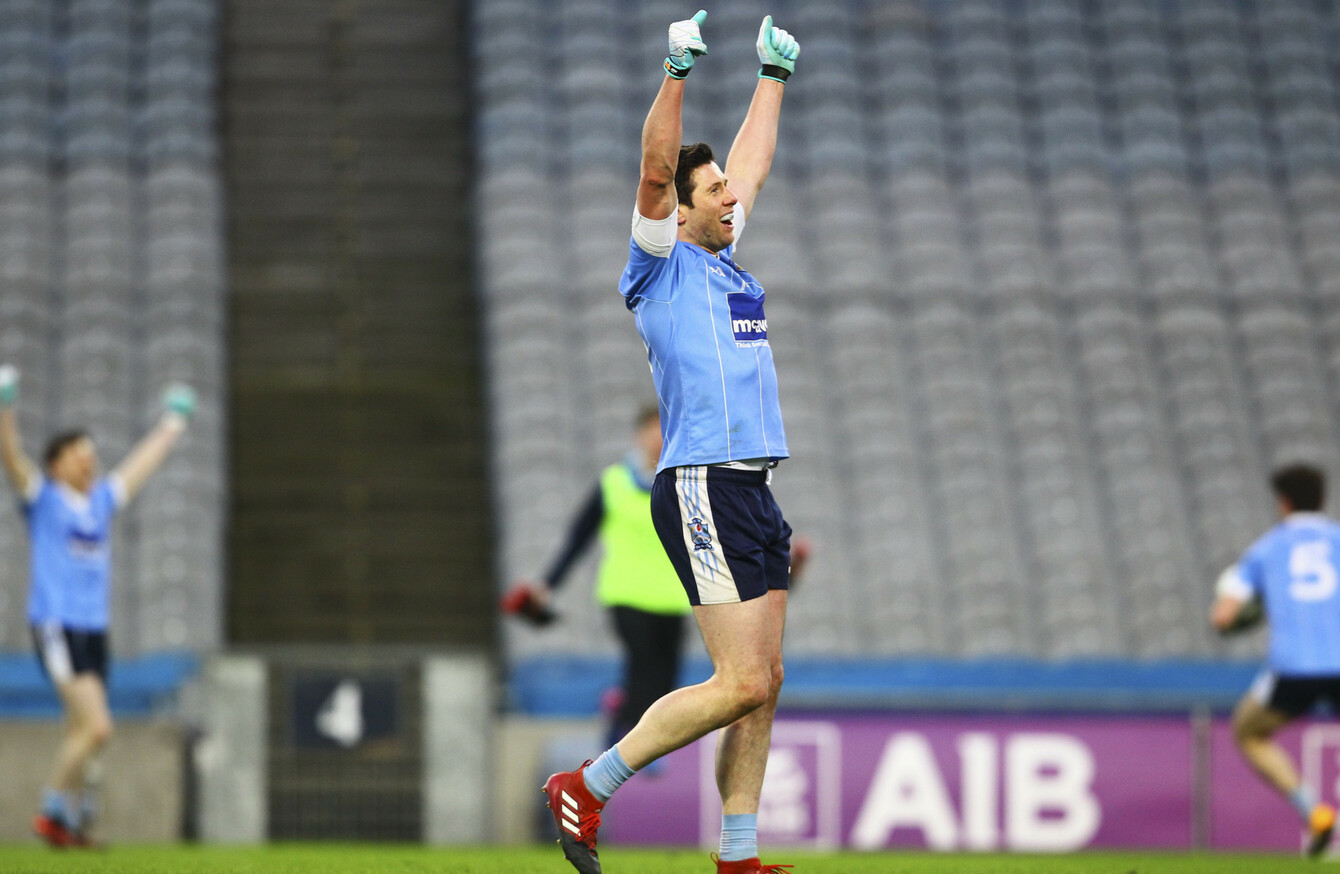 Image: Ken Sutton/INPHO
Image: Ken Sutton/INPHO
IN IRISH MYTHOLOGY, Tír na nÓg is depicted as the land of everlasting youth.
When Moy Tír na nÓg delivered the All-Ireland intermediate title on Saturday evening, it was Sean Cavanagh who rolled back the years and gave a performance that belied his 34 years.
Cavanagh curled over five vital frees for the south Tyrone club, but it was perhaps his marvellous block inside the Moy 21 in the 50th minute that really highlighted his influence on the victory.
For a man that has won three Sam Maguires and five All-Stars, Cavanagh rated this club success as one of his most memorable.
"​It's right up there, it's so much different but so much more beautiful in so many ways.​ Lads there obviously I've been playing with since I was eight years of age on that team.
"With the county there's the masses, there's the euphoria that spreads the country, (but) the intimacy, the closeness, the sheer emotion you have from winning with your community, your friends, everyone you're going to live your entire life with is such a special feeling.
"It is (right up there). I suppose at some stage I'll sit back and think about it all. I had success so early in my county career and I maybe didn't appreciate it as much because it was coming so quickly.
"I appreciate this every bit because I started in the Moy senior team as a 15-year-old, back in 1998, so almost 20 years on I've got my first All-Ireland. I got my first Tyrone earlier, a few months ago, so it's up there, it's up there at the very top.
"The full-back Tommy McNicholl, I've been playing with him since I'm eight or nine years of age. Niall Conlon, Karol McQuade, he's a couple of years older than me, he played me a pass in the first ever game I played (senior) in 1998 and I scored a goal.
"He came on there (today) with a couple of minutes to go. Things like that, you can't write the script, it's just…I don't know, it's the GAA at its best. It's just emotional, I feel much more emotional now than what I did with any All-Ireland win.
"With them it brings the euphoria, the buzz, the crowds, but this goes straight to the heart and that's the reality."
Not long after the Moy team made their way down the steps of the Hogan Stand with the cup, Cavanagh jogged down the sideline to find his wife and three kids to share the special moment with them.
He expects the photo he took with his family at the bottom of the stand will have pride of place on the mantlepiece at home.
"My wife doesn't normally allow GAA memorabilia around the house but that one will be very special," he smiled.
"I've been thinking about that one for a few days. Maybe that's it, maybe it's meant to be, that this is where it ends. It's a beautiful day."
A distraught Cavanagh left this venue back in August after Tyrone shipped a heavy 12-point defeat to Dublin in the All-Ireland semi-final, but fate handed him a proper farewell at HQ.
"I'll be honest, I was thinking like that the last few days, maybe it was fate, maybe last August wasn't meant to be my last day in Croke Park. I left that day gutted, walking up and seeing my family and thinking 'Surely this is how it ends'.
"It was sheer gut wrenching disappointment. Maybe there was a bigger plan out there. Maybe I was meant to leave with my family on a bigger day like this at Croke Park. That's what it feels like right now."
The42 is on Instagram! Tap the button below on your phone to follow us!