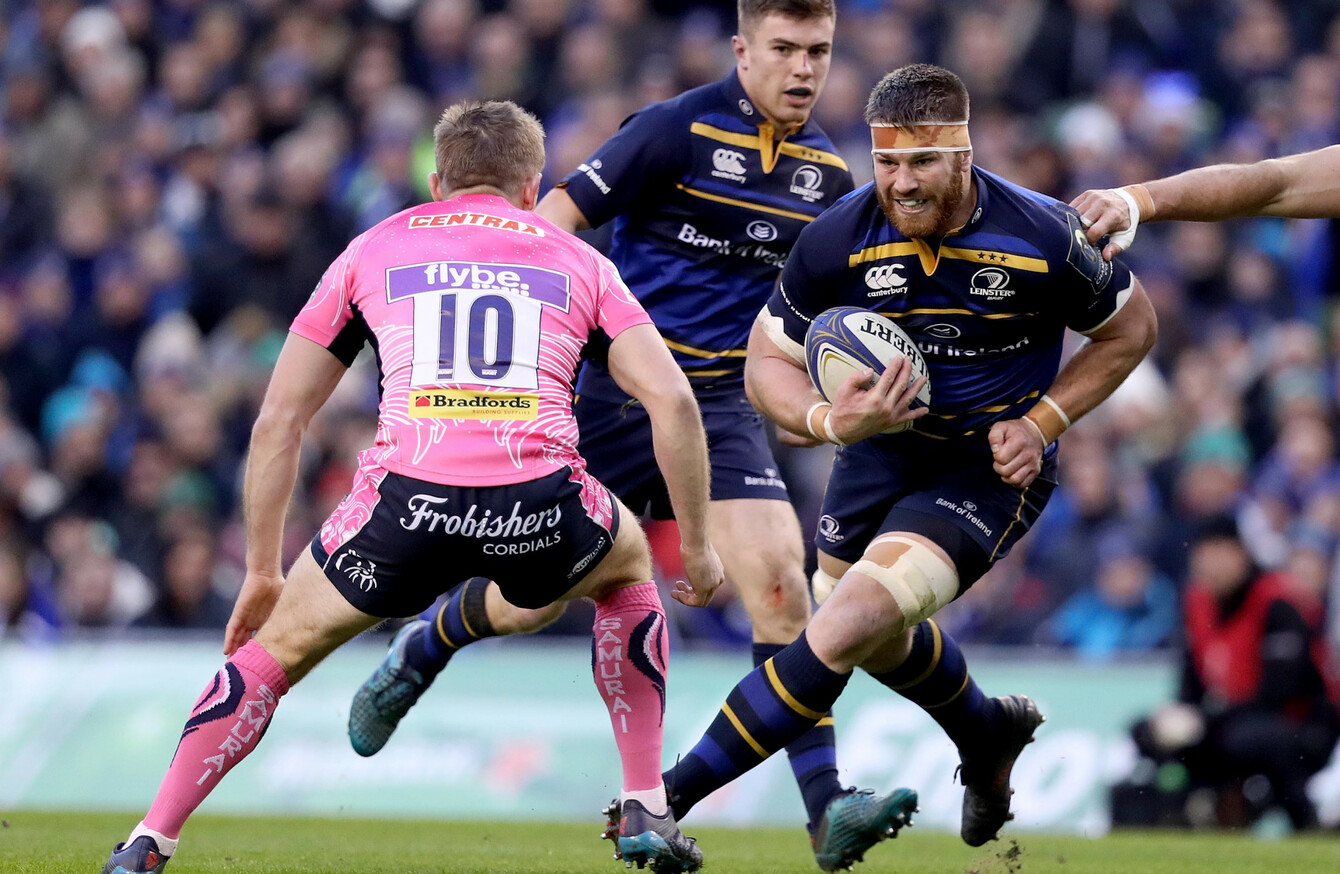 O'Brien runs at Gareth Steenson during the Champions Cup winning season.
Image: Tommy Dickson/INPHO
O'Brien runs at Gareth Steenson during the Champions Cup winning season.
Image: Tommy Dickson/INPHO
LEINSTER SENIOR COACH Stuart Lancaster has lamented the loss of Sean O'Brien and his 'huge' off-field presence to London Irish.
The Premiership-bound club yesterday confirmed the recruitment of the 54-Test Ireland international, signalling that his 11-year run with Leinster will end in June and his international career will almost certainly come to a close when Ireland's World Cup campaign does.
While Lancaster agreed that Leinster's strength in depth will soften the blow of the Tullow Tank's departure, he admits a tinge of regret that injury limited O'Brien to just 20 appearances (so far) during their time working together.
"I'd love to have coached him more, certainly, coached him day-in day-out, week-in week-out," said Lancaster.
"Because his influence off the field has been huge since I've been here yet he's only played in probably half the games.
"It's a great signing for London Irish, a disappointment for Leinster. But it's part of the nature of the game, unfortunately."
As the ex-England coach hinted, he has seen enormous value delivered from O'Brien whether he was fit to play or just to add his voice to preparations.
I think people underestimate that, until you've actually witnessed it and felt his presence in the changing room and meetings, that's what Leinster will miss the most."
"I don't think anyone's underestimating the impact Sean has had. I've coached many great players, and he's certainly held in the highest regard in my mind.
"Because of the way he conducts himself on and off the field, his leadership… even though injuries have been frustrating for him, he's always in every meeting, always contributing, always adding value, showing leadership.
"It wasn't that long ago, with the Lions, he showed how good he was against the best team in the world (New Zealand). He's still got it in him, there's no doubt. Even at the weekend, we saw him in the game; his physicality, his carry, but it's the affect he has on other people is the point of difference."
O'Brien admitted in yesterday's announcement that the decision to move on had been an immensely difficult one. However, the absence of a central contract offer from the IRFU will have forced his hand when weighed against the security to be found in a three-year deal with reported €400,000 salary from the promotion-chasing Exiles.
"When you lose a player of Sean's quality everyone's disappointed. In an ideal world, you keep all your best players until the very end.
"It was almost out of Leinster's hands as soon as that national contract wasn't offered and Seanie got such a fantastic offer from England.
"He's going to coaches he knows well, obviously, they're trying to build themselves back into a Premiership (force). It's a fantastic signing for London Irish I must say, and a huge blow for us and it feels a bit like when Jamie (Heaslip) finished."
The injuries O'Brien has suffered in recent years bring some to raise concern for his durability when he arrives to England as a 32-year-old after enjoying a tightly-managed workload in Ireland throughout his entire career. Lancaster feels the familiar faces in the London Irish backroom team will keep the back row from being flogged.
"He's probably got the advantage that Declan probably knows him better than anyone, really, so I'd be surprised if they try and play him in every Premiership game, in every European game.
"I think they'll use him wisely but I think he'll have the same impact at London Irish as he has at Leinster, his presence will be felt both on the field as well as off it.
"So I think they'll use him and manage him wisely. And if they do, there's no reason from what I've see over the last few weeks that he can't continue to play for the next few years."
Ireland and Leinster will watch on enviously as long as he does.
Subscribe to our new podcast, The42 Rugby Weekly, here: