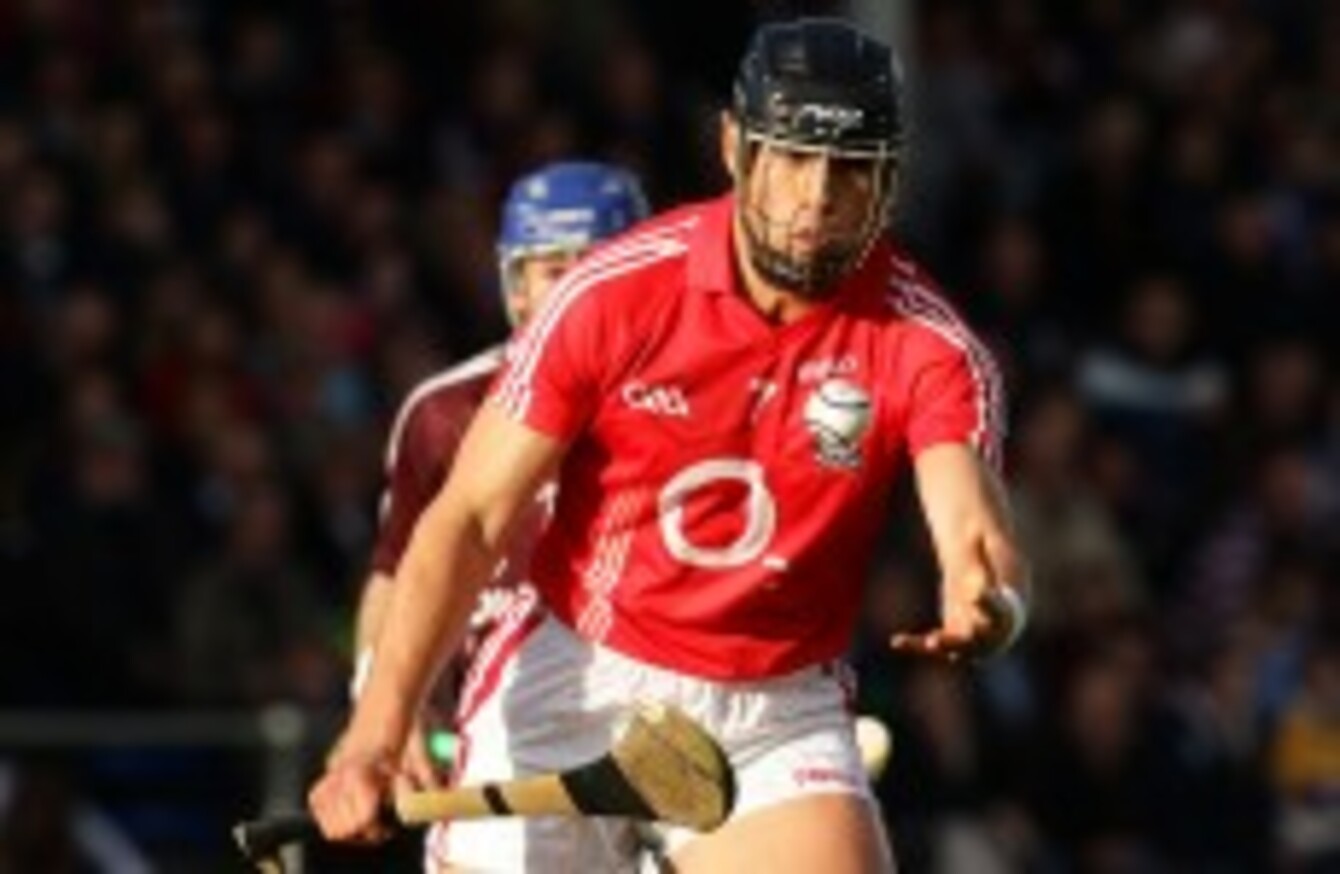 Seán Óg Ó hAilpín in action for Cork against Galway in 2010.
Image: INPHO/Cathal Noonan
Seán Óg Ó hAilpín in action for Cork against Galway in 2010.
Image: INPHO/Cathal Noonan
I'D PLAYED WITH Denis (Walsh) at the very end of his career. But I couldn't say I knew him.
Denis's training drills were good – he was definitely more drills-orientated than Gerald (McCarthy) – but the flip side was that training would go on for well over two hours.
Sometimes in training Denis would tog out himself. I thought it was a way of showing off that he still had it. I wasn't buying that, anyway. Another thing I wasn't buying was the couple of times he said to me, 'You know I was finished with Cork when I was your age.'
I took it that he was implying that he had been wronged by the selectors and he should have stayed longer. Or maybe he was dropping me a hint!
One comment from Denis at the start of 2010 certainly didn't go down well – not with me in any case. While giving a long speech before training, he said: 'This new squad is a creation of two different teams. One team that went on strike. It mustn't have been easy taking on the establishment. I have good time for ye.
'Then you have the other team who played when the strike was on. I have more time for ye. It was harder for ye.'
Still to this day I don't know what he was trying to achieve by coming out with that. I knew there and then that it was going to be a rough year ahead.
2010 league final v Galway
On the morning of the league final, I woke up at 5 a.m. Setanta was playing for Carlton against Collingwood that morning, and I wanted to watch the game. Setanta scored five goals, and I was delighted I got to see it. But the league final we played later that day is a game I'd want to forget in a hurry. I had a stinker. I was on a very good player, Damien Hayes, who was red hot. I was rightly hauled ashore in the second half.
At the next session Denis pulled me aside and said, 'You didn't have a good game and we pulled you off last weekend.' I said, 'Look, that's your call, I didn't do myself any favours and gave ye no choice.' Five weeks out from championship, he told me at that training session to get my focus right because I'd be playing against Tipperary no matter what.
My relationship with Denis was never great during the two seasons I played under him. But it would be wrong of me to forget the support he gave me after my League final disaster. It meant a lot at a time when people were writing my obituary as a hurler.
Seán Óg Ó hAilpín in action against Damien Hayes in 2010
Pic: INPHO/Cathal Noonan
2010 All-Ireland semi-final v Kilkenny
We went up to Dublin the day before and stayed in the Burlington, and Denis said that he had organized a guest speaker to come to talk to us that evening. We looked forward to hearing from guest speakers – it definitely beat listening to Denis rambling on.
Denis said, 'This man needs no introduction. He coached me and ye all know who he is.' Billy Morgan walked in. And proceeded to give the greatest speech I've ever heard. Without exception. Started off quietly, but he was unbelievably passionate by the finish.
'They're writing ye off tomorrow,' he said. 'They're writing off the Rebels. Let me tell you something, lads: no one writes off the Rebels.'
Jimmy Barry-Murphy had spoken excellently in dressing-rooms and before games over the years, but Billy was on a different level altogether that night in the Burlington. We gave him a standing ovation that lasted for thirty seconds if not more. What a man.
After fourteen years playing senior hurling, you develop a pretty good sense of what a particular manager or coach might say before a big match. That was never the case with Denis. He was capable of saying anything, and his speech before the 2010 semi-final was an example.
He started off by talking about a person he knew that had played for Cork. This same player had become very frustrated with being asked to play here, there and everywhere. This frustrated player found himself in an All- Ireland final against Kilkenny.
He had reached the stage where he was so fed up that in an act of frustration he gave away a penalty just before half-time. Kilkenny scored a goal and the rest is history. The frustrated player was taken off in the second half.
A few of us in the room knew which All-Ireland he was referring to. It was the 1992 final. I remember it vividly because I was at the game as a spectator. Denis continued, saying that that same frustrated player who gave away the penalty had waited for a chance to redeem himself.
Unfortunately the chance never came for that player – until today. He'd been waiting nearly twenty years. Wait for it. That frustrated player 'was me, lads. It was me.' I don't know if the hurling gods were punishing us for past sins, but to listen to that was pure punishment. I was thinking, 'Is this the best you got, mate?'
After Denis's inspiring entrée, we did cover some technical stuff on Kilkenny, but it was nowhere near enough. It seemed more important to Denis to address what he felt went wrong in his own career.
We got what was coming to us. We were pummelled by Kilkenny and the white flag was up long before the end. Denis took off Aisake at half-time, which I couldn't believe. Aisake was our only goal-scoring threat.
I could see Aisake fuming over the decision, so I went over to him to calm him down. We were heading out for the second half and when most of the players had exited the dressing room Aisake asked politely, 'Denis, what's that about?' 'Not the time, Aisake,' Denis said.
Aisake Ó hAilpín in action for Cork against Kilkenny in 2010
Pic: INPHO/Morgan Treacy
The second half was a hammering. The dressing-room was like a morgue, as you might expect. I was wondering how we were going to bridge the gap – to what was admittedly an exceptional Kilkenny team – when Denis spoke.
He told us the management team was baffled, as they'd done everything they could think of andthey'd left no stone unturned. You can imagine how well that went down with the players. That was 2010 over and done with.
The week after the All-Ireland final, the management called an end-of-year debrief meeting for the entire panel. After the meeting Denis said he'd be conducting one-to-one meetings with us after the conclusion of the local county championship. I started back doing pre-season work in early October, with focus on my troublesome hamstrings. Deccie O'Sullivan was eager to get me started before the panel resumed training in early December.
Showdown
My one-to-one appointment with Denis was on a Saturday morning in mid-October at the Rochestown Park Hotel.
I got to the hotel as Anthony Nash was coming out of his one-on-one and he seemed like someone who hadn't received good news. I learned later that he'd been told that his position wasn't secure for the next season.
When I went in, Denis Walsh and Jerry Ryan, one of the selectors, were sitting down. There was a bit of small talk and then Denis got to it: 'Coming to your position, Seán Óg, management have sat down and looked at your performances over the past year. We feel your performances have slipped downwards. Do we see you having the ability to turn it around for next year? We don't.
'We have other people in mind – we're looking at William Egan, or maybe bringing Shane O'Neill out from the full-back line. We have options. We don't see you in our plans.
'This is probably hard for you to hear. You've been a great servant, you've had a decorated career, your commitment to training has been second to none and you're still in great condition. I'll leave you talk now.'
When he'd said I wouldn't be part of their plans I decided that I wasn't going to cause an ugly scene or let it develop into a heated argument.
'Look, Denis, I've had a good innings,' I said. 'I'd love to stay involved, but if I'm not part of your plans there's no point in discussing this further.'
He agreed with that. He went on to say that, apart from the Tipperary match, I hadn't had a good game. I knew that was bullshit, but I said, 'Grand, is this over so?' I said to myself that I'd keep my dignity, though in all honesty I was stunned by the decision.
Former Cork manager Denis Walsh
Pic: INPHO/Lorraine O'Sullivan
(At least I didn't get the 'hurling graph' – I learned later from Tom Kenny that Denis asked him was his hurling graph going upwards or was it going downwards, because Denis wasn't sure where it was at. He told Tom that he had been extremely lucky to make the cut and if there wasn't an improvement on his graph for next year, he wouldn't be around. Denis will be glad to know that Tom's hurling graph skyrocketed when he moved on as manager.)
As I was leaving the room, Denis said: 'By the way, this is going to be big news, you retiring' – retiring? – 'and how best we deal with it. Have a think about it and get on to me and we might discuss about issuing a joint statement. I won't say a word till you get back to me.' I just said, 'Yeah, let me think about that one.'
Cathal Naughton was the next man in. I wished him the best as I left, headed out, and to this day I don't know how I got home. I just remember pulling up in the car outside my house: no memory of how I got there.
Reaction
Despite Denis's assurances, by the Sunday night I was getting texts and calls from journalists. The news was filtering out. I spoke to Eddie O'Donnell and we decided not to wait for a statement to come from the Board or the team management.
We got the GPA to release a brief statement on my behalf on the Monday: I wished the players all the best but I wanted to make my point, too – that I wanted to continue playing, but I'd been dropped.
The flood of phone calls, text messages and letters from family, friends, team-mates, former managers and hurling supporters all over the country that followed was phenomenal and truly humbling.
Aisake was supposed to have his review meeting a few days after mine, but he didn't bother going. I told him that whatever had happened to me had happened, but if he wanted to continue playing, then he had my blessing to drive on. But he went back to Australia with Setanta to resume playing Aussie Rules. Being taken off against Kilkenny, with no explanation given, had turned him off. He also said he couldn't go back and play under Denis after what he did to me.
The lads who were retained on and off throughout 2011 weren't long saying that 2011 was worse than 2010. That wasn't much consolation to me, though. I was gone.
Tonight on TheScore.ie: Seán Óg's recall by JBM and his retirement in 2012
**********
Seán Óg Ó hAilpín: The Autobiography is published by Penguin Ireland. More details can be found here