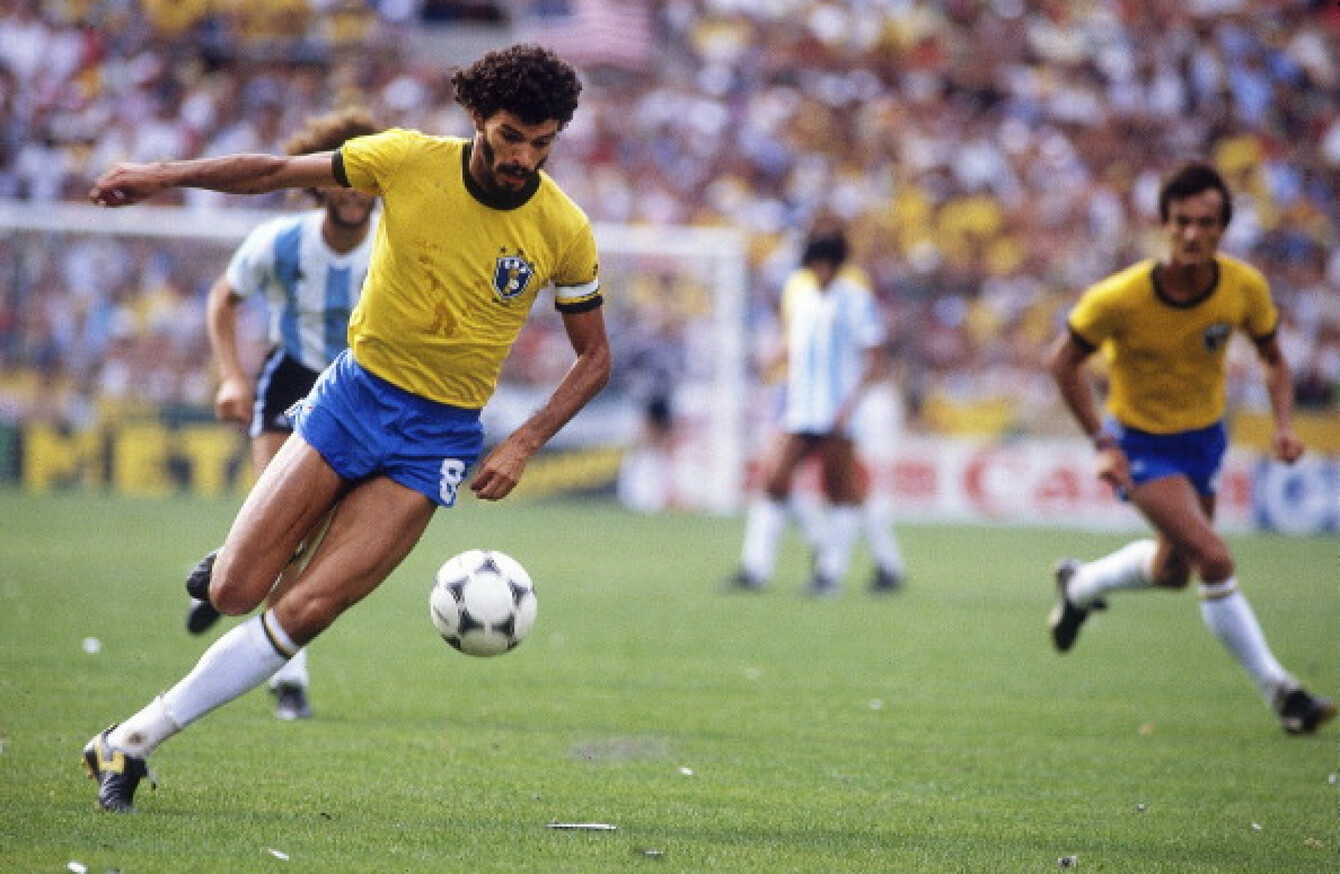 Image: Manny Millan
Image: Manny Millan
IT'S DIFFICULT TO know just where the tale originated and how it's lasted quite this long.
Even with no proof and the key player in the story having contradicted the accuracy of the claims, it's still been going for over thirty years.
But there's that scene in 24 Hour Party People where Tony Wilson (Steve Coogan) paraphrases from John Ford's The Man Who Shot Liberty Valance.
"If it's a choice between the truth and the legend, print the legend."
In June 1986, Brazil faced Spain in a World Cup group stage clash in Guadalajara. It was a tight affair but settled by a single goal, scored by magical midfielder Socrates.
Already an icon thanks to his captain's role in the magnificent team that captured so many hearts at the same tournament four years earlier, the calibre of his performances also resulted in him spending a season with Serie A side Fiorentina.
But, it was that goal against the Spaniards and that particular period of Socrates' career that seemed to set something off in Ireland.
Writing in The Irish Times later that week, soccer correspondent Peter Byrne offered up the following commentary after watching the Brazilian victory in Mexico.
"It was difficult to visualise that the great Socrates, scorer of the game's only goal, was once a member of the Shelbourne club."
The Brazilian, then a student at the College of Technology, Kevin Street, played a number of games for the club's second team, but as Shelbourne's most romantic fans are apt to recall, he was never quite good enough to make it into the first XI."
And then, like that – just when it was getting good – the inexplicable story of Socrates having played for Shelbourne's reserves while studying in Dublin disappeared into thin air.
There was no follow-up. There was no in-depth colour feature. There was no interview with anyone who remembered the bearded genius gracing either Tolka Park or the south inner city with his presence.
And it wasn't until fourteen years later that the story was picked up again, this time by The Guardian, when a curious reader submitted the following question.
Before he became a doctor (and a famous footballer) Brazilian footballer Socrates apparently spent some of his student years in Dublin. My memory is hazy but I think I was told that while there he played for University College Dublin (UCD) in the FAI Cup, or it could have been that he only managed to make the UCD reserve team. Is there any truth to these unlikely stories?"
And this is where the yarn spiralled way out of control.
In their quest to find out more about such an inexplicable story, The Guardian team reached out to the Football Association of Ireland and heard back from the organisation's then press officer, the late Brendan McKenna.
"Socrates did play for UCD, but it was way, way back, sometime in the 70s," McKenna told them.
"He was an attraction at the time, but it was before he played for the Brazilian team. He wouldn't have played much more than a season."
Seeking to back up the FAI's official confirmation, The Guardian looked for another source on Socrates' time in Ireland. But when they spoke to sports journalist Gerry Callan of The Irish Daily Star, they merely received more speculation and nothing definitive.
"He (Callan) thinks Socrates did play for UCD, but only for the reserves on Saturdays as the first team played on Sunday and he didn't want to play then."
In the space of 14 years, Socrates had gone from a Shelbourne reserve who was studying in the College of Technology to a UCD student who missed out on first-team action because he refused to play on the Sabbath.
Still, the story had been given legs. The FAI – the leading authority on the country's domestic game – had confirmed Socrates had indeed played football in Ireland.
But, the scarcity of details was an issue.
That was rectified in 2002, when another Guardian reader - Paul McDonnell - somehow managed to dig up some very specific information relating to Socrates' alleged time in the sprawling campus in Clonskeagh.
"Socrates only played a couple of games because the UCD coach and manager at the time, Dr Terry O'Neill, insisted that he quit smoking," McDonnell claimed.
"Socrates refused and instead quit the team."
In 2003, UCD finally decided to do some digging of their own. And they found that the tale was true, but for one glaring error.
Before a game against St. Pat's, their official match programme went into more detail.
Socrates' much-lauded appearances for UCD never happened. He did arrive in Ireland to study in 1976, however, while with Botafogo. Indeed, he spent two years in Ireland studying medicine, but he was a student in the Royal College of Surgeons of Ireland in town, not in UCD. His love of soccer led him to attend the RCSI's trials for their Collingwood Cup team. Alas, RCSI weren't (and still aren't!) known for their footballing abilities and, after seeing the quality of his potential team-mates, he quickly decided to concentrate on his medicine and gave up any aspirations of a football career in Ireland. Another urban myth which has done the rounds is that he played for Shelbourne – this is similarly not true."
In fact, none of it is true. Sadly, not even the rumours of him having played Sigerson Cup.
Well, one thing is accurate. Socrates did study medicine and qualified as a doctor while still playing. But, outside of that, the entire thing is a myth. What's incredible is that a complete lack of fact had little or no impact on the story gathering momentum.
Andrew Downie spent years researching every facet of Socrates' life and the result of that – the excellent biography Doctor Socrates: Footballer, Philosopher, Legend – was released last year.
"I first came across the story when I was about halfway through my research," he says.
And, at the start, it just seemed to be too ridiculous to even follow up. I'd been through most of his life in Sao Paulo and Ribeirão Preto – his hometown – and seen no mention of it. And then you get this stuff on Twitter and you just think, 'What? University College what?" And I never went any further in checking it. If it had never appeared in any of the research up to that point, I just knew it was rubbish."
"It's not unusual for all sorts of rumours and stories to appear around big names and cult figures like Socrates. He's the kind of guy that people want to be associated with in some kind of way because he's so appealing and such a cool character."
Apparently, Socrates' time in Ireland came about because of a residency he was doing in Dublin as part of his degree.
But, he never left Brazil during that time. In fact, according to Downie, he probably never even left the province.
"He studied medicine in Ribeirão Preto and medical students had to do short stays in small towns in the countryside, which probably did look like small towns in Ireland," he says.
"There would've been a small clinic with a nurse and doctor and a wee gurney and little more than a stethoscope and a device to measure blood pressure. He did that twice in the wider state of Sao Paulo. Then, once he left football, he devoted himself to medicine again for a few years, trying to bring himself up to date with new practices and new techniques."
So, where did the story come from?
Was there any link between Socrates and Ireland at all? Well, he did feature in one game against Eoin Hand's side just prior to the 1982 World Cup. He scored twice as a brilliant Brazil – also boasting the likes of Zico, Falcao and Careca – thumped seven past a battered and bewildered Irish team in Uberlândia.
But that was it.
Another minor detail is worth mentioning. In 1973, the UCD soccer team went on a North American tour but never ventured south of the border. Could Socrates' path have crossed with the team at that point? By that stage, he had already made his debut for Botafogo so it seems very far-fetched.
But, at least it's a bit more plausible than him having lived in Ireland. In 2009, when asked by Alex Bellos, author of the seminal Futebol: The Brazilian Way of Life, Socrates confirmed he'd never even visited.
By the time Brazil came to Lansdowne Road and faced Ireland in a friendly in May 1987, Socrates had already stepped away from international football.
"He did like to travel and always got lots of offers because of who he was," Downie says.
But whether he went to Ireland, I'm not sure. He got several offers from well-known clubs around the world. There was one from the New York Cosmos at one point. They were going to pay for some sort of medical post-grad but it never got much further beyond that because he wasn't interested. A team in the Middle East offered him a ton of money and what he said was, 'Money can't buy happiness' but what he meant was, 'I'm not going where you don't drink beer'".
"There was talk of him going to Roma and Internazionale before he eventually signed with Fiorentina. There was a rumour he was going to Newcastle too and that rumour actually appeared on the back page of the evening newspaper. The talk was he'd do a residency there or something like that but that was nothing more than a rumour too. A lot of these clubs were offering him big money, a signing-on bonus, a great salary and, as a sideline, willing to allow him study in his spare time or pay for him to do a post-grad. So he did get a few of those offers but none from Ireland.
Knowing the Irish, it's probably someone having a laugh or winding somebody up. Somebody else overhears the story, gets the wrong end of the stick, tells it to someone else and it takes on a life of its own."
The42 is on Instagram! Tap the button below on your phone to follow us!