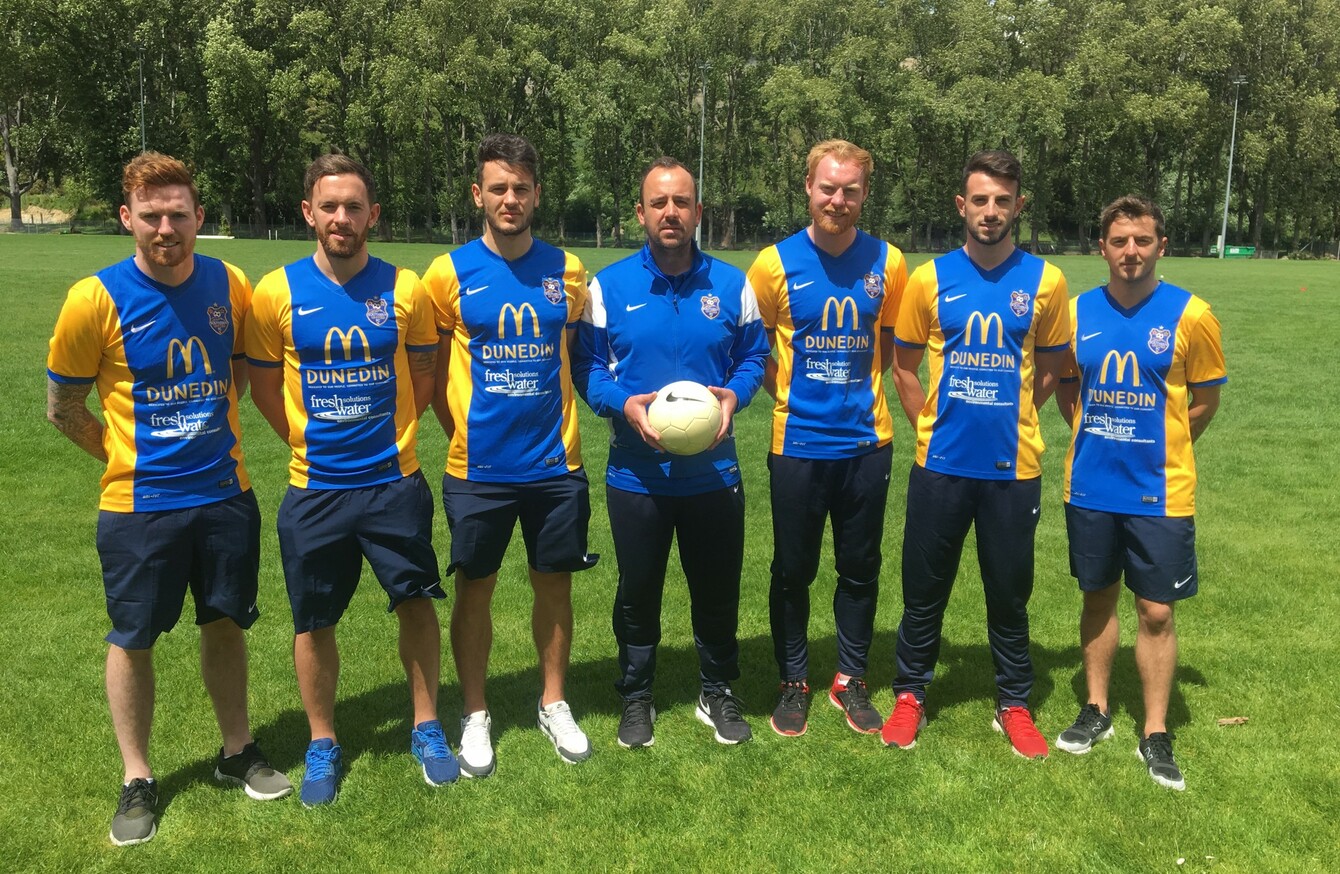 L-R: Danny Ledwith, Danny Furlong, Eric Molloy, Paul O'Reilly, Stephen Last, Conor O Keeffe and Andy Mulligan.
L-R: Danny Ledwith, Danny Furlong, Eric Molloy, Paul O'Reilly, Stephen Last, Conor O Keeffe and Andy Mulligan.
IN TERMS OF illustrating the harsh reality facing many League of Ireland players, the Wexford Youths exodus to the other side of the world paints a pretty clear picture.
With their season still in the melting pot, five of Shane Keegan's 2015 squad felt they couldn't refuse an opportunity to play under a familiar Irish face in New Zealand.
The timing was far from ideal — Youths were relegated to the First Division only a month after their departure — but Southern United boss Paul O'Reilly needed his recruits in Dunedin, in the south-east of New Zealand's south island,  for the start of their Stirling Sports Premiership season on 22 October.
The initial quintet — star striker Danny Furlong joined his team-mates after Wexford's 2017 First Division fate was sealed in a 3-0 playoff second leg defeat to Drogheda United — had coaching experience, three of them with UEFA 'B' licences, and were promised full-time work to support their football ambitions.
These are five lads — Stephen Last, Danny Ledwith, Andy Mulligan, Eric Molloy and Conor O'Keeffe — aged between 23 and 25 who had become so disillusioned with their options at home they felt O'Reilly's offer was one they couldn't refuse.
Arklow native Ledwith concedes the timing wasn't ideal but he felt he had no choice but to accept when O'Reilly came calling.
"Definitely [it wasn't ideal]," Ledwith tells The42.
"But usually you'd be going back on the dole [in the off-season] or whatever. When the opportunity came up to come out to New Zealand it was a bit of a no-brainer.
"When Paul rang me I felt I had to take the chance I suppose — I would have regretted it if I didn't.
The last couple of years hadn't been great back home so I didn't see much happening. There was no better time for me to give it a bash out here.
"Looking at the security side of things as well, you're coming straight into a full-time job whereas if we're back home, being honest… I've got a football development officer job out here at the moment and that probably wouldn't happen back home unless I had 10 years of experience.
"It's given me a chance to travel the world as well. Obviously it could end badly but at the same time I can see myself staying over here now at this stage I'm enjoying it that much."
All five knew O'Reilly, a former underage international and League of Ireland player, from his six years as the FAI co-ordinator of the BA Sport & Exercise (Soccer) course in IT Carlow before he decided to head for pastures new.
O'Reilly, whose playing career with Shelbourne and Bray Wanderers was hampered by recurrent calf problems, has been making quite a name for himself Down Under since taking up a development officer role with the New Zealand FA towards the end of 2015.
Still only 35 — although he jokes he looks about 50 — O'Reilly was appointed as head coach of Southern United FC, who play in New Zealand's top tier, six months ago.
With a shallow playing pool to call upon in New Zealand, O'Reilly needed to recruit cleverly and he knew just the players he wanted.
He saw the potential for a marriage of convenience — he could bolster his squad with experienced League of Ireland players who could also develop their coaching skills, enjoy job security and bring valuable expertise to the wider Football South federation.
"The structure out here is there are seven federations that make up the FA. So it means there are loads of opportunities," O'Reilly, from Dublin's Greenhills, explains.
"Each region actually manages themselves and they get funding from the main FA.
"So it means with the seven federations you've got loads of jobs, loads of development officers, loads of development manager jobs and it's actually quite a big game out here.
"It's a little bit different than home where the FAI kind of control everything.
"There are not many full-time opportunities in the FAI. There are a couple of lads who are doing bits and pieces, a few hours here and there.
When you are after investing in your own education for four or five years it's very tough if there are no full-time jobs around.
"The big problem for me is Dunedin is a small place and the player pool is not massive.
"I was able to get good players with League of Ireland experience and they also have coaching qualifications, backgrounds and degrees.
"So when it came to getting visas and all that sort of stuff it was a piece of piss because they were well qualified lads from an employment point of view.
"From their end, they're getting a chance to play at a decent level in a new environment and they're also working full-time, so it's kind of a win-win."
Football in New Zealand remains strong, despite the country's well-known fanaticism with rugby.
You may be able to count famous footballers from the 'Land of the Long White Cloud' on one hand — Ryan Nelsen formerly of Blackburn and Spurs, Winston Reid of West Ham and Leeds United's Chris Wood the most obvious recent and current examples — but with the A-League on their doorstep, there is a clear path to a higher level. And funding certainly seems to be less of an issue than it is in Ireland.
"There's a lot of money in the game. Probably more so than home I'd say," O'Reilly adds.
"Obviously we're so far away in Ireland we don't actually realise what's happening out here.
It's quite big now. I think it's the number one sport now here in terms of particpation numbers.
"And a hell of a lot of money comes into the game especially from the likes of Asia — China and Japan.
"So there are really good opportunities, probably better opportunities than the League of Ireland at the moment."
The Wellington Phoenix, New Zealand's sole franchise in the A-League, are represented by their U20 side in the Stirling Sports Premiership, which Ledwith describes as "more competitive and more technical" than the League of Ireland.
The ladder to success is that bit shorter in these parts too, and there have been a number of examples of players making the step up to the A-League on the back of their performances in New Zealand's top flight.
Albert Riera (not to be confused with the former Liverpool player of the same name) is one of the real success stories that these Irish imports can aspire to.
The Barcelona native arrived in New Zealand on a break from his job as a paramedic and with a solid background in semi-professional Spanish football.
Riera got himself a trial with Ramon Tribulietx's Auckland City, the most successful club in the league, where he got to experience a run at the Club World Cup on the back of their win in the Oceania Champions League, a competition they have now won six times on the trot.
It wasn't long before the midfielder was snapped up by the Phoenix and his career continued to follow a remarkable path, all on the back of his decision to travel to New Zealand on a working holiday visa.
A player of the year award for the Phoenix followed, as did an appearance for the A-League All-Stars side in a fixture against a Juventus outfit containing the likes of Andrea Pirlo, Carlos Tevez and the world's most expensive footballer Paul Pogba.
These are the carrots that are dangling for these young Irish men. Even a move to Auckland City would give them the opportunity to show their talents to the world.
The semi-pro New Zealand side caused a major shock in 2014 when reaching the semi-final stage, only to bow out to Argentinian giants San Lorenzo after extra-time, denying them a shot at Real Madrid in the Club World Cup final.
Auckland City were in Japan only two weeks ago for this year's edition of the tournament; their 2-1 first-round loss to hosts Kashima Antlers, having gone ahead just after half-time, looking rather impressive in hindsight considering the Japanese club ended up reaching the final.
A Cristiano Ronaldo hat-trick eventually put paid to the Antlers' challenge, after extra-time, in the decider.
Being able to show that a New Zealand club side gets the opportunity to compete on such a grand stage, and explain that A-League eyes are always watching, certainly helped O'Reilly convince the players to make such a potentially life-changing move.
"It's part of the selling point for me, that they can come in and have a good season at Southern United.
"If they have a good year, I'm not going to hold them back if they get those type of offers to go to Australia, the Phoenix or even Auckland City.
The Phoenix on your doorstep and the A-League…we have direct flights from here into Brisbane and Sydney, so although it might seem a million miles away it's actually not.
"We played the Phoenix reserves a few weeks ago and they beat us 1-0 down here and they had six players who have played first-team football, probably about 100 appearances between them in the A-League.
"I think that route to the top is a lot quicker here than it would be at home. Obviously [Daryl] Horgan and [Andy] Boyle have signed for Preston but that is probably off the back of three or four unbelievable seasons.
"Realistically, out here, if you put together a really good half-season you could get a really good move that would probably result in a decent contract and some stability long term."
Expectations at Southern United, which was known as Otago United until 2013, are not particularly high, with finishes in the bottom two more common than not.
They are currently rooted to the bottom of the 10-team table after nine rounds of matches, although they picked up their first win of the season — a 3-1 victory against Tasman United thanks to a Mulligan brace and a Furlong effort — in their last fixture before the Christmas break.
But O'Reilly is planning on building something special in Dunedin as he attempts to bridge the gap with the league's big spenders, the likes of Auckland City, Waitakere United and Team Wellington.
"It is a two or three-year project," O'Reilly, who admits the fans can be quick to criticise his imports if things aren't going well, says.
"This year the aim is to try and get out of the bottom two. And then next year it's to try and push them into the top half of the table.
"Budget wise, the likes of Waitakere, Auckland City, Eastern Suburbs who have come into the league now, they're looking at over a million quid budget you know.
"We're, Jesus, we're only a drop in the pond compared to that so we have to be clever by bringing the lads in, offering them employment as well as playing opportunities.
To be honest I'd be looking to bring more in. I've already been talking to contacts in Ireland about trying to get lads across for next season.
SEE SPORT
DIFFERENTLY
Get closer to the stories that matter with exclusive analysis, insight and debate in The42 Membership.
Become a Member
"We're also looking at America and Australia as well. We need to bring in some imports because the player pool is small."
Southern United play their home games at Forsyth-Barr Stadium, a 31,000-seater which is shared with Super Rugby side the Highlanders. It's a far cry from Ferrycarrig Park.
The All Blacks regularly use the ground while Ireland's rugby team secured a convincing 36-6 win against Italy at the covered venue during the 2011 Rugby World Cup.
That being said, the gap to the league's top sides is significant, something that Wexford players would recognise all too well.
In seeing the likes of Auckland City up close, the Irish imports were taken aback by the standard.
"The teams we're playing, the likes of Auckland City and that. To be honest I think they had 80% possession in the game. We only lost 1-0 but it was like something I had never played against, it was on a completely different level," Ledwith explains.
"Technically, some of the teams I'd probably say that they're a little bit better than the League of Ireland.
"Obviously at home you have Dundalk who have had an unbelievable year, you have Cork. But there are not many teams up there now that can challenge those two at the moment.
"Whereas here you have probably five or six teams that can go on and win it, so in terms of the competition I'd say it's probably a little bit more competitive."
From O'Reilly's perspective, imports from across the globe have taken the league to a different level. It mightn't please the New Zealand football diehards, but it's the way things have gone in recent times.
"The best players tend to be the imports," O'Reilly adds.
"The likes of Auckland City have got South Americans, Spaniards, Portuguese… and they bring something different to the game.
"We're allowed have a 16-man match squad and we're allowed to name eight foreigners in that and most teams in the league will do that.
"From a New Zealand football perspective it's a headache because they're not getting as many players through.
"But I think that adds to the league because you've lads here from Asia, America and Europe.
"From a coaching point of view I think at times they're a little bit more naive out here tactically.
You'll see some goals in this league that I don't think you'll see too often in the League of Ireland.
"There'll be mistakes and tactically people maybe are not as unaware. But a couple of things that have stood out for me are the physicality and the fitness levels.
"They are very, very athletic. Every team has pace, every team has power. They're big, physical players.
"The technical side of it has surprised me a little bit. I thought it was going to be a little bit more route-one and typical British or English football but with the imports it's very technical at times."
Furlong, who set a First Division record when scoring 28 goals as Wexford secured promotion to the top flight in 2015, is already settling in well at Southern United, who were once managed by former Ireland international Terry Phelan under their previous Otago United alias.
The 27-year-old says the transition to life on the other side of the world has been made much easier by having so many familiar faces around.
"It makes it a lot easier to be fair. When we first came over we were kind of saying it would have been a lot harder if there weren't so many of us," Furlong explains.
"The fact that there's six of us now, we all know each other pretty well through college and through playing together.
"We're all living together as well, it's a bit madness at times but it definitely makes the change a lot easier."
The42 is on Instagram! Tap the button below on your phone to follow us!